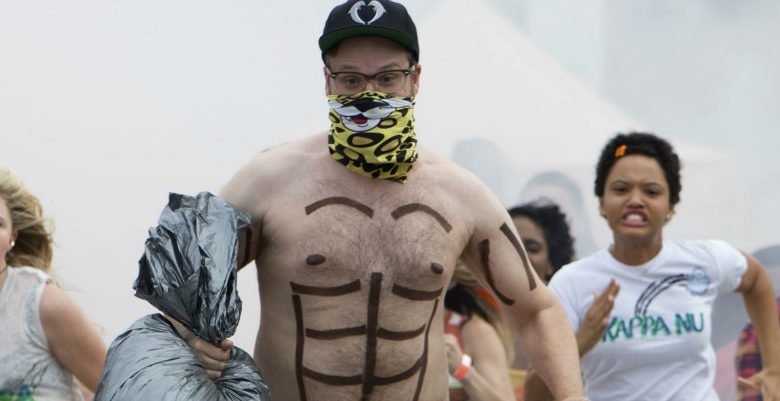 Children are now firmly in play for Hollywood's "resistance."
Seth Rogen, the pot-friendly star of hits like "Sausage Party" and the "Neighbors" franchise, faced a conundrum recently after posing for pictures with a pair of teen fans. The actor happily took those snaps, but he recoiled when the children's father joined the fray.
The dad? House Speaker Paul Ryan.
Rogen shared the details of the encounter, including Ryan's request for a photo, with "The Late Show" host Stephen Colbert Friday.
"I look over and his kids are standing right there expectantly, clearly fans of mine, and I said, 'No way, man!' " Rogen said.
Rogen, who is Canadian, said he then went on to lash out at Ryan over his policies, though he felt "conflicted" doing it in front of his children.
"Furthermore, I hate what you're doing to the country at this moment and I'm counting the days until you no longer have one iota of the power that you currently have," Rogen said he told Ryan.
"I'm glad I didn't take a picture with Paul Ryan, I touched him so I don't know how I feel about that," he said. "His kids seemed lovely, and very Caucasian."
The "Late Show" crowd served up sustained applause when Rogen shared how he refused the Ryan photo.
Paul Ryan Asked Seth Rogen For A Photo
Now, Rogen could have denied Ryan a photograph. It would have been petty, but if he despises a politician's legislative record it's fine to politely decline the request.
The actor did so with Ryan's children present, embarrassing the father and making what could have been a memorable moment for the teens anything but sweet.
Did they really deserve that? What have they done to Rogen or the country? But hey, it's all about the "resistance," and there are no prisoners in this fight. And kids get in the way, well that's simply part of the fallout.
This isn't the only example of Hollywood stars weaponizing kids against the GOP. Peter Fonda just demanded President Trump's son Barron be separated from his parents and caged with pedophiles on Twitter in a vile protest against Trump's illegal immigration policies. He later apologized for the remarks, but not before the Secret Service investigated his cyber threat.
Canadian TV scribe Pat Dussault threatened Donald Trump Jr.'s four year old daughter, Chloe, this week as well.
Actor Tom Arnold just vowed to show up at Barron Trump's private school to protest his father's policies.
RELATED: Actor Ron Perlman Says He's Willing to Die to Take Down Trump
This isn't a new phenomena.
Last year, "Saturday Night Live" scribe Katie Rich Tweeted out a "joke" saying Barron Trump will be "the country's first homeschool shooter." What happened next? Comedians came out in support of Rich.
On Inauguration Day, "Modern Family" star Julie Bowen weaponized Barron Trump via a series of social media messages attacking the new president.
How low will Hollywood sink next? The mind boggles.