Interviews
Why Rob Paulsen Holds Nothing Back on His Cancer Fight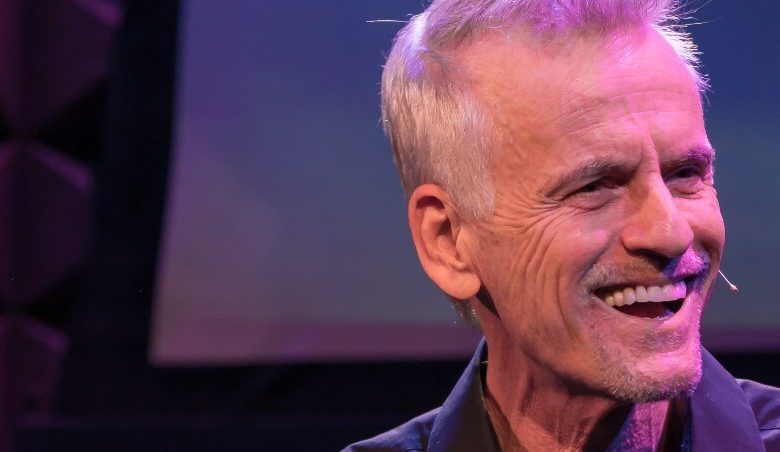 Rob Paulsen didn't know it then, but his decision to embrace voice acting came at the perfect time.
The animation boom of the mid-80s, think "Transformers," "He Man" and "G.I. Joe," promised to leave the Saturday morning realm far behind.
Only the boom hadn't happened … yet … when Paulsen entered the field.
"[Animation] wasn't part of the landscape when I came out here [to Los Angeles]," says Paulsen, who had a steady run of acting gigs when he first began auditioning for voice actor work in the '80s. The animation gigs proved a snug fit.
"It took me about 30 seconds to say, 'sure,'" Paulsen says.
It proved just as quick to realize he had found his true calling, a way to tap "all this creative stuff that I had in my own personal tool box."
The gig had other perks, too.
"Nobody cares what I look like … I'm limited only by my creativity," he adds. The latter has kept him at the top of the animation game for decades.
Talkin' Toons with The Justice League (Talkin' Toons w/ Rob Paulsen)
You may know Paulsen for his remarkable work on "Animaniacs," "Pinky and the Brain," "Teenage Mutant Ninja Turtles" and "Jimmy Neutron: Boy Genius."
Now, he's captured his dynamic career in "Voice Lessons: How a Couple of Ninja Turtles, Pinky, and an Animaniac Saved My Life." Paulsen's memoir recalls his early days as a singer to the throat cancer diagnosis that could have ended much more than just his career.
Paulsen, who cites Peter Sellers, Carol Burnett and Monty Python as inspirations, shares his cancer fight in heart-breaking detail. At the time, his doctors felt confident they could treat the cancer successfully.
The catch, for him, was terrifying.
The treatments might leave his voice permanently diminished. So long Pinky and co. Adios, Donatello.
"Voice Lessons" charts that tumultuous journey, and those passages may be of comfort to those with loved ones mounting their own cancer battles.
"I am doing my best to be helpful … to use the book as a sort of bully pulpit to be of help," says Paulsen, who was recently named by The Head and Neck Cancer Alliance's as its official 2020 spokesperson.
RELATED: 'Moana' Animators Defend Polynesian Culture
Reliving his cancer treatments wasn't easy. His co-author, Michael Fleeman, gently pressured him to share as much information as possible.
"He didn't let me off the hook … 'oh, just relax. If you wanna call me back in 10 minutes.' He said, 'We gotta push now,'" Paulsen recalls of their collaboration. "I totally remember what it was like … sitting with the IV drip I put in myself. I didn't want to bother the nurse… I couldn't eat or drink … the pain is pretty gnarly in your throat."
Today's the day!!! @yakkopinky's Voice Lessons is out on @audible_com
… I love hearing Rob tell his story. Go get it today! https://t.co/tkSYecJOj1

— Mike Blanchard (@TFG1Mike) October 8, 2019
"Voice Lessons" also connects with his days cheering up kids in similar scenarios. For years Paulsen visited children's hospitals to "bring" Pinky and Yakko to their wards.
"Unbeknownst to me they were prepping me for my own time in the cancer cage," he says, experiences that shaped his own recovery. It also put everything into perspective. "How on earth do these children do it? I'm getting my treatment at home … boo hoo, my throat hurts."
Paulsen has a clean bill of health these days, as well as the chance to revisit his most popular characters via an "Animaniacs" reboot on Hulu.
#Animaniacs to get brand-new series on Hulu: https://t.co/Cs8b6ZbdZ2 pic.twitter.com/VYROaSetFG

— Entertainment Weekly (@EW) January 6, 2018
The animation field has changed dramatically since Paulsen entered the business. From CGI wonders to a crush of new content platforms, voice actors have a whole new realm of possibilities.
Paulsen says he's busier than ever.
"My process hasn't changed at all … I just love all the new options. I've been involved with both sides of the animation picture, 2D and 3D and maybe 4D before I punch my ticket," he says.
Two generations of viewers have gotten to know Paulsen's many characters, and he couldn't be more grateful.
"I'm in a glorious position now. I'm old enough to have a pretty nice IMDB of characters many people know and young enough to travel around the world to meet people," he says. "I'm so profoundly grateful and blown away."
BONUS: The HiT 'cast chats with Rob Paulsen
Listen to "HiT Episode 91 Rob Paulsen ('Animaniacs')" on Spreaker.