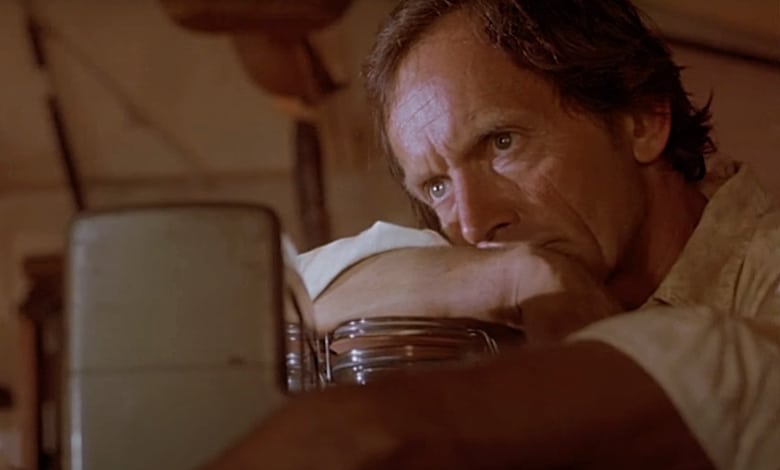 "Pumpkinhead" (1988) is the directorial debut of Stan Winston, a giant in the special effects field.
Anyone who grew up reading Starlog and Cinefantastique, subscribed to Bantha Tracks or absorbed any televised special regarding the making of "Star Wars" knows Winston is a rock star among make-up artists.
The opening scene of "Pumpkinhead" is set in 1957, as the citizens of a small country town know to lock their doors, keep a shotgun handy and wait until the night passes. Why? Because a town member has committed a crime, and someone has summoned an unholy monster to kill him.
The understanding is that no one interferes with the creature, who carries out an unremorseful death sentence for anyone who brings him to life.
Pumpkinhead Official Trailer #1 - Lance Henriksen Movie (1988) HD
A small boy who witnesses this firsthand grows up to be Harley, played by Lance Henriksen. Harley is a single father who runs a small stand on the side of the road. The love Harley feels for his son, Billy (an adorable Matthew Harley, giving a very-Jonathan Lipnicki-esque performance) is understandable. So is his horror at a tragedy that occurs, inspiring Harley to summon the monster who encountered in his youth for revenge.
The sad incident that pushes the plot in motion is handled well and gives the audience the emotional cues it needs. Like the dog in "John Wick" (2014), the cruel, sudden loss in Harley's life absolutely must be avenged.
We get it.
Most of the main characters are poor country bumpkins and the film has no contempt for them whatsoever; the rich, arrogant teens who enter town are clearly the villains and Winston is wise to not align them with the film's target audience.
This is not the kind of movie where you want the dumb teens to survive, despite how awful their fates will be. "Pumpkinhead" is about a generational evil, a local secret that is unearthed in moments of great loss and grief.
FAST FACT: Director James Cameron initially considered Lance Henriksen for the main role in 1984's "The Terminator," a part that eventually went to Arnold Schwarzenegger.
"Pumpkinhead" actually plays like a precursor to "Pet Sematary" (1989), which arrived the following year. Both films are about how a father's love and desperation to put things right in the face of death become his undoing.
Henriksen, two years removed from "Aliens" (1986) is excellent here. We root for Harley, even as we see his decision to turn to supernatural evil for vengeance will lead to an inner rot.
Buck Flower is perfect in this (he also stole his scenes in "John Carpenter's They Live" the same year) and Florence Schauffer is unsettling as Haggis, the witch who knows how to activate Pumpkinhead. Amazingly, this is all based on a poem by Ed Justin.
Pumpkinhead (1988) - I'm the One You Want! (7/10) | Movieclips
I met Henriksen briefly at the 2004 Denver Starfest, where he was in town to promote "AVP: Alien Vs. Predator" (2004). Henricksen gave a great Q&A with a packed audience, then signed one sheets for the film in the lobby.
While Henriksen signed my poster, I quickly told him how much I loved his performance in "Pumpkinhead." He flashed me a big grin and said, "Oh yeah! That's a good one! Stan Winston did that one!" He was very nice, and it was satisfying to see the mention of "Pumpkinhead" brought back some good memories.
The film itself is bleak and compelling, a great creature feature and a sad portrait of a father broken by loss.
A behind the scenes photo of Lance Henriksen and a friend on the set of PUMPKINHEAD (1988). pic.twitter.com/3ZQhIk34n1

— The Retro Reminiscer (@RetroReminiscer) October 26, 2023
There's a Be Careful What You Wish For cautionary tale at the heart of this, not unlike W.W. Jacob's "The Monkey's Paw." Harley's initial act of vengeance becomes an act of destruction he cannot contain.
Winston makes this a stylishly lit, tight and moody horror film. The film's poster sported a tag line declaring, "A Grim Fairy Tale." The staging often suggests, indeed, a fairy tale.
There's a down and dirty quality that resonates: if revenge can take the form of an unstoppable creature that will absolutely terminate anyone you tell it to, would you conscionably manifest such a creature?
Winston's film demonstrates why this is such a terrible idea to make a reality but not before Pumpkinhead punishes those who crossed the wrong man.