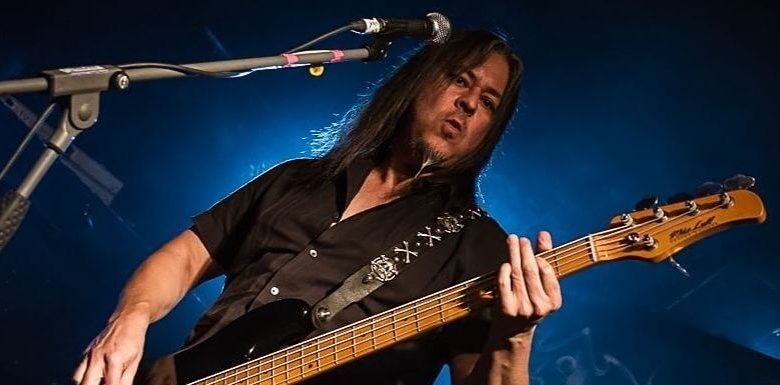 The prog rock genre has long been the punching bag of the music industry. That may not be the case anymore.
Progressive stalwarts like Rush, Yes and even the Moody Blues finally gained admission to the Rock & Roll Hall of Fame. Steven Wilson's remixes of albums from nearly every major prog band's catalog have sold briskly. And Queen's resurgence, prompted by the success of "Bohemian Rhapsody," catapulted the band's album sales back to the top of the charts.
Meanwhile, the genre's 1990s offshoot, prog metal, has steadily marched along in relative anonymity. They've filled concert halls and packed festivals but never arrived at the arena-filling heights of their forefathers. Two of the genre's most well-known acts, Queensrÿche and Dream Theater, have both seen major tumult in the same decade that their influences finally achieved recognition.
Queensrÿche - Eyes Of A Stranger (Official Music Video)
Each band parted ways with founding members who helped define their sound and image.
Lead singer Geoff Tate was acrimoniously booted from Seattle-based Queensrÿche, prompting a protracted legal battle over the band name. The split also saw simultaneous album releases from two different versions of the band using the same name. Even the rancor within the ever-changing Yes roster never got that bad.
For Dream Theater, it was the departure of drummer and founder Mike Portnoy. Fond of filling his time with numerous side projects, he was asked to commit 100 percent to the band he founded 30 years ago or leave, and was thus pushed out.
In the wake of these changes, each band released new material to waiting audiences, including new albums just this year. And while these albums (among many others, to be fair) make clear that prog metal is alive and well, the results of each effort are quite a contrast.
Dream Theater's latest output, "Distance Over Time," comes on the heels of their latest attempt at a concept album, a 2.5 hour opus titled "The Astonishing." While many lamented the lack of focus in that 2016 release while also cautiously praising its ambition, "Distance Over Time's" tracks are all conservative in their running time. None clock in over 10 minutes, a feat I'm not sure any other DT album can boast.
Dream Theater - Distance Over Time (Album Trailer)
But just because the tracks are short doesn't mean they're focused. The band's musicianship remains tight, of course. The band's collective skill level is unrivaled in metal music. But not unlike some classic-lineup Yes albums, the songwriting meanders too frequently, with too few recurring themes to anchor the work.
It's the same issue that torpedoed any chance of "The Astonishing" getting off the ground.
"Distance Over Time's" opening track, "Untethered Angel," continues the band's obsession with heavenly messengers as lyrical subjects. It has everything that one would expect of a Dream Theater song.
That's part of the problem.
The band adheres to a formula that requires – and indeed sometimes forces – solos to arrive at preordained points in the song. Tracks from one album can sound nearly identical to ones from a preceding disc, and indeed that happens here.
The following track, "Paralyzed," sounds as if it could have been ripped straight from Chevelle's latest release.
DREAM THEATER - Paralyzed (OFFICIAL ANIMATION VIDEO)
And indeed, the band often wears influences a little too obviously on their sleeve. "Fall Into the Light" cribs from Deep Purple, while "Barstool Warrior" sounds like a deep cut from a Kansas album. Both are bands that Dream Theater previously covered in its live shows. It's hard to ignore their inspiration here, even while the latter song steals musical refrains from two older DT tunes.
The strongest tracks include the ballad "Out of Reach," where the heartfelt music overcomes some puerile lyrics (a fault that permeates the album). Also quite powerful is the bonus track "Viper King." The band members sound like they're having fun for the first time in years.
Advance press indicated that they recorded as a collocated band, a method they'd not recently employed. However, it's only on this one track that the evidence of such an approach seems apparent. The rest of the tracks don't earn the respect that Dream Theater's reputation would otherwise suggest.
The contrast with Queensrÿche's new album, "The Verdict" is – pardon the pun – astonishing.
The Tate-fronted version of the band started as an Iron Maiden-inspired metal act, yet rose to fame on the release of the 1990 album "Empire" and its psychedelia-tinged hit "Silent Lucidity." In the ups and downs of the band's career since, they've only more recently turned back to their metal roots.
The two albums they've released since Tate's departure and the addition of Todd La Torre as front man have been 100 percent metal with a touch of prog. Yet their 15th album is a testament to how those metal roots can coexist with their more progressive tendencies.
"Blood of the Levant" opens the album with a fury, using the band's trademark two guitar harmonies as an accent instead of a feature. However, this track isn't Queensrÿche reliving prior glories as they seemed to do on the last two albums. It's them forging into new territory.
Whereas La Torre seemed to be doing a spot-on Tate impression on their self-titled 2013 album and the 2015 follow-up, "Condition Hüman," he sounds little (if not nothing) like him here – and that's not a bad thing.
QUEENSRŸCHE - Guardian (OFFICIAL VIDEO)
The re-tooled line-up for this outing also has La Torre on drums, while original drummer Scott Rockenfield is on hiatus. He doesn't miss a beat and powers the album through its next track, "Man the Machine," which keeps the pedal stuck to the floor. And while this and the next track, "Light-years," seem to have the band retaining their metal edge, the mood changes on track 4.
The intro to "Inside Out" sounds like peak Queensrÿche, playing with sonic textures and experimenting with soundscapes as they did on their 1994 masterwork "Promised Land." This is a song that could have easily featured there, and that's high praise.
Another highlight is the Parker Lundgren-penned "Dark Reverie." Lundgren joined just as the band was erupting in controversy and somehow stuck through it all. This is his first sole songwriting credit, and it's a killer one. Reminiscent of "Jet City Woman" from "Empire," the song leans on those progressive tendencies without wearing them out.
QUEENSRYCHE - Dark Reverie (Lyric Video)
They're touching on each era of their own storied career without sounding forced or deliberate in doing so. And further carving out his own identity within the band La Torre goes full-on Ronnie James Dio at one point, letting all the grit come into his voice.
"Portrait" closes things out in a tribute to the psych-influenced songs that have been absent from the last two albums. While such songs definitely hold a core position in the Queensrÿche legacy, this song seems ill-suited to closing out such a strong album. It's a good song, but may have been better-suited as a bonus track.
Overall, "The Verdict" is expertly engineered to balance the metal elements with subtle keyboard accents and offers a balanced drum mix that lacks the heavy compression from which "Distance Over Time" suffers.
Dream Theater have self-produced albums for 20 years now, and when Mike Portnoy departed, John Petrucci's penchant for mechanical drum sounds that could have been pulled directly from programming software has plagued their recent releases. Not the case with the Zeuss-produced Queensrÿche albums, which are heavy but natural sounding.
Both albums will have their fans, but for those who worry that the new century may have left prog rock behind, each band is still demonstrating that there is something to be found for even the casual fan.
With "The Verdict" classifying as 'must buy' material for anyone with even a passing interest in the genre, and Dream Theater returning to a more focused approach to their songwriting, there may be hope for a new chapter in prog rock.
This article originally appeared at BuckStodgers.com
---
Buck Stodgers is a lover of movies & music and enjoys writing about his passions. He's a Montana resident, by way of Seattle and New England, and spends far too much time in front of a screen wondering what to watch next.
---