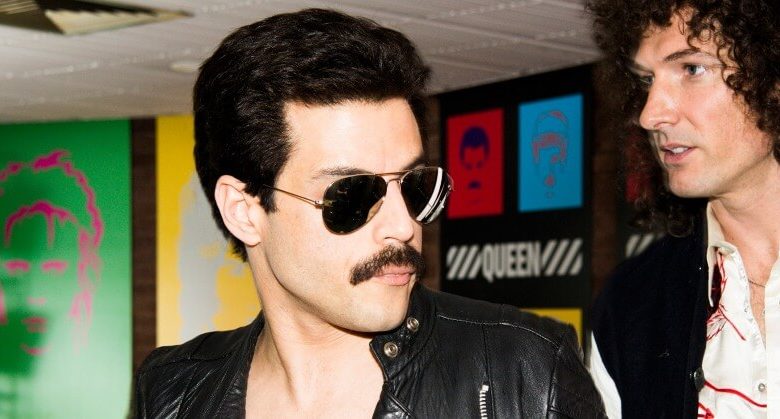 Queen might be the most unlikely group in music history.
Its sound veered from opera to gospel, rockabilly to flat out rock. Queen's signature hit, "Bohemian Rhapsody," defies description.
Try it. Good luck.
The band members didn't follow any preconceived path to super stardom. Nor has any act come close to following in its footsteps.
Only you wouldn't know it from watching "Bohemian Rhapsody."
Bohemian Rhapsody | Official Trailer [HD] | 20th Century FOX
The Freddie Mercury story follows the musical biopic template to the letter:
The quirky "how they met" moments
The rise to the top
The intra-band dustups
The music industry types that just don't "get it"
It's all here, which makes the film's first half so dispiriting. This isn't any ordinary band. How many lead singers boast a four-octave range? Yet for a good hour "Bohemian Rhapsody" shows how a can't miss biopic can do just that.
Director Bryan Singer opens with Queen's triumphant Live Aid appearance, complete with a fetish-like eye for Queen lore. From there we travel back to meet a young, hungry Farrokh Bulsara (Rami Malek). The lad didn't see eye to eye with his parents (shocking!) but knew his voice could transport him beyond his humble roots.
Good hunch.
This Freddie is awkward but cocksure, a partially made soul with glorious pipes and a sense of purpose. He meets his future band mates, wows some record executives and suddenly he's mentioned in the same breath as Daltrey, Bowie and Plant.
Bohemian Rhapsody | "Can You Go a Bit Higher?" Clip | 20th Century FOX
The singer's personal life gives "Bohemian Rhapsody" its texture and teeth.
There's something tragic about Freddie embracing his sexual identity. His relationship with Mary Austin (Lucy Boynton) can't survive, obviously. Freddie leaves her to sample the hedonistic perks of your average rock god.
His sexual awakening is neither woke nor insincere.
He still doesn't seem happy, at least not like he does when he's on stage rocking one flamboyant outfit after another.
FAST FACT: Sacha Baron Cohen was attached to the Freddie Mercury project for a spell but craved an edgier take on the singer's life. The surviving Queen members balked, demanding a more conventional feature. They won.
A shock cameo by Mike Myers (more, please) brightens the band's rise, but like a few other moments arrives with a distracting meta veneer. There oughta be a law against a sequence where a musician teases a few notes from an iconic song as if it just struck him or her … even if it happened precisely that way.
Malek's Mercury-sized choppers are distractingly large at first. Yes, the real Freddie Mercury's teeth weren't modest, but there's something false about Malek's dental makeover.
The "Mr. Robot" star is just warming up.
He's not here to do another Freddie Mercury impression. He channels the singer's sticky charisma, something that made his concert appearances darn near mystical. The movie's third act features plenty of Freddie in his element. It's hard not to crave more concert footage along the way.
View this post on Instagram
Even the creation of the classic "Bohemian Rhapsody" track is a cautious highlight. Far better is a press conference later in the film. Singer magnifies the surreal nature of reporters attempting to decode Freddie's sexual DNA, while the cameras swim in murky excess.
Meanwhile, the band members beg for questions about the music.
The more things change…
So why does the movie rebound so dramatically? We come to know Freddie beyond the theatrical tics. He's a rock star of the first order, but it never corrodes his humanity. Malek deserves all the credit here. He nails the poses and attitude, but he never lets us forget there's a lost soul underneath.
The finale is worth every penny of your ticket price. It's rousing in every way a biopic finale should be. You might just shed a tear between songs.
The movie's creative license with the true Queen saga is … troubling. Accepted on face value, "Bohemian Rhapsody" reminds us why Queen ruled the charts and classic rock radio for the forseeable future.
HiT or Miss: Freddie Mercury fans will cherish this biopic, warts and all. It's still a missed opportunity despite a bravura turn by Rami Malek.