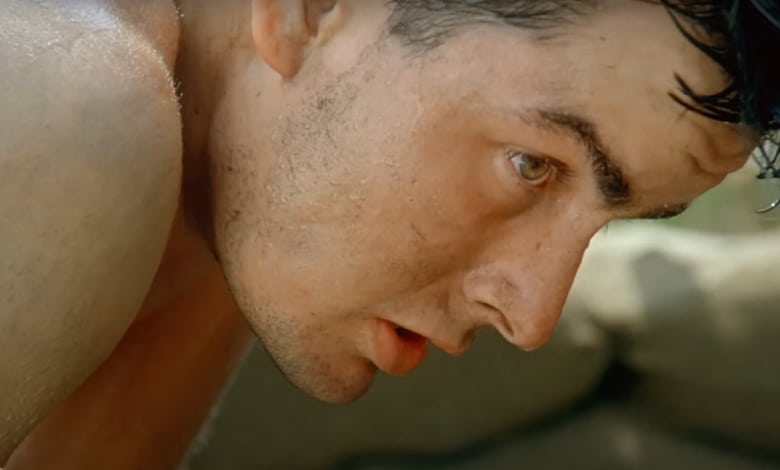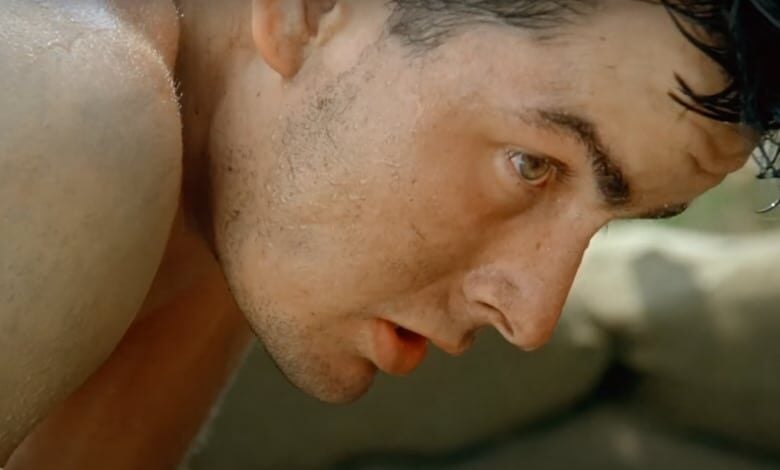 Oliver Stone's "Platoon" (1986) was the first film about the Vietnam War that was written and directed by a veteran.
The film itself, a dramatization of Stone's experience as a soldier, is devoid of the kind of flamboyant style (except for a single scene, which I'll get into later) that define Stone's later works. There is nothing here to soften the blow of the imagery, the subject matter or the mood established.
Platoon Official Trailer #1 - Charlie Sheen, Keith David Movie (1986) HD
Take the opening, in which a plane full of "cherry" new recruits touch down near the Cambodian border in 1967. Among the arrivals is Chris (Charlie Sheen, appearing baby faced and sweetly naïve), whose glance around at his destination suggests a sinking feeling that overcomes him.
The first line we hear is someone asking aloud, "Aw man, is that what I think it is?" The question is regarding the occupied body bags and the dread of that moment never dissipates.
Chris' tour exposes him to the horrors of war, as he loses those closest to him and even finds conflicts between two very different leaders, the compassionate Barnes (Willem Dafoe) and the broken Elias (a ferocious Tom Berenger).
"Platoon," which won the Academy Award for Best Picture of 1986, is Stone's requiem for the fallen. Every bit as important as the film itself is the way it created an open dialog about the Vietnam War.
PODCAST: Three-time Oscar winner Oliver Stone, author of the new memoir CHASING THE LIGHT, reflects on how Vietnam changed him and shaped his work, frustrations about being labeled a 'conspiracy nut' and why he ended his book after PLATOON's Oscar night https://t.co/qCUm9O5IV3

— Scott Feinberg (@ScottFeinberg) August 1, 2020
Escapism is always a welcome experience that cinema can provide, but "Platoon" makes "Rambo: First Blood Part II" (1985) seem like the trivial fantasy it ultimately is.
Sheen, resembling his father during the "Badlands" era, provides soulful narration. Chris is the audience surrogate, and the actor capably conveys the character's daily shock and astonishment. Berenger's character sports scars that only begin to suggest how profoundly war has shaped and shaken him. Dafoe's empathetic leader brings necessary balance to the ensemble.
The excellent supporting cast includes John C. McGinley, Forrest Whitaker, Johnny Depp, Keith David, Tony Todd, Kevin Dillon and Richard Edson. Captain Dale Dye served as the film's Military Tech Advisor.
The actors convey the comradery and tortured existence of their experience. As a character notes, "Maybe that's why they call them grunts, because grunts can take anything."
"Platoon" winning Best Picture
Stone resists making any of these characters heroes or villains (except, perhaps, for Dillon and Berenger). Dafoe's final scene is the film's most iconic yet still hard to take. There are few clues provided regarding Chris' past. Otherwise, Sheen's efforts to make Chris an Everyman (and a Stone stand-in) are effective.
Stone's lone touch that goes a tad too far is the primal savagery embodied by Berenger, as his eyes turn red as he nearly murders Chris. Otherwise, the flamboyant surrealism of his later films is nowhere to be found.
Georges Delerue's score, with its leaning heavily on "Adagio for Strings," is devoid of any harumph. It's somber and spare, as the audio emphasizes the sounds of the environment. A few well-chosen tracks, like "White Rabbit," mark the music soundtrack. Likewise, Claire Simpson's editing and Robert Richardson's cinematography are masterful.
"Platoon" deals in a direct, intimate way with the inner psyche with of the soldier. Like Lewis Milestone's "All Quiet on the Western Front" (1930), Stanley Kubrick's "Paths of Glory" (1957), Brian De Palma's "Casualties of War" (1989), Terrence Malick's "The Thin Red Line" (1998) and Spike Lee's "Da 5 Bloods" (2020) as one the best films about war, and the tremendous sacrifice of the soldiers, ever made.
Platoon (1986) - Hell Is the Impossibility of Reason Scene (1/10) | Movieclips
"Platoon" is superior to the early crop of serious-minded American films portraying the Vietnam War, like Hal Ashby's "Coming Home" and Michael Cimino's Best Picture winning "The Deer Hunter"; the latter is, without question, a great film, but the oft-quoted "Russian Roulette" sequences have overshadowed the rest of the film.
It's unfair that the zeitgeist continues to put its emphasis on those sections, in the same way the "Squeal Like a Piggy" scene from "Deliverance" is the one scene everyone thinks of and puts emphasis on.
The other films on the subject that arrived afterward are, likewise, respectable but aren't in the same league as "Platoon." Not even Stanley Kubrick's "Full Metal Jacket" (1987), made at the same time as Stone's film but released a year later.
RELATED: John Savage Draws Strength from Military Members' Recognition
For all the deserved praise the first half receives, in which R. Lee Ermy and Vincent D'Onofrio gave tour de force work, the second half is a cold, detached slog.
Stone makes "Platoon" vivid, intense and personal. The Mai Lai massacre scene (or, to be clear, a scene recreating it in a fictional context) is horrifying.
The My Lai Massacre | History
Post- "Platoon," movie theaters saw the likes of the low budget "Hamburger Hill" (1987) and, heaven help us, "Braddock: Missing in Action III" (1988). Unlike too many Vietnam-set movies made in the late '80s, "Platoon" is not an action movie, as the battle sequences emphasize confusion, suffering and noise.
Unlike "Apocalypse Now" (1979), there's no distancing us from the suffering. One moment early on shows Chris just standing around, while a snake slithers past his feet – he's always in danger. There is no glory in this detail, just survival.
In addition to getting the cover of Time Magazine and leading a parade of new films on the topic, there were also the acclaimed television series "China Beach" and "Tour of Duty." The film clearly touched a nerve, as the Vietnam War came back to pop culture as a talking point.
The poster tagline announced, "The First Casualty War is Innocence," while the trailer announced that this is "the first real movie about the war in Vietnam is Platoon."
View this post on Instagram
Released the same year as "Top Gun," this is anti-Maverick, not patriotic and devoid of optimism. "Platoon" left me feeling numb. Even with the internal battles with Barnes and Elias, there's no "Apocalypse Now" grandeur. The final title card simply announces, "Dedicated to the men who fought and died in the Vietnam War."
Stone was a combat infantryman in Vietnam in '67 and won the Bronze Star for Gallantry. Remarkably, Stone followed "Platoon" with "Wall Street" (1987) and "Talk Radio" (1988). He continues to be one of our most important American filmmakers, as his films largely reflect his personal experiences as a child of the 1960s and his surviving the decade as a war vet and socially conscious American.
His films typically generate controversy, sometimes because of their violence, but more often because they're scrutinized for their historical accuracy. Stone's documentaries deserve that sort of nitpicking but not his films, which are works of fiction that portray harrowing moments in history, reflected as Stone remembers them.
Not all of Stone's films are perfect, but he seems incapable, even now, of making anything impersonal. "Platoon" still hits hard and that's largely because Stone was once the man Sheen is playing in front of the camera.