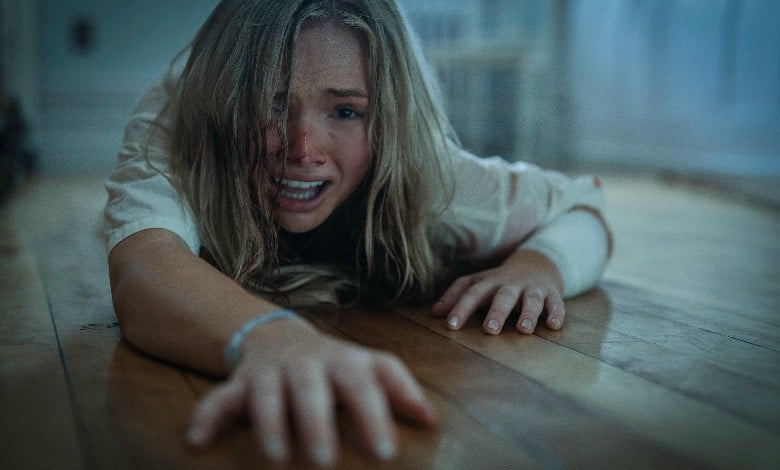 Lyndsey Anderson Beer's "Pet Sematary: Bloodlines" has an ambitious idea for a prequel and a rich atmosphere to carry it for a while.
It's also worth noting that the film begins and ends with the iconic line "Sometimes Dead is Better." When you have to hit that line twice, you know your horror prequel is working too hard to make the basics work.
Pet Sematary: Bloodlines | Official Trailer | Paramount+
The time is now 1969 and young Jud Crandall (Jackson White) is planning to leave Ludlow, Maine behind him for good. Jud and his girlfriend Norma (Natalie Alyn Lind) have made a point to tell everyone in town they're joining the Peace Corps.
They only get a mile down the road (or, as this is Stephen King's Maine, its pronounced "the rud") when an auto accident stalls them. There's also the reveal that a dog and local homeowner have been acting strangely since the reappearance of a son who served in the Vietnam war.
Lots of undead shenanigans follow.
Stephen King's 1983 novel "Pet Sematary" was a big deal for me. It was the first thick novel of exceptional length I ever read. It also gave me nightmares that lasted for, well, probably years.
Updating W.W. Jacob's "The Monkey's Paw" to modern day and having a small child as the embodiment of evil shook me up. As a father, I still find that story so disturbing and fascinating.
The arrival of the 1989 film adaptation also kept me up at night. Director Mary Lambert didn't water down King's faithful screenplay – in fact, she made a hall of fame blockbuster, a cruel, unflinching horror film that never makes those scariest movies of all time lists but should.
Even the layered, wonderful turn by Fred Gwynne as Crandall (as the definitive east coast bumpkin) didn't soften it. Lambert (who famously took over for George A. Romero) made a real freakshow that put most of the other mainstream horror movie offering of the 1980s to shame.
No such luck with the awful "Pet Sematary Two" (1992), which upped the gore, morbid humor and ghoulishness, but lost all of the heart and human center of the original.
Pet Sematary Two (1992) - Official Trailer
On the other hand, the 2019 "Pet Sematary" remake, directed by Kevin Kolsch and Dennis Widmyer, altered King's third act (a controversial choice that irritated some fans of the novel) but hit just as hard as Lambert's film.
The lead actors were better cast, though the debate continues over whether John Lithgow's harder-edged spin on Crandall was as good as Gwynne's far more moving take on the role (actually, the two gave different, equally valuable portrayals of a character that could have come across as a plot device in lesser hands).
The 2019 "Pet Sematary," alongside the 2017 "It: Chapter One" and the 2007 "The Mist," are among the best, hardest hitting of the recent King film adaptations.
Making Crandall the lead of a "Pet Sematary" prequel was an inspired idea, except White is just serviceable in the role and you never get the feeling that this younger iteration will grow up to look like either Gwynne or Lithgow.
An edgy twist on Jud and Norma's characters comes up in the recent "Pet Sematary" (and King's novel) that this movie is presumably waiting to use in another prequel installment.
Setting the story during the early days of the Vietnam war and the Draft adds a true feeling of dread to the first act. So does the scene where Jud and Norma follow a seemingly possessed dog back to its home. Then we get to the first of several poorly staged animal attacks along with forced jump scares and sleepy performances.
Pet Sematary: Bloodlines | The Story's Origin | Paramount+
It's puzzling to see Henry Thomas, Pam Grier, Samantha Mathis and David Duchovny in supporting turns, not only because of their stature but due to how their characters and performances are so much more interesting than the leads.
The feral, unhuman quality of those buried and reborn from the Pet Sematary were never more disturbing than in Lambert's film. Since then, these verbally unkind zombies speak too often and do too much. Having adults turning adults into zombie creatures isn't anywhere near as harrowing as having it done to a child, which is why the 1989 and 2019 "Pet Sematary" will likely never be matched in how shudder-inducing they are.
The best complement I can give Beer's film is that, even as it stumbles, this is still worlds better than the vile, nearly unwatchable "Pet Sematary Two." A few moments connect (like a sequence where a character is buried alive) but this what the late, great Denver movie critic Reggie McDaniel used to call a standard "stalk n' slash/smash n' bash."
I suspect Reggie would agree with me that, once the initial adaptations become a movie franchise and ventured outside of the Creed family, the Pet Sematary follow ups lost their bite.
The real horror here is watching Thomas, Grier, Mathis and Duchovny get wasted in a horror yarn that uses them for exposition and little else.
Oh, the horror.
One and a half Stars