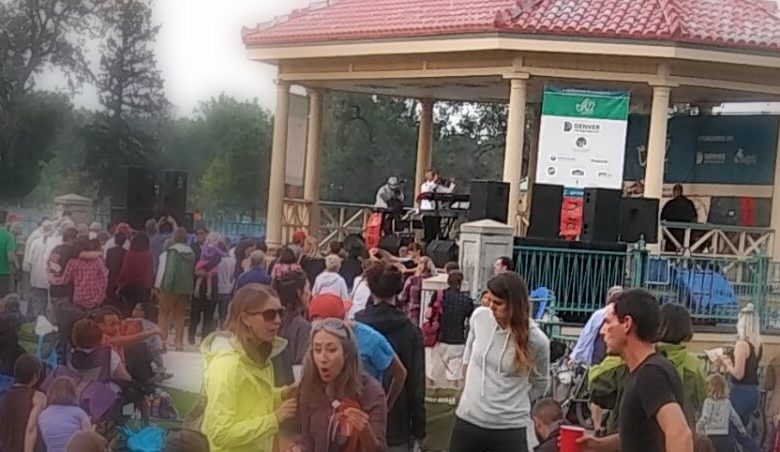 A doom and gloom forecast couldn't stop me from summer's last Jazz in the Park.
I stared down the clouds, gathered my family in our Honda and headed to Denver's expansive City Park. The rain had already started to fall, and the weather report suggested the worst was yet to come.
Things looked grim.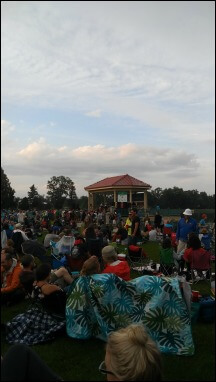 Then, wouldn't you know it, the torrential rain subsided a block before we reached the parking lot.
A Mile High miracle!
We dropped our picnic blanket on the soggy grass and settled in for two hours of open-air jazz. It's a family tradition for us, one well worth risking a rainstorm to enjoy.
And then the Leftist sucker punch came.
Alpha Schoolmarm Orchestra tweaked the lyrics to one of its inventive covers to include a series of far-left bromides. The band blasted President Trump's wall proposal, said immigration is a human right, and scorched health care aimed at the rich.
There may have been one or two more lectures. I can't recall them precisely. The moment took me by surprise. It shouldn't have, though. It's the new normal. And it stinks.
This wasn't a case of an artist weaving pointed barbs into their lyrics. The political broadside arrived as an "on-the-nose" rant accompanied by the group's impressive horn section.
I had spent the whole day looking forward to the concert, one of Denver's most intoxicating summer treats. It wasn't like I was scrolling through my Facebook feed and stumbled on one of my liberal friends' HuffPo links. That I've come to expect. I don't insulate myself from opposing views. Conservatives couldn't do that in modern America if they tried.
This … felt different. Like a final straw had just snapped.
The No Fun League
We're living in a time when the Left can't stop shoving their point of view in everyone's face. NFL has-been Colin Kaepernick took a knee last year rather than stand for the Pledge of Allegiance. ESPN continues to torch its ratings by making just about every sports moment political. And one sided.
Teen students refused to have their pictures taken with Speaker of the House Paul Ryan.
Charismatic stars like George Takei and Ron Perlman hurl childish names at the current Commander in Chief from their Twitter perch.
Of course. Because #WhatWouldADickDo? https://t.co/VnlKJMvk4h

— Ron Perlman (@perlmutations) August 7, 2017
Turning on genre shows like "Supergirl" and "Agents of S.H.I.E.L.D." means getting force fed "resistance" memes.
The Kennedy Center Honors is the latest political battlefield.
I covered the event for several years while working at The Washington Times. Talk about getting star struck! The paper inserted me in the event's famous cocktail soiree where the honorees mingled with their show biz chums.
Sorry, Ms. Winfrey. I didn't see you standing there. C'mon, Jack … don't give me that eyebrow. That was a legit question.
Now, the honors gala is yet another "resistance" event.
2017 Kennedy Center Honorees
TV legend Normal Lear won't attend the White House reception to confirm his hatred for President Trump. Fellow winner Gloria Estefan suggests she'll attend but use the event to protest the President's immigration policies.[ https://www.vanityfair.com/hollywood/2017/08/norman-lear-donald-trump-kennedy-center]
This isn't about clamping down on free speech. It's more about decency, decorum and good ol' fashioned timing. It's like showing up at your future in-laws house for the first time and launching into a jeremiad about the Military Industrial Complex.
It's. Not. The. Appropriate. Time.
That sense of timing, of respect for people who hold different views, is fading. Maybe it's gone for good. Every public forum is now an excuse to thump one's chest and make a statement, like a production of "Hamilton" with a very special patron in the crowd.
We've become a Virtue Signaling Nation, and it's exhausting.
Don't Blame Trump (For This)
It would be easy to say all of the above is a reaction to a reality show star becoming our Commander in Chief. And that would be wrong. Many of these progressive pouts are aimed elsewhere. Why else would one of talk radio's most genteel conservatives, Dennis Prager, face an artistic insurrection for offering to conduct an orchestra free of charge?
Does Lear think his protest will accomplish anything? Will a single heart or mind shift? Or, will he be tainting an event meant to honor his impressive body of work and that of his fellow honorees?
As a conservative I'm used to Hollywood embracing progressive views. The media does the same. Academia? Do you really have to ask?
I don't "Unfriend" chums after seeing their latest vagina hat self-portrait.
Nor do I subtract stars when a movie trots out leftist clichés. I scribble it on my scratch pad and then keep watching.
At the same time, I'm exhausted. I doubt I'm alone.
This is the point in the argument where I'm contractually obligated to say, "and this is how you got President Trump." And there's more than a kernel of truth to that.
Trump, for all his flaws, offered a perfect way for Red State voters to stick their thumb in the electoral process' eye. Some centrist Democrats, too, got in the act. And it felt … glorious, even if a Trump administration remains a wild card, to be generous.
A few days ago I listened to a "Stuck in the '80s" episode featuring Michael McKean. Mr. Spinal Tap himself leans to the left, politically speaking.
This Is Spinal Tap - Clip
The show's hosts peppered McKean with fan questions. The actor/singer returned serve, delivering sweet memories from his Spinal Tap days.
No politics whatsoever.
I finished the episode, a huge smile on my face. And then I remembered the chat took place a few years ago. Would McKean conduct himself the same way now? Could he resist bashing President Trump, conservatives or other hot-button issues during an otherwise apolitical chat?
Maybe. Maybe not.
The arts have had something to say since the first actor hit a stage. That's the way it should be. Entertainment also used to unite audiences, making us laugh, cry and remember our collective humanity.
That's happening less and less these days. And we've lost something vital in the process.