Industry News
Leftists Try to Block 'Bigoted' Prager from Orchestra Gig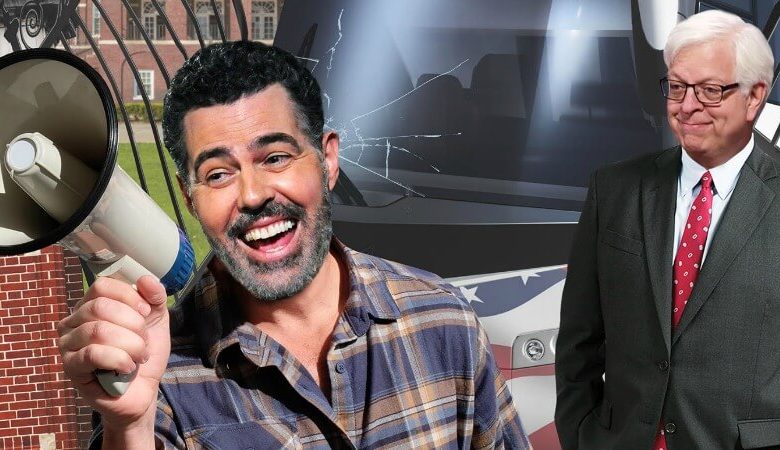 Donald Trump was Dennis Prager's last choice to represent the GOP in the 2016 presidential election.
When Trump shocked the nation by beating back 16 Republican challengers Prager changed his tune. The veteran talker told listeners Trump may be deeply flawed, but he's a better alternative than four years of President Hillary Clinton.
Now, Prager is getting a taste of what conservatives commonly endure in the Age of Trump.
Leftist fury against the new president frequently spreads to other GOP-friendly figures. A record label bounced an act simply because the singers shared some right-leaning views in an online magazine interview. A veteran Chicago theater critic is under attack for filing reviews that don't reflect a progressive spirit.
Conservatives speakers like Ben Shapiro, Milo Yiannopoulos and Ann Coulter have had their college appearances protested or cancelled, occasionally sparking fires and violence.
Milo Yiannopoulos Speech Protests Turns Violent at UC Berkeley
Other right-leaning souls have been met with the kind of civil disobedience that wouldn't be tolerated during the Obama years.
Children refused to pose with Speaker of the House Paul Ryan. College students turned their backs to Secretary of Education Betsy DeVos during a commencement speech. More recently, the winner of a makeup contest got her prize yanked because the person holding the contest, Kat Von D, learned she supported President Trump.
FAST FACT: Dennis Prager began his radio career in Los Angeles in 1982. His show's syndicated started in 1999.
Prager innocently thought sharing his love of classical music with the Santa Monica Symphony Orchestra might be a joyous night for all.
Not so fast.
Prager's guest conductor gig, for which the talker says he isn't being paid, is being protested. An online petition created by some members of the symphony asks citizens not to attend the Aug. 16 Summer Gala Concert. To do so would "normalize" the kind of bigotry Prager espouses.
The petition cites the Jewish broadcaster's religious beliefs that fuel his monologues regarding gay marriage and adoption. They claim his support for President Trump's travel ban as well as his view that leftists are ruining the country portray him as intolerant and hateful. Regular Prager listeners know he draws a stark line between your average liberal and hardcore Leftists bent on radically changing America.
Also cited? This Prager comment about the hyped rape statistics from colleges nationwide. "There's no culture of rape at our universities. There's a rape of the culture."
RELATED: Shock: Here's How Trump Supporters Lose Acting Gigs
The message is backed by several local politicians and musicians. Santa Monica City Council member Kevin McKeown blasted Prager as a "bigoted hate monger" and suggested the symphony may lose "community support" by bringing in this guest conductor.
Fellow radio talker Rush Limbaugh has been hounded for years over charges his show shares hateful rhetoric. Prager has had little, if any, similar boycotts aimed at his long-running show.
Prager has been getting a crash course in Leftist intolerance of late. He's currently teaming with Adam Carolla for the 2018 documentary "No Safe Spaces." The movie shreds the lack of tolerance for right-of-center thinking on campuses nationwide.
Join Adam Carolla and Dennis Prager: No Safe Spaces