Industry News
Opinion
Breaking Down Netflix's Anti-Trump 'Space Force' Trailer
A nervous Steve Carell, progressive punch lines ... and is that AOC?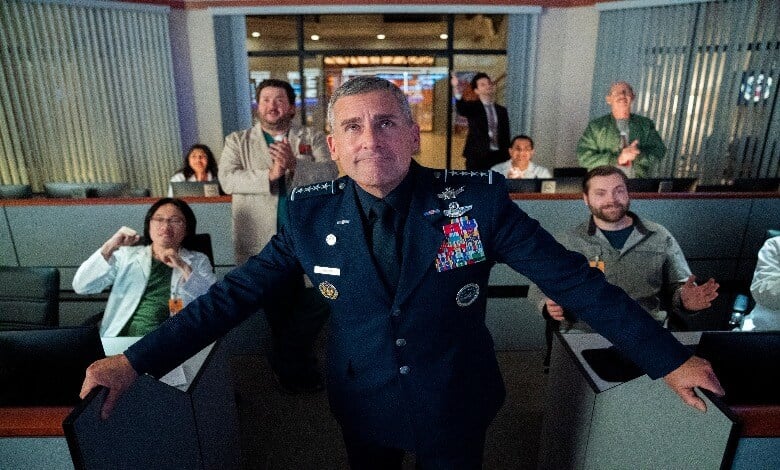 Modern comedians have President Donald Trump living rent free in their heads for better and certainly worse.
The laugh industry is obsessed with America's 45th president. Trump turned late night monologues into DNC jam sessions, to say nothing of how he crushed "Saturday Night Live's" apolitical lineage.
Now, we have "Space Force."
The Netflix comedy, bowing May 29, casts Steve Carell as the head of the newly launched government program. The idea, in theory, stems from President Trump's vow to create a space-based arm of the U.S. Military. That concept isn't new, but Trump put serious political capital behind it.
The "Space Force" information provided to the press suggests Netflix came up with the idea, with nary a mention of President Trump. That doesn't square with an early report from the far-left Hollywood Reporter.
Sources note the idea for the project was sparked by Trump's June order to establish Space Force as the sixth military branch.
The streaming giant, home to the Obamas' production shingle and a crush of left-leaning content, just released its first look at the series. The trailer suggests a few ways the series will fulfill its anti-Trump potential.
Space Force | Official Teaser | Netflix
The teaser finds Carell looking both inept and comical as the man in charge of the project. The "Office" alum, gets quality support from co-stars Jimmy O. Yang, John Malkovich, Diana Silvers, Tawny Newsome, Ben Schwartz, Lisa Kudrow and Noah Emmerich.
We also get an early glimpse at a character seemingly inspired by Rep. Alexandria Ocasio-Cortez, down to her flailing arms and squeaky voice
"Your attitude seems to be, give us money and don't look while we militarize space," the character in question says.
Later, we see a Space Force project literally blowing up before our eyes, a debacle which one character notes cost as much as "four middle schools."
The press release announcing the teaser says"Space Force" won't mock the U.S. Military. Here's Daniels sharing a driving force behind the project, a sentiment not even hinted at in the trailer.
We wanted to make sure that we were being accurate and more than respectful — I would
say complimentary — of the military virtues that Steve's character holds. We have astronaut advisors, science advisors, and our military advisor, Mark Vazquez, has been very useful in teaching us about military behavior. Both Steve and I have relatives in the military who we love and respect, and hope are going to enjoy watching the show.
They certainly may, but the teaser hardly seems like something military veterans will aggressively salute. Military satire has a long, rich history, from "M*A*S*H*" to "Dr. Strangelove." We'll have to see where "Space Force" falls in that continuum.
Daniels also teases the show may be yet another anti-capitalist rant.
We realized that the story had beautiful visuals and a mythic quality, and it echoed some of America's best moments. It had a lot of heroism and yet it also had a strong satirical element. Suddenly everybody has realized that there are riches to be had on the moon, and we've got to stake our claim. It feels like there's now a scramble to colonize space. The contrast between that and the super hopeful early days of NASA, when it was just such an achievement for all of mankind to get a person on the moon, is a good subject for satire.
No one on Team Netflix dares mention a certain president. We'll see if that level of restraint makes it to the finished product.