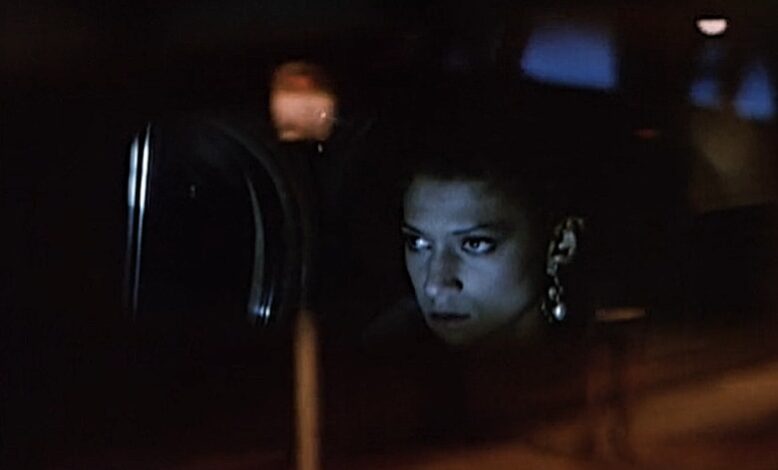 Neil Jordan's "Mona Lisa" (1986) begins with a romantic shot from under a bridge, in a nearly identical manner to his far more famous and celebrated "The Crying Game" (1992).
It's far from the only things these two Jordan-directed films, which are masterpieces, have in common.
Bob Hoskins stars as George, a bloke who has just finished a seven-year prison stretch, notable especially for how George didn't rat on his boss, a criminal named Mortwell (Michael Caine, sublimely evil). George has been away for so long, his neighborhood has changed, Mortwell now comes across as a slick, seemingly respectable citizen and George has no idea how to use a pager.
George is hired by Mortwell to drive a prostitute named Simone (Cathy Tyson) to her appointments. Initially, George's foul temper, slobbish demeanor and inability to blend in (he always asks for a Bloody Mary wherever he goes) makes him a bad match for Simone's controlled elegance. He hates his job of taking her from one client to another and she's disgusted by his careless behavior and appearance.
At one point, they become so enraged with one another, George pulls over the car, orders her to walk the streets and leaves her as he drives off.
She says, "You swine." She's right. He's awful.
George takes no interest in the seedy world he immerses himself in (it's his best quality), but he's also naïve and out of his element. Gradually, the two become friends and George agrees to help Simone find the young woman on the streets who she couldn't save and has been searching for.
RELATED: Yes, Both 'Chinatown' and 'The Two Jakes' Are Classics
George is a dummy and an anger-prone brute; Hoskins' straightforward and always persuasive performance never apologizes for the character. It takes a while, but George eventually realizes what we see immediately: in his words, Simone is "a woman of substance."
Tyson is not playing the "hooker with a heart of gold," nor a male fantasy. Her performance here is as natural and raw as her co-star. Hoskins and Tyson don't come across like movie stars playing stock characters- they're so moving because George and Simone seem like real people.
The screenplay by Jordan and David Leland is character-driven but tight and briskly paced. Within ten minutes, the premise is in motion and we're absorbing who these characters are, not through exposition but by action.
To get back to "The Crying Game" comparisons: like Fergus, Stephen Rea's protagonist in that film, George reveals a surprisingly tender side that doesn't come across easily. Hoskins finds the human center of a man who is often very hard to like.
There's also the story of "The Frog Prince," which comes up as a throwaway line but plays into the theme of deception as cleverly as "The Scorpion and the Frog" in "The Crying Game" spoke to the dark complexities of human nature.
The Crying Game (1992) Official Trailer - Forest Whitaker Thriller Movie HD
Whereas "The Crying Game" dealt with racial tensions as an undercurrent to the central theme of a man not knowing anything about women, "Mona Lisa" is more upfront about this. George is a bigot and he's in an environment that is racist, hostile and full of wealthy degenerates preying off of young women.
Some may be reminded of Paul Schrader's "Hardcore" (1979) but the portrayal of a deeply flawed man, trying to do the right thing very late in life, by saving a young girl from a sexually abusive and controlling man, has more than a little in common with Roman Polanski's "Chinatown" (1974).
As George walks through a sad parade of young women degrading themselves for the gaze of men, Phil Collins' "In Too Deep" plays over the soundtrack. It's a perfect touch – the music provides a romanticized contrast to the imagery, in the same way the opening of Nat King Cole's "Mona Lisa" plays over George's unsure but determined stroll to his ex-wife's house.
On his 1996 director's commentary track, Jordan admitted that the Collins song was forced on him by the producer but it's actually a haunting touch (in an odd, unintentional bit of synchronicity, Hoskins has a resemblance to Collins).
Jordan's harsh romantic thriller has an especially punishing finish, comparable to the infamous finale of "Chinatown." Jordan doesn't give you the ending you hope for but is bold enough to provide a finish that is honest, abrupt and reflective.
There are touches of levity that make the journey durable, like a nice subplot involving George's only friend, played by an amiable Robbie Coltrane. There's also the key story thread of George being a presence in his daughter's life and trying, as much as he can, to make up for lost time.
FAST FACT: Bob Hoskins landed his first acting gig in 1968 at London's Unity Theatre. He was 18 at the time, three years after he dropped out of school.
"Mona Lisa" is about George's attempt to create a family, both the real one he lost and the one he hopes to create with Simone. Mortwell even assures George that he's "family," promising him a place in his sinister operation.
This is also about how deceptive appearances can be, particularly when our feelings cause us to overlook the tough, obvious truths in front of us. While not as surprising as the famous reveal in "The Crying Game," the puzzle George must solve with Simone causes us to rethink much of the movie afterward.
Hoskins hopscotched from this Oscar-nominated performance to another and entirely different astonishing turn as the lead of Robert Zemeckis' career milestone, "Who Framed Roger Rabbit" (1988). Playing Detective Eddie Valiant for Zemeckis led to a successful and eclectic career of commercial and offbeat choices, though Hoskins is still best celebrated for his tough, ferocious turns in "The Long Good Friday" (1982) and this.
There are a few small touches that don't work, particularly when Jordan livens things up with foot chases (though an elevator sequence is especially well staged). Clarke Peters makes the most of his limited role as a killer pimp- much later, he proved himself a knockout dramatic actor by playing lead roles in Spike Lee's "Red Hook Summer" and "Da 5 Bloods."
I've always been drawn to this film, as it was a constant video rental in my teens and wound up the first Criterion Collection DVD I ever purchased. I'm happy to note that the prestigious film restoration label is re-releasing this on Blu-ray in September, not only because it comes with presentation and content upgrades, but because it remains eternally under looked.
Jordan's groundbreaking and Oscar-winning "The Crying Game" led to the grown-up blockbuster, "Interview with the Vampire" (1994), and films ranging from passionate, personal works ("Michael Collins"), neo-noirs ("The Good Thief" and "The Brave One") and a few curious and wickedly entertaining genre films ("In Dreams," "Byzantium" and "Greta").
GRETA | Official Trailer | Focus Features
Along with his all but forgotten "The Miracle" (a 1991 charmer that starred Beverly D'Angelo and remains out of print), the Graham Greene adaptation "The End of the Affair" and "Mona Lisa," Jordan's films often craft a tale of love unrequited, due to the intrusion of pivotal secrets and hard reality.
"Mona Lisa" is frank and sad, though it is a compassionate work that never exploits the sleaze of its setting. Jordan clearly exudes empathy for the women onscreen who are being regularly abused by powerful men and the film seasons George's character arch with a growing awareness and outrage over the perverse world he inhabits.
He wants a normal life and an adoring family, but is that a realistic goal or is it as much a fantasy as the scenarios Simone creates for her clients?
Jordan's film isn't an easy watch and will leave viewers with heartache but pulls us in by creating characters whose flaws are as authentic as their dreams of escape. This is one of the best films of 1986 and, for the late, great Hoskins' extraordinary work alone, it is a journey worth taking.