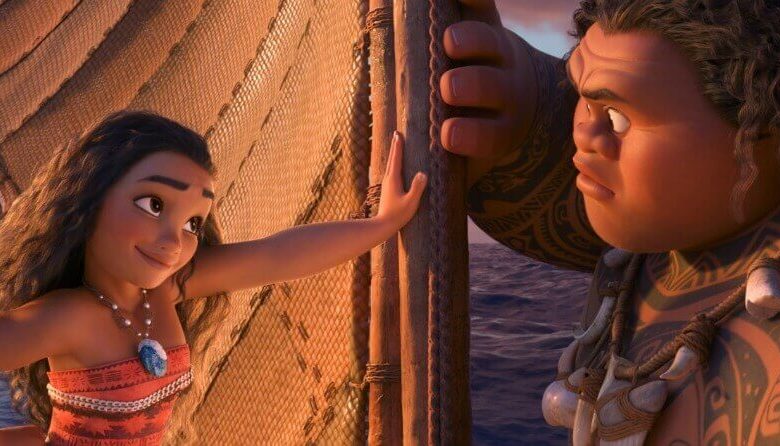 The buoyant songs. The scene-stealing sidekick. The hero's journey filled with adventure and redemption. And animation so lush you wish you could jump into the screen to bask in it.
Nobody does it better than Disney, and "Moana" simply reaffirms that universal truth. It also delivers a few new wrinkles to make that corporate formula pop.
A female protagonist who's both empowering and real. A demi-god who sings suspiciously like Dwayne Johnson. And a cultural heritage that adds a vibrancy to a story already teeming with it.
Sure, the story drags on a wee bit. And some messages get the yellow highlighter treatment. It's darn near impossible to resist all the same. Why even try?
Auli'i Cravalho stars as Moana, an inquisitive teen trying to learn why the land under her family's feet suddenly soured. The coconuts no longer yield milk. The crops can't sustain them.
It's all tied to an ancient legacy, one with a personal connection to Moana. So she embarks on a dangerous journey to find the source of the problem. That leads her to Maui (Dwayne Johnson), a demi-god responsible for her people's plight.
Together, they must rekindle Moana's cultural heritage, in the form of wayfinding, before her village crumbles. Pretty tall order for a Polynesian teen and an egotistical mountain of muscle. Would you bet against them? It helps that the filmmakers turn the ocean itself into a character, a swirling beast which pick sides in the film's quest.
RELATED: How Disney Channels Its Inner Three Stooges
"Moana" packs plenty of ebullient songs, written by Mr. Hamilton himself, Lin-Manuel Miranda along with Mark Mancina. You can imagine the numbers reborn on stages nationwide in a year or three. Heck, it's inevitable.
The directorial duo Ron Clements and John Musker ("Aladdin," "The Little Mermaid") make the most of the tropical settings. They even have a grand time manipulating the tattoos criss-crossing Maui's frame. No resource is wasted here.
And, if that weren't enough, Johnson sings! He's no Julie Andrews, but he acquits himself nicely all the same during the fizzy number "You're Welcome." Is there anything the erstwhile wrestler can't do?
"You're Welcome" Live By Dwayne Johnson & Lin-Manuel Miranda At Moana World Premiere
"Moana" makes the most of the Polynesan culture on display. It doesn't get bogged down in platitudes meant to appease select interest groups. It's genuinely moved by the people and their land, eager to share their hidden treasures with the masses.
Younger audiences will titter over Hei Hei, a dumber than dumb rooster who joins Moana on her journey. They'll also appreciate how Moana reconnects to her heritage, a bond that moves the story along while gifting her with a sly coming of age arc.
HiT or Miss: Disney's "Moana" is tailor made for box office glory and repeat family viewings. Let the merchandising machine roar into life.