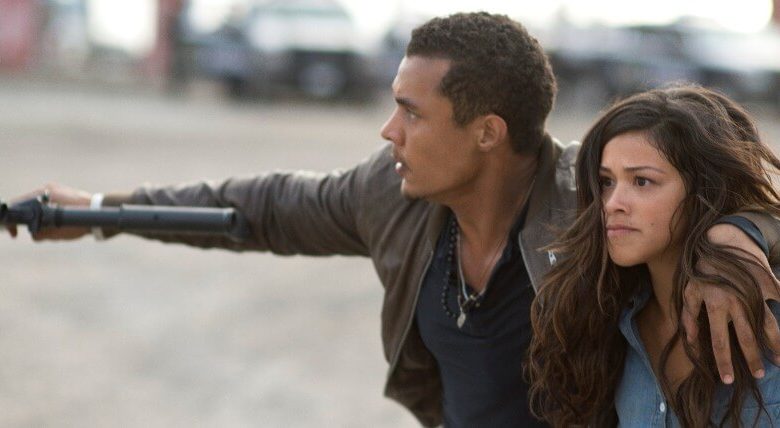 "Miss Bala" is an action movie without much action, and a character study with a blank slate at its core.
What's left? A lead actress who deserves better and, should the box office stars align, a new franchise.
Really.
Why not? Franchises remain the ultimate Hollywood end game. Does it matter that "Miss Bala" underwhelms? Keep the budget low enough, and add a number to the end of the title.
Voila! A female-led franchise to counter Hollywood's entrenched gender bias.
MISS BALA - Official Trailer (HD)
Gina Rodriquez stars as Gloria, a Mexican-American makeup artist heading south to help her friend prep for a beauty pageant. Before you can say, "wrong place, wrong time," Gloria is caught up in a Mexican drug cartel shootout.
She's separated from her friend Suzo (Christina Rodlo), but that's not where the bad news ends. Cartel leader Lino (Ismael Cruz Cordova) kidnaps Gloria, forcing her to commit a horrific crime.
Can Gloria rescue Suzo and escape the cartel's clutches? More importantly, will she fall for Lino's impressive abs and heart-tugging back story?
Yes, "Miss Bala" suggests a romance between the kidnapper and his victim. If that sounds weird it plays out even creepier on screen. A nuanced script could pull of this thorny twist. "Miss Bala" screenwriter Gareth Dunnet-Alcocer isn't up to the task.
FAST FACT: Gina Rodriquez turned down a role in Lifetime's "Devious Maids" series, eager to avoid Latino stereotypes.
The bigger problem is Gloria herself. She's plucky, all right, but her personality never rises to the surface. She's a loyal friend and a kind-hearted soul. Beyond that, it's a mystery.
Don't blame Rodriguez for "Miss Bala's" failings. The "Jane the Virgin" alum is endlessly endearing. It's just the script that lets her, and us, down. The film opens with a fashion designer type dismissing Gloria's career ambitions. Later, a matronly woman scoffs at the thought of Gloria competing in a beauty contest.
Oh, is "Miss Bala" about a self-doubting woman who blossoms under crazed circumstances? Not really. The story doesn't support that evolution. It's more interested in showing the cartel's slick headquarters and brutal tactics.
The film's subplot involving DEA agents is one of many far-fetched stretches holding "Miss Bala" together. Movies routinely show American duplicity when it comes to border politics. Here, what the DEA agents, including Matt Lauria, suggest isn't just callous. It's crazy.
"Miss Bala" re-imagines the critically hailed 2011 movie of the same name.
Miss Bala - US Trailer (2011) HD Movie - TIFF - Cannes Film Festival - NYFF
That film featured a Mexican lead character and a much darker third act. The new "Miss Bala" ends with an oh, so obvious attempt to launch a new action franchise.
Only the action here is brief and underwhelming. Director Catherine Hardwicke (the excellent "Thirteen") captures the glossy veneer of the underworld. She's less interested in compelling shootouts.
It's still easy to watch "Miss Bala" and appreciate its sense of restraint. The lack of action is clearly on purpose. We're meant to experience Gloria's new world, to share in its horrors and root for her survival.
More movies should attempt to leave formula behind. "Miss Bala" fails for not replacing boilerplate material with storytelling substance.
HiT or Miss: "Miss Gala" packs more ambition than bullets, thrills or compelling characters.