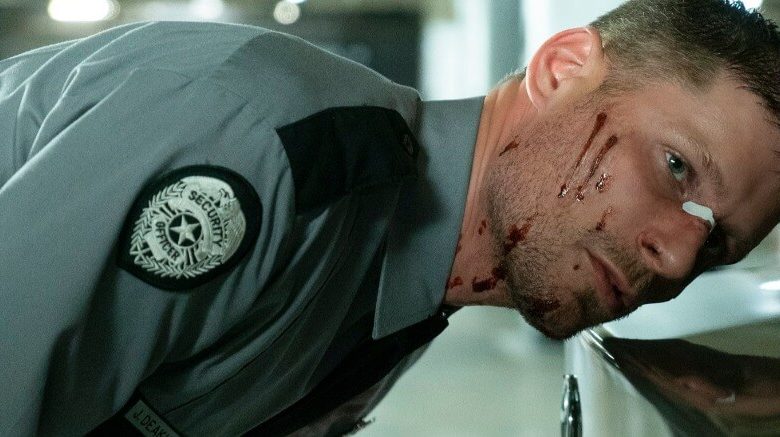 Did you ever step onto the elevator, see an attractive stranger and think, "well, this isn't so bad…"
The new Hulu horror entry "Down" starts at that ambiguous moment. Two strangers. One elevator. And, as misfortune would have it, plenty of time to kill.
Did we say, "kill?"
All isn't what it seems in the shocker, part of Hulu's "Into the Dark" horror series. Director Daniel Stamm ("The Last Exorcist") embraces horror clichés without compromise. He also dabbles in some serious bloodshed without letting go of the character drama at the story's core.
Into the Dark: Down Trailer (Official) • A Hulu Original
Jennifer (Natalie Martinez, "Kingdom") wants nothing more than a reunion with her ex for Valentine's Day. Only her work building's elevator won't cooperate. It's stuck, and so is she — along with a man who also works in the building.
Guy (Matt Lauria) seems pleasant enough. Easy on the eyes, too, if Jennifer is being honest. What follows is an intricate, sexually charged dance.
FAST FACT: Director Daniel Stamm says humor is a great way for horror films to make characters empathetic … at least before the blood starts to spill.
No spoilers here, but "Down" spends plenty of time with the main characters before the genre elements erupt. That's where the fun begins, although one character's mental portrait feels incomplete, if not insincere. We needed a sign, a flicker, that suggested the potential for violence existed all along.
Horror movies can be forgiven for such flaws. Still, given how much attention is paid to character development here, the deficiency hurts.
It's going DOWN February 1, only on @hulu. #IntoTheDark https://t.co/RoTHKxNKIS

— Blumhouse (@blumhouse) January 23, 2019
You'll alternately cheer and scream at some of the decisions made, once again in grand horror movie tradition. At least here there's enough inspired choices to lend the tale some balance and intrigue.
Martinez and Lauria click on screen, and their growing connection is more than enough to snare our attention. When the screaming starts, though, the horror elements stand up tall for our inspection.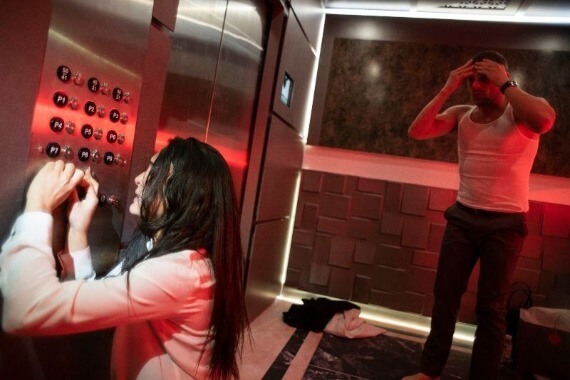 You don't have to squint to see a dash of feminism coarsing through "Down." It's baked into the story, as is a sliver of #MeToo awareness. Read into it what you will. The narrative, including some very tense sequences in the elevator shaft, never suffer as a result.
"Into the Dark" offers a monthly horror feature tied to that month's featured holiday. "Down" delivers both an erotic charge and fodder for those who despise the "Hallmark Holiday" all in one viewing.
"Down" debuts Feb. 1 exclusively on Hulu.