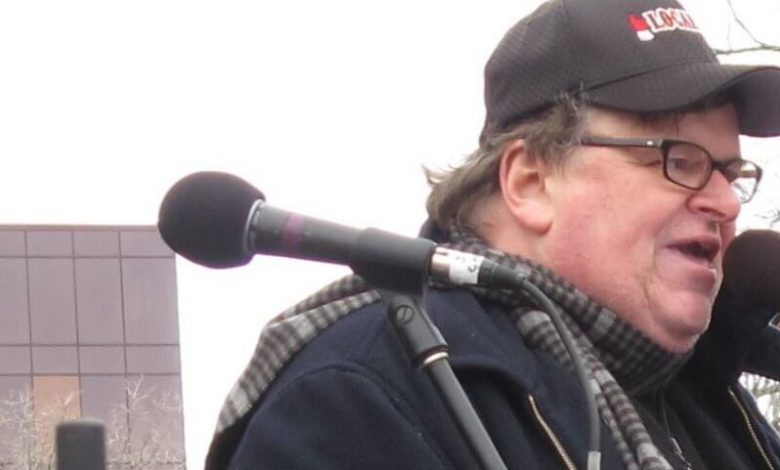 Virtually any time Michael Moore grabs a microphone reporters are ready to write down every last syllable.
The far-left filmmaker is constantly in the news. It helps that he's a first-rate promoter, a fellow who understands the news cycle better than most. If he stopped making movies tomorrow he could line up gigs with any marketing firm in the country.
The name of his latest movie alone is genius – "Fahrenheit 11/9." It plays off his biggest hit as well as the 2016 election date.
Michael Moore's FAHRENHEIT 11/9 : OFFICIAL TRAILER - In Theaters 9/21
He's also good for clicks, something that isn't lost on media outlets. Divisive figures are catnip to anyone counting web traffic.
So when a legendary film critic, known for his gentle demeanor, lashed out at Moore you'd think media outlets would pounce.
Not this time.
RELATED: Five Signs Michael Moore's Moment Is Over
Leonard Maltin and his daughter, Jessie Maltin, tag-teamed against Moore on Twitter earlier this week. They claim Moore disparaged Boston Light & Sound, a film company which worked on Moore's Traverse City Film Festival, during a public appearance.
The company in question recently sued Moore, claiming the Oscar winner hadn't paid them for their work. HiT reached out to Moore for comment Monday sans response. The director hasn't commented on the matter on his Twitter account as of yet.
Leonard Maltin released a video three days ago elaborating on his beef with the filmmaker, a talent he admires. This site broke the story, with Twitchy quickly joining the discussion.
Jim Swift of The Weekly Standard came next, adding some context to the story.
And that's it.
The veteran critic even responded to those turning his attack into a political matter, which also got plenty of retweets.
Folks. We chose to speak up because we wanted to help our friends protect and defend their reputation. This is not about our president or politics. Please stop attacking each other, stop the name calling, stop the viciousness. Don't lose sight of the actual issue at hand. https://t.co/NNUSxATf8E

— Leonard Maltin (@leonardmaltin) September 11, 2018
Punch "Michael Moore Leonard Maltin" into Google News and you get The Weekly Standard piece and nothing else. A filmmaker who famously fights for the little guy is accused fo ripping said guy off … and media sites are silent.
The Hollywood Reporter. TheWrap.com. Variety. Deadline.com. That list doesn't include other mainstream news outlets which cover entertainment news and any Moore tidbits.
It begs the question – why?
Leonard Maltin has more than 70,000 followers on Twitter. His tweets on this subject were magnfied on social media by the thousands. His daughter's Twitter account has more than 5,000 followers.
FAST FACT: Moore's 2004 film "Fahrenheit 9/11" stands as the biggest grossing documentary of all time with a $119 million haul
One Twitter user shared the Matlin clip with both major Hollywood sites and reporters who cover entertainment, including The Daily Beast's Marlow Stern.
Still, no stories. How did they miss it? Now, Breitbart News joined the fray, another site with a massive footprint.
There's another element in play here. Jessie Maltin suggests Moore's behavior here isn't unexpected.
I wish it was alleged. We were there for much of this. The festival refused to pay and then started attacking the company. Moore has done this over and over again. I can't tell you how many first hand stories I've pheard over the years. It's awful.

— Jessie Maltin (@jessiemaltin) September 9, 2018
Is this another open secret in Hollywood waiting to be revealed? Hypocrisy of this magnitude is a big story, no matter the politics in play.
Moore's latest film, "Fahrenheit 11/9," hits theaters Sept. 19. Eary reviews from left-leaning critics are laudatory. This story could hurt the film's promotional push. Only it can't if the vast majority of news outlets conveniently look the other way.
Photo by StretchyBill on Foter.com / CC BY-SA