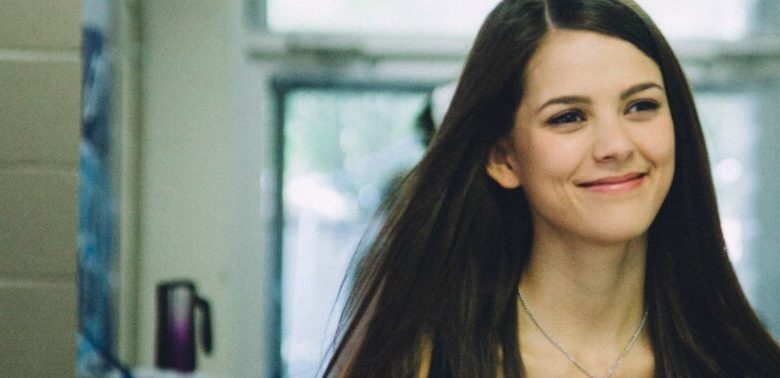 The star of "I'm Not Ashamed" recently discovered someone created a fake Twitter account pretending to be her. 
"Why would someone make a fake account? Why does someone care that much … it's surreal," McLain says. "It's a whole new world."
The unabashedly Christian star is ready for it, though.
"It's where God wants me to be right now," she says.
And that means landing her biggest role to date, playing Rachel Joy Scott in the new drama "I'm not Ashamed."
I'm Not Ashamed: Official Movie Trailer (2016)
McLain stars as one of the 13 Columbine High School teens killed by fellow students Dylan Klebold and Eric Harris. Scott died first, but not before professing her faith in a way that appeared to trigger the killers' rage. The film, based on Scott's journals, offers a measure of hope 17 years after the national tragedy.
Taking a Leap of Faith
The actress was initially intimidated to bring Rachel's story to the big screen. She also knew, deep down, she was "supposed to do it."
"I was confident it was what God wanted me to do … a lot of people in my life helped me with that confidence. It's scary to jump into a dream role to make an impact."
FAST FACT: "I'm Not Ashamed" director Brian Baugh says he initially resisted the project, in part, because he didn't like the "faith-based" film label. Reading through Rachel Scott's journals helped change his mind.
Scott left a spiritual legacy that belied her age. To capture her spirit, Scott's family shared some of her belongings with McLain to help her prepare for the part. The actress read through Scott's friendship journal and looked through some of her clothing to get a better sense of who she was.
"To see something personal from someone, it attaches you to them even more, it makes it more real," she says. And for McLain, Scott packed plenty of wisdom during a life cut so short.
"Rachel knew she was going to make an impact on the world," the actress says.
McLain's first professional gig came with a video shoot for the Jonas Brothers. She was 15 at the time, and more than a bit star struck. She quickly learned acting wasn't as glamorous as she assumed. She fell in love with the process all the same.
"The more I got into my career … I realized this is really want I want to do," she says. Even the 12-16 hour days shooting "I'm Not Ashamed" didn't change her mind.
If anything, it had the opposite effect.
"I love the focus, the training you have to have … it's so fun to be immersed in a story," she says.
No Detours in This Faith Journey
Being a Christian in Hollywood is hardly the easiest path for an actor. The industry is challenging enough without seeking projects that align with a spiritual world view. Being open about one's faith in an increasingly secular field is another obstacle.
"It's a tricky process," she admits. "I really want to glorify God in whatever I do, secular or Christian."
She's open to a career blending faith-based projects and less spiritual tales. Her approach remains the same.
"I might be on a set that you never hear the name 'Jesus' … I know I'm supposed to be there," she says.
That's why she's open about her beliefs and how they shape the projects she'll consider.
"A lot of people in the industry respect that so much … but you'll always have people who don't," she says.