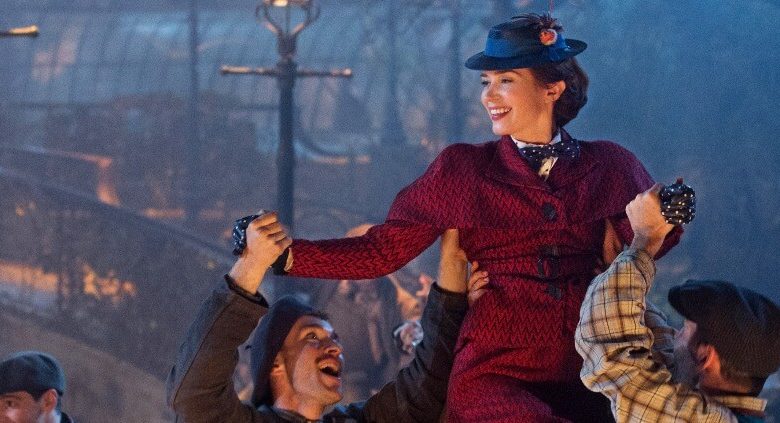 Let's tally up all the reasons "Mary Poppins Returns" should be one catastrophic dud.
The 1964 original doesn't fit in modern times, what with its overly strict father, gooey sentiments and positive sheen. Hollywood doesn't make many musicals these days. Nor do they create stars that shine as brightly as Julie Andrews, let alone Dick Van Dyke.
Let's not forget the one foe staring down "Mary Poppins Returns" above all others – cynicism. Isn't this just another Hollywood cash grab, albeit 54 years in the making?
Maybe so, but the finished product is better than it has any right to be.
Mary Poppins Returns | In Theatres Wednesday
We pick up the story of the Banks family, focusing on the clan's now grown children. Michael and Jane (Ben Whishaw, Emily Mortimer). Michael may lose the beloved house on 17 Cherry Tree Lane if he doesn't placate the bank … fast. But he recently lost his wife and there's a gaping hole in the family fabric.
Enter, by air, of course, Mary Poppins (Emily Blunt). She'll take care of the wee ones while Michael sets things right. Of course, the family already has a loving housekeeper (Julie Walters), but she's no Mary Poppins.
Who is?
Well, Blunt comes pretty close.
She's gorgeous without being sensual, crisp in her diction and nurturing sans the usual flourishes. Oh, and she can sing, not like the iconic Andrews but with a beauty and strength all her own.
What about the songs? Is there a "Spoonful of Sugar" in the bunch?
"Can You Imagine That?" Clip | Mary Poppins Returns
At first blush, no. The music, written by Marc Shaiman and Scott Wittman ("Hairspray"), are uniformly solid and tuneful. We may need to hear them a few more times to see if they camp out in our brains for years, if not decades, like the first film's lineup.
They anchor a series of wonderful set pieces, including an update on "Step in Time." The new number, "Trip a Little Light Fantastic," highlights the smart addition of Lin-Manuel Miranda to the franchise. He's an avuncular presence throughout, his "lamplighter" gig mirroring Van Dyke's work cleaning chimney's in the first film.
RELATED: Perfect Movies to Watch with Your Daughter
The film itself strains to capture the original's sets and tone, and it does so with startling precision. It looks like the first movie, from the production design to the animated sequence paying homage to Disney's illustrated past.
We even get a goofy, if wholly unnecessary number akin to "I Love to Laugh." The new version, powered by a Meryl Streep cameo, adds little to the story beyond unchecked mirth.
5 facts you (maybe) didn't know about #MaryPoppins >> https://t.co/pjQ5B2kfzu pic.twitter.com/d4k6iUNDC3

— Cineworld Cinemas (@cineworld) December 18, 2018
The ultimate "Mary Poppins" call out comes near the end, and we won't so much as spoil a second of it here. Just know the smile on your face knowing this sequel soars will grow even broader when it arrives.
HiT or Miss: "Mary Poppins Returns" chases away your skepticism early on, leaving families with a sweet and sturdy tale that aligns snugly with the 1964 original.