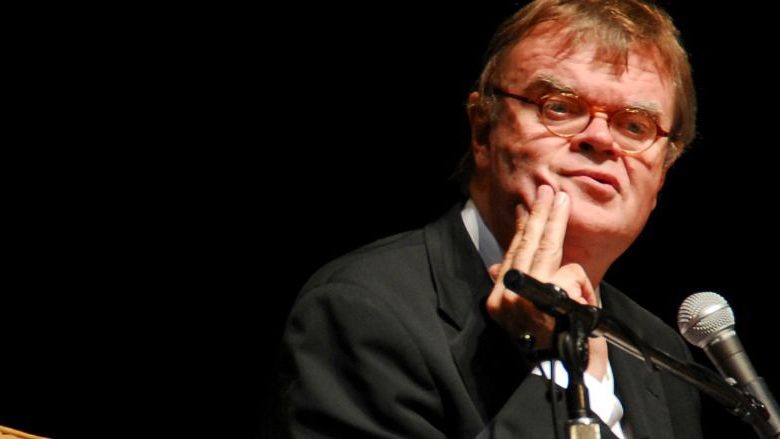 The Fla.-based talker and Snapchat star is known for his pop culture barbs. Yet Kaye couldn't keep silent after reading a blistering op-ed against Donald Trump by Garrison Keillor.
For Millennials, Keillor is the driving force behind "A Prairie Home Companion," a long-running Minnesota Public Radio show celebrating small-town America via the fictional Lake Wobegon.
Keillor wasn't in the mood to celebrate Trump's political ascension, though.
RELATED: Heather McDonald: Vote Trump, Lose Hollywood Gigs
"When This Is Over, You'll Have Nothing That You Want," went the op-ed's headline.
Here's a taste of what Keillor's piece had to say about the reality show star:
Your eyes look dead and your scowl does not suggest American greatness so much as American indigestion. Your hair is the wrong color: People don't want a president to be that shade of blond.
Kaye couldn't stay silent. He fired off his response via his Facebook page.
Dear Mr. Keillor,
The hate does not look good on you. It's a curmudgeon's hate, with the loud, yet cowardly tone of a demented old Star Trek fan who wandered away from the Senior Center, found hours later by the police wandering around a parking lot and arguing with someone who isn't there.
What a long strange trip it's been for you. When you pulled out of the station in rural Minnesota and headed toward the bright lights of "Beloved Author and Storyteller-opolis," did you ever think you would end up living on the mean streets of "Haters-ville?" Neither did we.
And such an unnecessary departure for you.
You can read the full letter below:
Keillor wrapped a four-decade stint as the "Companion's" host and head writer in July.