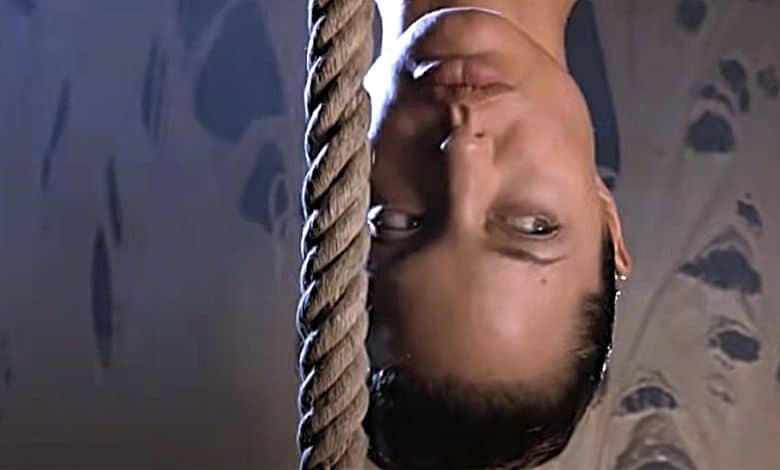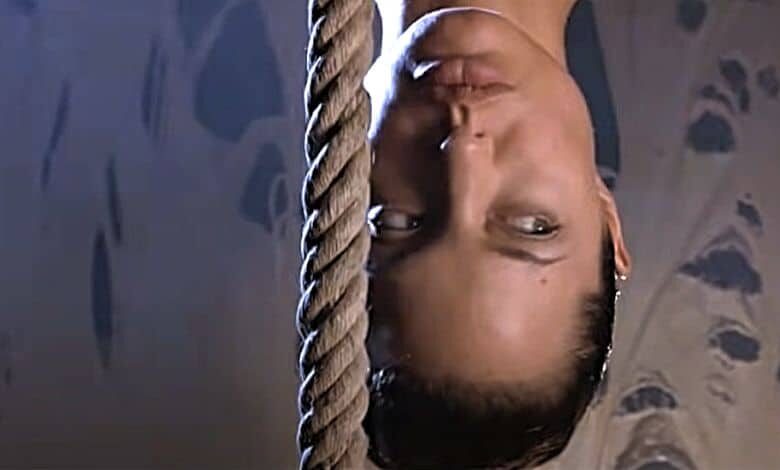 When we meet wealthy archeologist Lara Croft (Angelina Jolie), she's hanging upside down, about to partake in a training session where a giant robot aggressively attempts to murder her.
Croft has guns, her stunning athleticism and dumb luck on her side, as she noisily overtakes the kind of machine that would normally indicate a Cyberdyne attack on humanity has commenced. While this Croft v. giant robot battle ensues, she blows away what appear to be ancient ruins and artifacts. For an archeologist, she's much better at blowing stuff up than preserving history.
The whole movie is like this opening scene- forget the plot, turn off your brain and just enjoy.
Lara Croft: Tomb Raider (2001) Trailer #1 | Movieclips Classic Trailers
The story is an over-plotted thing involving a once-in-a-lifetime constellation, the Illuminati having massive meetings that play like suit and tie "Eyes Wide Shut" gatherings, flashbacks to Jon Voight's character (the actor sports a British accent as similarly yummy as Jolie), and a massive, twirling machine not unlike the Da Vinci's gold-making device in "Hudson Hawk" (1991).
The first film adaptation of the long-running video game series is every bit as flashy, lively and dumb as "Mortal Kombat" (1995) (the two would make an ideal double feature). Take that either as a recommendation or a dire warning.
While audiences embraced "Lara Croft: Tomb Raider" upon its widely touted summer release, the film's merits are easy to separate: in the minus column is the screenplay, while the plus column is partially the busy action sequences and mostly its star.
Jolie struts, poses and smiles her way through the scenes that don't work and gives her forceful presence to the scenes that do. Which are the scenes that work? They are the dialog-free portions where the action takes over the trying-to-do-too-much plot.
Jolie undergoes one gauntlet of possible doom after another, working overtime to suggest that the former dramatic actress ("Hackers" and "Cyborg 2" notwithstanding) is worthy of playing Croft. She absolutely delivers, even when the movie doesn't.
Lara Croft: Tomb Raider (1/9) Movie CLIP - The Training Robot (2001) HD
Ian Glen, fresh from his headline-grabbing role opposite Nicole Kidman in the erotic Broadway drama, "The Blue Room" and a pre-007, menacing looking Daniel Craig (sporting an irritating "American" accent), play Croft's key opponents. Of course, they barely stand a chance, both at defeating Croft and stealing the movie from its mesmerizing star.
The surprisingly cheeky English sense of humor on hand is exactly what "The Avengers" (1998) strived for and botched a few summers earlier. Jolie frequently lets loose a laugh, letting us know how much fun she's having, which is another reason this is more appealing than any of the more overly serious, would-be "Indiana Jones" rip-offs that followed.
Jolie appears to not only be having fun but proves from scene to scene that she can command a movie that would normally star Harrison Ford or Brendan Fraser. Years later, Jolie notably took over the title role of "Salt" (2010) after intended star Tom Cruise passed – changing that vehicle to accommodate Jolie was an inspired choice, as it remains the best showcase for her abilities as an action movie star.
At the time of its release, "Lara Croft: Tomb Raider" had the largest opening ever for a film with a female lead, making Jolie's casting not just ideal but historic.
The action sequences are exhilarating, though the movie peaks early: Croft's opening "training session" with the aforementioned killer bot and a thrilling bit of bungee n' bullets, are fiercely effective. West even turns Croft taking a shower into an action sequence, as it plays like an expensive shampoo commercial (hard to say if the movie is exploiting Jolie or the other way around).
FAST FACT: Chances are that's really Angelina Jolie doing some, not all, of her Hollywood stunt work. "And I do think the more we have in film that's visual effects, the more it's important to do your own stunts if you can because I think the audience knows the difference and it feels real when it is."
At the time of its release, "Lara Croft: Tomb Raider" sure looked like it would be the biggest hit of the summer of 2001. The hype and anticipation were enormous (the soundtrack single, U2's "Elevation," received constant airplay) but, after a robust opening weekend, the problems with the plot kept the film from being more than a guilty pleasure.
The big winner of that summer? The Dreamworks animated sleeper, "Shrek."
"Lara Croft: Tomb Raider" is very of its time, with unmotivated use of slow motion, overly glossy CGI and lots of house music. As video game movies go, its far better than the awful "Prince of Persia: The Sands of Time," which has some similar but less successful story concepts.
Video game movies still have a long way to go. As a movie genre, they never had their breakthrough, in the way, for example, "A Nightmare on Elm St." energized the slasher movie category with a jolt of creativity.
The best video game movie to date remains "The Last Starfighter" (1984), which isn't weighed down by mythology or franchise familiarity but aims to create immersion fantasy for the arcade era. The video game film adaptations that stumble the hardest get either caught up in replicating gameplay visuals (I'm looking at you, "Doom), over complicate a simple idea (as in the woeful "Super Mario Bros."), work too hard to include every single demographic (the trying-too-hard "Ready Player One") or fall into a quicksand of camp (a moment of silence for "Double Dragon").
Jolie struts, poses and smiles her way through the scenes that don't work and gives her forceful presence to the scenes that do.
Its not that "Lara Croft: Tomb Raider" cracked the formula but it's certainly fun and rousing in its best moments, though this is a franchise that, twenty years later, is still waiting to meet its full potential.
"Lara Croft: Tomb Raider" is a lot of nonsense and nowhere near the level of globe-trotting grandeur it thinks it is (this is a B-movie on an A budget). Yet, it's a great movie star vehicle for Jolie, who has certainly given much better performances, but this is for her what "Days of Thunder" was for Tom Cruise.
Jolie is what keeps this entertaining, as her feline energy, Mae West-like way with a double entendre and imposing presence serve a movie that would be clunky without her.