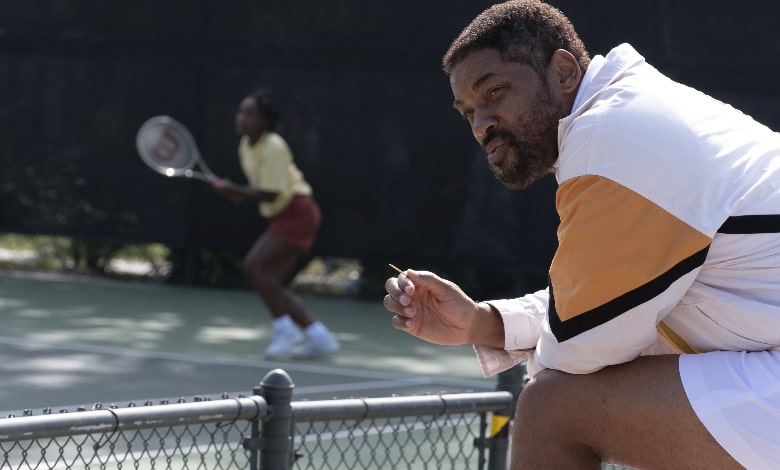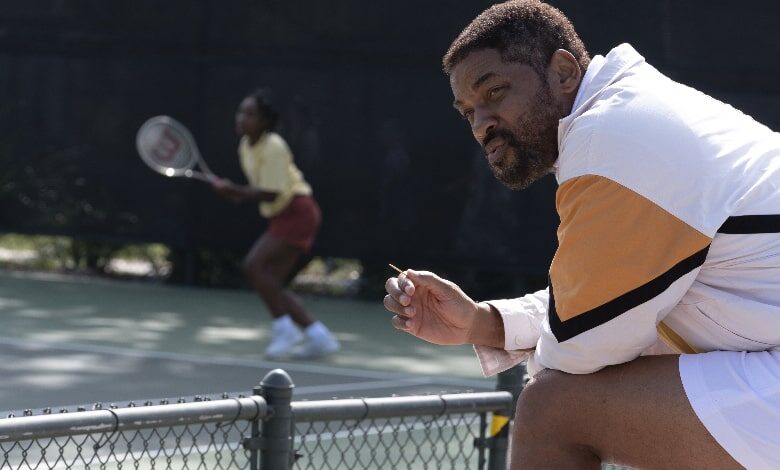 Will Smith buries his natural charisma, and still youthful visage, under a blanket of whiskers to play the title role in "King Richard."
It must be Oscar season!
Yes, biopics exponentially increase one's odds of awards season glory, something Smith didn't have in mind for last year's "Bad Boys for Life."
Now, playing the father of Venus and Serena Williams, Smith is in Serious Actor Mode. Yet "King Richard" doesn't follow the Oscar bait playbook. It's winning but unfussy, detailed but not so much as to lose the average movie goer.
In short, it's an awards season drama that plays to everyone, and despite its shortcomings deserves to be respected on both fronts.
KING RICHARD – Official Trailer
Smith stars as Richard Williams, a man who draws up a voluminous plan to turn his young daughters into tennis superstars.
It's even harder than it sounds.
First, he makes sure young Venus and Serena (Saniyya Sidney and Demi Singleton) practice nonstop, rain or shine. They can't neglect their schoolwork, though, nor the essential elements of childhood.
Play.
Next, he cajoles a professional tennis coach (Tony Goldwyn) into tutoring them, but only under his specific rules.
That journey, even though we already know how it turns out, proves fascinating … for a while. Young Venus is so good, so overpowering, that her tennis games turn predictable.
So the focus falls back on her pappy.
Will Smith, Serena Williams and Venus Williams Break Down 'King Richard' | Entertainment Weekly
Smith's performance is exactly what you expect, and that's hardly an insult. He loses himself in Richard Williams, a proud man who refuses to let hardships large or small derail his plans. Still, the Richard Williams we meet in the film's first half is hardly the soul who appears in the rest of the film.
"King Richard" irons away many of his flaws, for.a while, so that when he starts interrupting what should be a straight path to stardom it proves jarring.
Need an example? Richard 1.0 wouldn't pass glorious wind in front of anyone, let alone men who could help Venus reach her dreams.
Or, to be more precise, their dreams.
View this post on Instagram
Some of the film's best moments involve the girls' mother, played by a sensational Aunjanue Ellis. She doesn't blindly accept Richard's unorthodox parenting, and their initial fights take a dark, unsettling turn later in the film. It's another transition "King Richard" doesn't fully prepare us for, but when those moments arrive they're richly satisfying.
Smith and Ellis, take a bow.
RELATED: Kevin Costner: American Success Stories Are Far from Fictitious
Young Venus' professional ascent gets the biggest closeup, but we rarely see what makes her tick. She's strong and confident, sure, but where is the teen girl hiding beneath the budding phenom? Sidney delivers a blistering, physical performance, but she deserves a scene or two to show her personality, warts and all.
She is a teen, after all, and they rarely arrive without flaws.
Still, "King Richard" zips on by, brimming with colorful characters like Jon Bernthal's overmatched tennis coach. You try and tell Richard his way isn't right.
Good luck.
The screenplay hits a few expected detours tied to race, and they're mostly handled with restraint. What's most surprising, nay shocking, is how deeply conservative the story plays out.
Hard work. Hustle. Faith. Family. Persistence.
These smart, tenacious girls are the furthest thing from victims, even as they crash the lily white tennis world. "King Richard" never flinches from that message, nor does it do anything to deny the obvious.
Venus and Serena Williams followed both their father's blueprint and that of the All-American Dream. Their triumphs deserve a biopic as inspirational as "King Richard."
HiT or Miss: "King Richard" commits a few faults, but it's rigorously entertaining and deeply conservative all at once.