Industry News
'Woke' Kimmel Lets Borat Sexualize Melania
Sacha Baron Cohen revives his signature character to insult the First Lady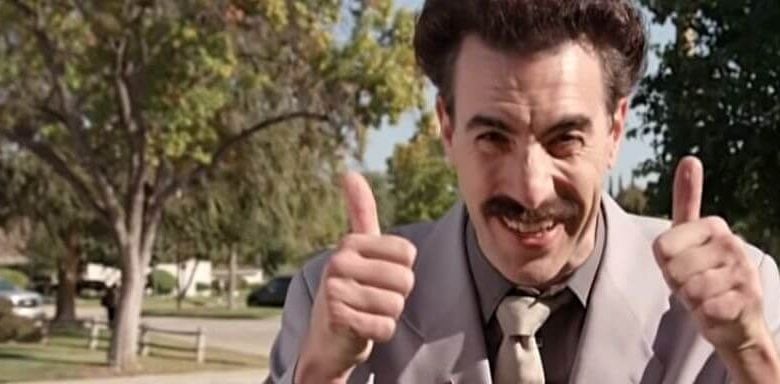 Once upon a time Jimmy Kimmel took direct aim at modern feminists.
His Comedy Central series "The Man Show," co-hosted by Adam Carolla, took an aggressively male stance on, well, everything.
It started with girls, or "Juggies," jumping on trampolines. The nubile, mostly nameless women did as told for the proverbial "male gaze." Other bits were equally unwoke by modern standards. Remember when Kimmel and Carolla mocked the women's suffrage movement?
Critics Blast Jimmy Kimmel For Double-Standards
That was then.
Now, Kimmel is as woke as any late night host. Just ask his ex-girlfriend, Sarah Silverman. He pounds his rhetorical fists on behalf of gun control, ignoring the ugly truths that most mass shooters ignore existing gun laws.
Kimmel even embraced the #MeToo movement as Oscars host earlier this year. Alan Alda might have found his performance too sensitive by half.
RELATED: Roll Call – Meet Today's Late Night Comedy Show Hosts
Yet when it comes to the current First Lady, Kimmel's inner "Man Show" host comes roaring back to life.
Kimmel invited Sacha Baron Cohen onto his show last week. The British comic introduced an election-themed video featuring his Borat character. He's the clueless, sexist, Jew-hating reporter from Kazakhstan.
Borat RETURNS to Tamper with the Midterm Election
The bit found Borat trotting out the usual anti-Trump bromides – he called the President "Premier Trump" to play up the faux-Russian collusion angle.
Late in the routine Borat interviews a Republican voter, bringing up the First Lady in awkward fashion.
"We are very sad in Kazakhstan because when we knew Melania [Trump] she had big pubis, glorious, and now I saw a photograph, and it had been removed. It is sad. The hair from the pubis has been stolen?"
The voter graciously attempted to steer the chat away from the First Lady.
"Did the Mexicans steal her pubis?" Borat continued, refusing to do so.
Kimmel smiled broadly as the bit ended, thanking Cohen for his hard work.
The future First Lady did pose for provocative photographs in her 20s during her successful modeling days. The images were risque but weren't fully nude. They're also more than two decades old.
Cohen saw fit to bring it up all the same.
Now, imagine if Borat had targeted the "pubis" of Sen. Elizabeth Warren, or so much as sexualized a Democrat like Hilllary Clinton or Michelle Obama. He wouldn't, of course. That would be the wrong kind of "edgy" humor. It also could lead to a serious apology tour, and more.
Either way, sexualizing the First Lady simply isn't done. A few comics and comedy institutions have targeted past first ladies. "Saturday Night Live" cast member Terry Sweeney once performed as First Lady Nancy Reagan.
Very few comics mocked, or even brought up, First Lady Michelle Obama.
RELATED: 8 Times Hollywood Used Melania to Attack President Trump
Kimmel and Cohen aren't the first ones to sexualize the current First Lady. Jim Jefferies dubbed Melania Trump "wooden" and "dirty" during his Comedy Central show.
The Atlantic acknowledge Kimmel's unwoke past earlier this year but gave him a Hall Pass thanks to finding his inner progressive later in life (he's 50).
There was also a parody ad for "Bosom Springs," a bottled water specifically designed for being poured onto "wet T-shirts"—cut to a woman, after a run, pouring the water onto her breasts, covered only by a sports bra—and a visit to Snoop Dogg's house ("I had my bitch bake you some muffins," Kimmel said, handing Snoop a basket of them). And the "Juggy Talent Show" (bikini-clad women demonstrating "talents" like the ability to fit bananas into their mouths), the "Juggy Academy" ("our principal commitment: to provide a comprehensive educational opportunity to young women with exceptional racks"), and "Juggy Auditions" (self-explanatory). ….
Americans love nothing more, the truism goes, than a good redemption story; Jimmy Kimmel, conscientious and Cronkitian, is currently starring in such a tale.
Suffice to say The Atlantic won't call him out for reviving his "Man Show" shtick long enough to trash Melania Trump.