Interviews
'SNL' Alum Kevin Nealon's Best Role Yet? Fatherhood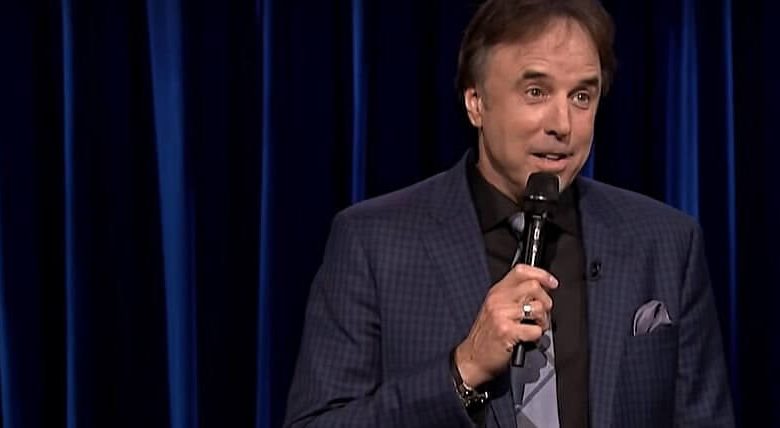 Kevin Nealon has been making people laugh for the past 40 years.
He's been one of the longest-running stars on Saturday Night Live and played Doug Wilson in nearly 100 episodes of the hit Showtime series "Weeds." He's currently co-starring on the CBS sitcom "Man With a Plan" with Matt Leblanc.
None of that includes his decades-long career as a nationally touring comic, or his Web series "Hiking with Kevin."
Amazing sizzle reel - Season 2 Celebrity hikes!
His most important role for the past decade has been as a father. He became a dad for the first time 12 years ago at age 53 with a son named Gable. He learned that fatherhood has not only made his life more meaningful, but it also provided him with plenty of new material.
He'll be performing next at the Improv in Irvine, California from Aug. 9-11.
"I'm a dad whose son is realizing his dad is a lot older than his friends' parents, and it's not sitting well with him," says Nealon, speaking with the Los Angeles-based radio show "Man Up" on an episode airing tonight. "He looked really sad one day and I said 'What's wrong, buddy?' I call him buddy because I'm never home and don't remember his name.
"He said 'I'm 10 now and you're 63, I'll be 20 when you're 73, and 30 at 83. You're not going be around for much of my life. I told him I'll be around for when you graduate, marry and have kids. But you gotta make it happen in the next four years," he jokes.
Despite such jokes, Nealon says that fatherhood is proving to be a real joy that's kept him in touch with his younger self.
"But seriously, he thinks I'm the funniest thing in the world. I think he really does appreciate it [that] other people think I'm funny," he says, who shares his celebrity caricatures on his Twitter feed.
Michael Strahan #nygiants #host #pyramidhost #gma @kevinnealonartwork pic.twitter.com/cOmMYQh0sp

— Kevin Nealon (@kevin_nealon) April 23, 2019
Nealon made us laugh on "SNL" from 1986 to 1995, a nine-year run that makes him the 4th-longest-running cast member in the illustrious show's history. During that time, he had a particular affection for the late and much-loved Chris Farley, whom he recalls as having a boyish and innocent presence alongside the addiction issues that tragically cut short his life at age 33 in 1997.
"I remember the day he arrived at 30 Rock, wide eyed and googly eyed when he got off the elevator. He was with his brothers and mother, and really loved them," says Nealon. "He had impeccable balance. He was actually a good dancer, was a good athlete and basketball player. I've always admired plus-size people who were light on their feet.
'Obviously we all kind of knew he had a constant need for approval and getting laughs," he adds. "He loved John Belushi and wanted to emulate him and he did right 'til the end. We were talking about his addictions and drug use and he said, "you know Belushi did a lot of drugs" and I said just think how much more fun he'd be, how much longer he would have lived without them.
And he said. 'Really?' But he was so funny, I remember that Chippendales sketch, that was one of my favorites. He was really in control over his body."
Chippendales Audition - SNL
One of his favorite hosts to work with during his near-decade on the show was Arnold Schwarzenegger, then one of the biggest movie stars on the planet and eventually the Republican governor of California.
Nealon had already established the characters of Hans and Franz with Dana Carvey, and they were at first concerned when the Governator asked them to stop by his dressing room.
"Arnold loves those characters. Dana Carvey and I wrote them after we watched him do a Showtime interview and we loved how he talked so we did that all through our summer tour," says Nealon. "We went back to 'SNL' and came up with these two pitiful bodybuilders who never had lifted a weight in their lives and were so defensive and accusatory of other people for being lazy babies.
Hans & Franz: Liposuction - SNL
"Arnold loved them and wanted to be in a sketch with them so we were confused wondering if he knew we were making fun of him?" he continues. "But we went down to his dressing room and his name went almost all the way across the door onto the wall. We opened up his door and we could barely see him amid all the smoke because he was smoking cigars. He said 'Hello fellas, now how am I supposed to do the accent?' Right then and there we knew he had a sense of humor."
Nealon discusses much more on the show, including his recollections of how he and Dana Carvey landed their spots on the show, why Steven Seagal was considered the worst host ever, his advice for standup comics and the state of the PC movement affecting the comedy world and the incredible tale of his possibly being wiretapped by the Ringling Bros. Circus.
---
To hear it, tune into the show "Man Up" at 8-9 p.m. PST on KRLA AM 870 in the Los Angeles area or stream it elsewhere at AM 870 The Answer. To hear other great interviews with other major stars and hilarious conservative commentary on the news in past episodes, visit the official Man Up show page.
Weekend Update: Kevin Nealon on No Longer Being on SNL