Industry News
John Leguizamo's One-Man War Against 'Problematic' Casting
'Violent Night' star burns serious calories shaming his fellow actors' choices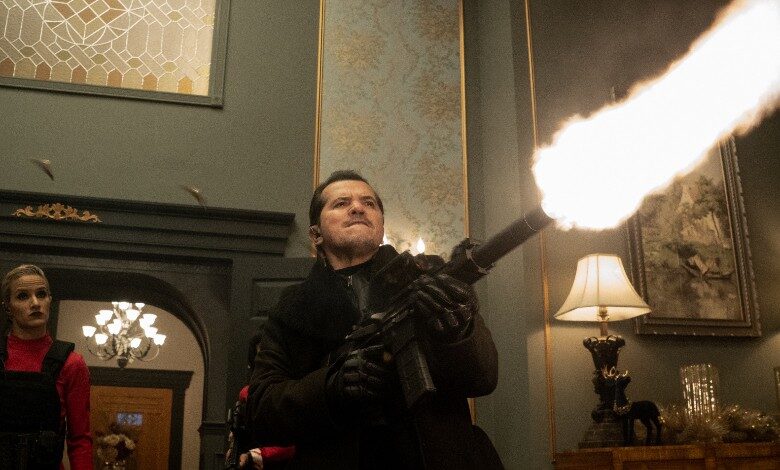 John Leguizamo's character in "Violent Night" is nicknamed Scrooge for very good reasons.
He's wants to out-Grinch the Grinch by stealing a wealthy family's fortune at Christmas time. And, before the coal-black comedy wraps, Leguizamo's character declares war on Ol' St. Nick (David Harbour) in the flesh.
Violent Night - Official 'Santa Claus is Coming to Town' Clip (2022) David Harbour, John Leguizamo
The 62-year-old is equally stingy with praise for his fellow actors when it comes to taking roles that don't meet his approval.
Leguizamo has decades of screen work to speak for him, but he's rebranding himself as a woke warrior. He routinely blasts colleagues for taking roles that don't align with their specific heritage.
He started his Identity Politics crusade by excoriating the team behind the upcoming Fidel Castro film, "Alina of Cuba." James Franco is set to play the Communist dictator, a casting decision which enraged Leguizamo.
"He ain't Latino. How is this still going on?" Leguizamo cried.
Last month, the actor attacked the upcoming "Super Mario Bros." movie for enlisting Chris Pratt to voice the Italian title character.
"I'm O.G. A lot of people love the original … I did Comic-Con in New York and in Baltimore, and everyone's like, 'No, no, we love the old one, the original.' They're not feeling the new one. I'm not bitter. It's unfortunate."
"It kind of sucks," he added about the so-called "backwards casting."
Leguizamo, who is Latino, starred in the original "Super Mario Bros." The 1993 live-action feature earned $20 million at the U.S. box office.
RELATED: 'BODIED' KNOCKS IDENTITY POLITICS OUT COLD
Now, Leguizamo is targeted a screen legend with his Identity Politics campaign. Except this time he pulled his punches.
A little.
He recalled co-starring with Pacino in "Carlito's Way," the celebrated mob drama from director Brian De Palma. Pacino plays a Puerto Rican gangster in the 1993 film which co-starred Leguizamo and Sean Penn.
"I know [Pacino is] trying and he's a great actor, so brilliant, he was my hero. But it was odd, man. It's an odd experience to be a Latin man in a Latin story written by a Latin man and the lead guy's a white guy pretending to be Puerto Rican. I'm not going to lie, it's surreal. It was surreal," he added.
Leguizamo's career features roles that don't align with his sexuality or heritage. In addition to "Super Mario Bros.," he played a drag queen in "To Wong Foo, Thanks for Everything. Julie Newmar" and a pair of genies in the mini-series "Arabian Nights."