Interviews
Here's What Jim Gaffigan Credits for His 30-Year Career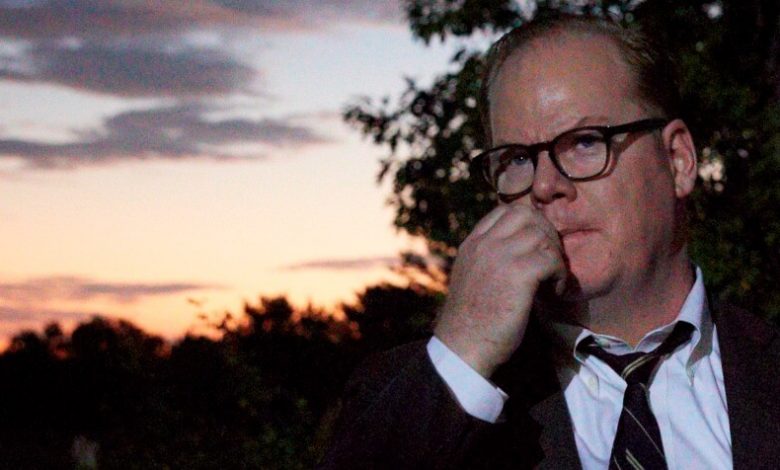 Growing up Catholic in the small town of Chesterton, Indiana, Jim Gaffigan had a fascination with the famed Kennedy clan.
After all, the 51-year-old comic recalls them as "the peak Catholic family." The clan cproduced both a president in John F. Kennedy and an assassinated Democratic presidential candidate in brother Bobby Kennedy.
The devout Gaffigan has become perhaps the most popular "clean" comedian on the planet, with a string of highly successful Netflix comedy specials, best-selling books and a popular sitcom to his credit.
His latest role in the new historic thriller "Chappaquiddick"— as real-life U.S. Attorney Paul Markham, who was dragged into the cover-up of Mary Jo Kopechne's death after she drowned following a car crash with JFK and RFK's brother Ted – might be his most challenging one yet.
"I'm a history buff so I was definitely fascinated by the fact of the cover-up and the fact that they pulled it off," explains Gaffigan. "That's what I think people are going to be fascinated by now, because in our present climate if this happened in 2018, he would definitely be in jail. I don't know if that's because of the American appetite for salaciousness, or the privilege to pull things off."
Gaffigan recalls the historical significance of the Chappaquidick incident, which drew national attention but was quickly overshadowed two days later by the first team of U.S. astronauts landing on the moon.
How President Kennedy 2.0 Misfired
He was intrigued by the fact that while Kennedy avoided jail time for the death of Kopechne, the fact that he was enmeshed in such a sordid situation with a woman who wasn't his wife destroyed his own dreams of becoming president.
"Paul Markham was someone who desired to be in the Kennedy's circle, but you've gotta be careful what you wish for," says Gaffigan. "He was on this sailing weekend at [Kennedy family resort] Chappaquiddick with Ted, they were gonna do good, but once Teddy came and asked for Paul, he was pulled into this mess. Who knows, he could have become part of the Supreme Court or done a lot of things, but following Chappaquiddick there was that association: did he contribute to the cover-up and if so, how could he make it through a Senate confirmation?"
CHAPPAQUIDDICK Official Trailer # 2 (2018) Kate Mara, Kennedy Biography Movie HD
After 30 years in show business, Gaffigan realizes he "has some success" as a comedian but considers himself a journeyman actor. He's riding a hot streak right now, with appearances in 11 films slated for release in 2018 alone, but makes sure that his Catholic values enter his decisions on which roles to take and which to turn down.
RELATED: Gaffigan's 'Chuck' Is the Underdog Saga of the Summer
Another factor in his decisions is ensuring he finds the time to be a good husband to Jeanne, his wife of 14 years, and father to their five children. The couple are creative partners as well as spouses, with Jeannie co-writing Jim's standup routines as well as having co-created and directed his TV Land sitcom, "The Jim Gaffigan Show."
The Jim Gaffigan Show | Museum Tour | TV Land
That critically acclaimed series employed a "Curb Your Enthusiasm"-style approach to depicting Gaffigan's life, mixing misadventures based on his family life and career with funny fantasy sequences. But after two hit seasons, the Gaffigans made the highly unusual move of pulling the plug on the show, noting that the series' hectic production schedule was risking the health and stability of their family.
"We were working 14 or 15 hours a day for six months of the year," says Gaffigan. "We had done one season and had made adjustments for the second season and thought we could simplify it, but thought, 'This is just insane. This is fun and creatively fulfilling but at what cost?'
RELATED: Why CBS's 'Living Biblically' Breaks the Hollywood Mold
"No one was sick or getting injured, but it was just irresponsible," he continues. "It was easier for me because I'm off doing standup and acting, but my wife was directing and was the showrunner. That's an ongoing decision. I'm on this tear right now of booking jobs, but now I'm thinking, 'Do I need to take another job this quarter, or is it more important that my kids aren't smoking crack?'"
Meet Gaffigan's Most Important Audience Member
The youngest of six children, Gaffigan recalls that his father "wasn't intentionally funny," but that hearing his mom laugh "was really important to me." He started clowning around to impress his siblings by impersonating their father and "prove I wasn't just some competitor for food."
He debuted onstage in January 1990, overcoming a lifelong fear of public speaking.
"I'd turn red and start hyperventilating," he says.
He had taken an improv comedy class in college, during which a guest speaker gave a seminar on standup comedy, and from the first time he performed, Gaffigan recalls, "It felt like, 'This is completely right.' It felt rewarding to change the feeling in the room, and then I bombed for six months."
Why Being Catholic Isn't an Issue for This Comic
While Gaffigan eventually became one of the industry's most popular comics, he attributes much of his success to the strong opinions of his wife holding him to high moral standards.
"Bringing up that you're Catholic onstage occasionally does make people uncomfortable, but making them uncomfortable and then making them laugh is pretty powerful," he says. "And then the other side is that as a comedian, I'm supposed to question authority. I might say something but it has to get past my wife, so if she protests deeply about something I won't do it. All I know is, I'm busier than ever, I'm happy and hope it keeps coming."
"Chappaquiddick" opens April 6
---
To hear the whole interview with Jim Gaffigan check out the "Kozversations" podcast.