Interviews
Why CBS's 'Living Biblically' Breaks the Hollywood Mold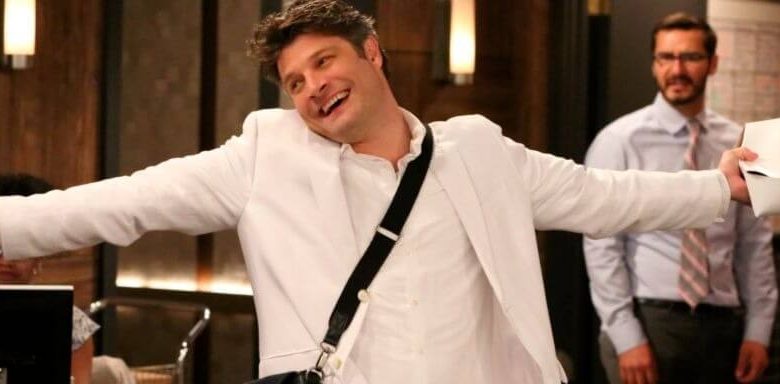 Patrick Walsh had a simple pitch about a TV show based on the book "The Year of Living Biblically."
"Eighty four percent of the world aligns itself with some faith, and there's no entertainment for them," Walsh told the suits at CBS.
It worked.
Walsh, whose producing credits include HBO's "Crashing" and "2 Broke Girls," is proud of the new sitcom "Living Biblically" which teases but doesn't taunt people of faith. The show might even inspire a convert or two.
Living Biblically - Your Guide To Living Biblically
Jay Ferguson stars as Chip, a husband at an emotional crossroads. His best friend just died and his wife is pregnant with their first child. Those life-changing moments convince him to reclaim his lapsed Catholicism, hardcore style. He'll live his life according to the Bible to be a better father, husband and human being.
The source material, from author A.J. Jacobs, earned kudos for being both irreverent and sincere about faith. Walsh demanded nothing less from the sitcom bearing the book's name.
It wasn't easy.
"It was the most difficult show I had to write," says Walsh, who previously penned episodes of "It's Always Funny in Philadelphia" as well as both "2 Broke Girls" and "Crashing." "The book was a very exploring, open-minded look at the Bible and religion, and there was funny stuff in it … I didn't know how it could be done. It's a controversial and polarizing subject."
RELATED: How 'Generational Sins' Smashes Faith-Based Formulas
Walsh also knew audiences would be wary of any sitcom tackling faith. Hollywood isn't always kind to the subject matter.
"We had to overcome that fear people have. 'Oh, gosh, it's a CBS sitcom. They'll be making fun of my lifestyle," he says.
Part of Walsh's approach to "Living Biblically" was to draw from his own biography.
"I was raised Catholic … I knew the basics from going to Sunday School," he says. That helped, but Walsh also called in some theological ringers.
"We wanted a wide variety of viewpoints … we have a staff of all different faiths," he says. CBS brought on a priest and a rabbi to read some scripts and offer their unique take on the material. The show's live audience also regularly features church groups to ensure the delicate tone stays on target.
"We always made a point to have religious and non-religious people in the crowd to make sure a show is working," he says.
FAST FACT: A.J. Jacobs' The Year of Living Biblically: One Man's Humble Quest to Follow the Bible as Literally as Possible
" spent three months on the New York Times' bestseller list.
It's far too soon to say "Living Biblically" will make it to season two, let alone seasons three or four. Walsh is ready for that all the same and not just for economic reasons. There's still so much more to say on the subject at hand.
"We could have done a second season with the scripts we had in the works … you can pick any verse [in The Bible] and it lends itself to a modern interpretation," he says. Take the notion of false idols. Walsh connected them to our culture obsessions with celebrities and iPhones.
There's more.
"How do you honor thy father if your father's a jerk?" he asks, an episode drawn from the experiences of one "Living Biblically" scribe. "The best shows always come from writer's personal experience."
Living Biblically - The Cast Of Living Biblically Creates The 10 Modern Day Commandments
An early episode features Chip's mother in law (Jobeth Williams), a proud atheist, finding some common ground with his newfound faith.
That's completely by design.
Walsh wants "Living Biblically" to "present people with very different viewpoints listening to each other, and getting along with each other," he says. "So much of the dialogue now in this country is covering your ears and yelling about politics or religion. There's not a great deal of conversation or listening."
"Living Biblically" debuts at 9:30 p.m. EST Feb. 26 on CBS.