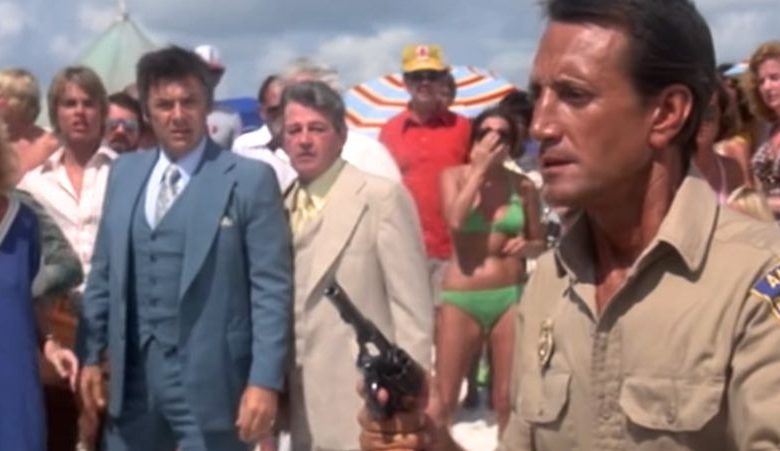 Try finding a more prototypical sequel than "Jaws 2."
The second in the four-film franchise hit theaters in 1978 minus much of what made the original so special. No epic scares, iconic deaths or cinematic genius from the director's chai.
Taking Steven Spielberg out of the equation leaves a sizable mark.
That didn't really matter. The film poked our perennial fear of open water. It shrewdly brought back the original's star. Musical legend John Williams returned for a second round of sonic wonder.
For fans hypnotized by Bruce the Shark in round one, it scratched the itch started in 1975.
Jaws 2 Official Trailer #1 - Roy Scheider Movie (1978) HD
Chief Brody (Roy Scheider) is back on Amity, but now he's more concerned with local politics than oversized sharks. That changes when people start disappearing on the eastern hamlet, although each case could be written off as accidental.
Brody knows better. Or at least he thinks he does, giving the film a false sense of dramatic tension. We know from the opening kill that Bruce 2 is on the loose.
Then again, "Jaws 2" has few ambitions beyond recycling Williams' iconic score and squeezing more cash from Peter Benchley's typewriter.
FAST FACT: Author Peter Benchley's original title for his 1974 book? "Silence in the Deep." He later changed course and dubbed it "Jaws." The scribe's father helped come up with the winning alternative.
Director Jeannot Szwarc had the unenviable task of replacing Spielberg. Imagine the pressure! Szwarc doesn't even try mimicking that Spielberg touch, even if Williams' score triggers familiar emotions.
Still, Szwarc offers a stable touch, something he's brought to TV productions over the past four decades. Think "The Rockford Files" to "Grey's Anatomy." He's no hack, nor does he deserve household name status like his predecessor.
For "Jaws 2," that meant competent set pieces and a willingness to leverage the beach's natural beauty. The film was actually shot on Florida's Emerald Coast.
And there you have it. Solid, unremarkable scares. More of Williams running on autopilot. And a very capable hero in Scheider.
Jaws 2 (4/9) Movie CLIP - That's a Shark (1978) HD
The actor wasn't picture perfect handsome, but he had a grit that turned a generic hero role something special. Had they made "Jaws" today the gig might have gone to Dwayne Johnson or Jason "The Meg" Statham.
Scheider showed the folly of heroes who look like they could tackle a shark with their bare hands.
"Jaws 2" doesn't add much to Brody's character here. He's on autopilot, too, down to him gettin loopy after a massive job setback.
RELATED: Why My Son Needed to See 'Jaws'
The film embraces its sequel status with the younger stars. Too much of the movie is dedicated to Brody's teen son and his Central Casting chums. Talk about generic. There's the goofy guy with the hat (future Melon Keith Gordon) and the girl who spends the third act in various states of shock (Donna Wilkes, who all but left show business following 1991's "FBI: The Untold Stories").
If there's a Hall of Fame for characters you hope become fish food, Wilkes deserves a wing all her own.
Imagine being like, "Huh. What's in this old box from 1977?"

"Oh! Apparently nothing but 180 snapshots my dad took while working on the set of JAWS 2." https://t.co/nctneIEcT1

— Ted Geoghegan (@tedgeoghegan) August 3, 2018
Up until recently, a "Jaws 2" production offered exactly what a studio delivered on a sequel's promises. Franchises weren't the coin of the industry's realm at the time. You didn't have to sustain momentum or extend the storyline. Hollywood's ambitions were more modest.
Consider the excreble "Jaws 3D" and "Jaws IV: The Revenge" as prime examples. This sequence, arguably the film's signature moment, exemplifies the sequel firing on its modest cylinders.
Jaws 2 (1/9) Movie CLIP - Water Ski Attack (1978) HD
Today, studios pour more resources into your average sequel. That's especially true of the first sequel. Score big and you've got a bona fide franchise on your hands with all the glories that portends.
Sequel after sequel
Combo box sets on home video
Franchise spin-offs
TV-related content
Prequels.
The stakes are too high for Hollywood to give sequels short shrift. It still happens, occasionally. Look at dreck like "Zoolander 2" as a prime example. Still, Hollywood's deification of sequels wasn't as urgent in 1978 as it stands today.
Spielberg got out of the "Jaws" business right away after his handiwork became a blockbuster. He did so with a dollop of regret all the same. He had ittle interest in traditional sequel but toyed with a prequel project.
His vision?
Recreate the real-life journey of the USS Indianapolis, the tragedy name-checked by Robert Shaw's Quint in the first film.
The studio blanched at the concept. Today, Spielberg could hand deliver an idea on a cocktail napkin and six studios would fight for the rights. In the late 1970s, his star was bright but not iridescent.
DID YOU KNOW? Robert Shaw had trouble staying sober during the "Jaws" shoot. His big monologue sequence, as a result, proved unusual to Spielberg. A remorseful Shaw asked for a do-over. He showed up to the set sober and nailed the sequence.
"Jaws 2" offers plenty of recycled moments like Brody consulting a marine biologist not nameed Hooper. Richard Dreyfuss' character is acknowledged mid-film, explaining why he doesn't even make a cameo.
Other shared moments? The false alarm beach scare, teens disobeying their parents and Brody's underwritten wife (Lorraine Gary) attempting to soothe her husband's nerves.
The third film in the series shook up that tempate with disastrous results … in three dimensions. Michael Caine shot the fourth film to build a beautiful house, not revive a dying franchise.
"Jaws 2" copied the source material well enough for an $81 million haul. The 1975 classic earned $260 million. There's no shame in standing in the shadow of film royalty. Crafting a watchable shark thrill remains a credible strategy in our Sharknado-obsessed times.