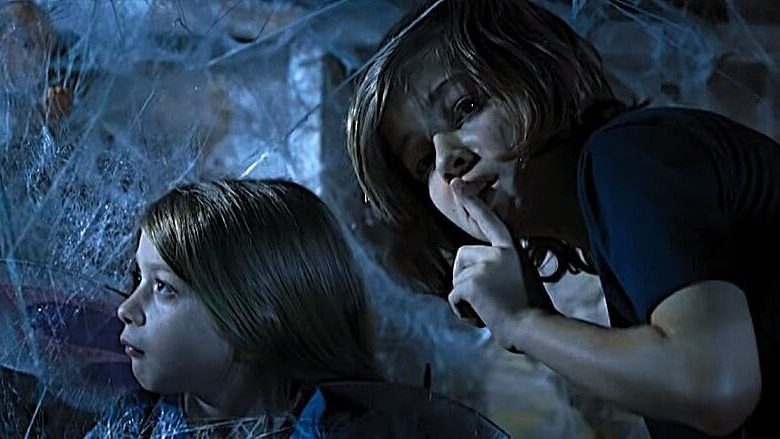 The spider thriller "Itsy Bitsy" has an identity problem.
Look no further than the film's poster, which teases a romp you might find in the '80s bargain bin. Even that gal in distress evokes the era. You can practically hear her shriek. Only you won't see her, or anyone like her, in the film itself.
"Don't let Itsy Bitsy fly under the radar. It's a solid feature debut with strong acting and even stronger practical effects." – Modern Horrorshttps://t.co/GJITykWa7B pic.twitter.com/LoYXpOTayv

— Scream Factory™ (@Scream_Factory) August 29, 2019
"Itsy Bitsy" delivers a rich character study … co-starring a killer spider. The film's marketing may seem like a retro hoot, but the actual movie proves more engrossing.
Itsy Bitsy (2019) - Official Trailer (HD)
Elizabeth Roberts ("Old Fashioned") stars as Kara, a single mom settling into a new gig as a personal caretaker. Her ailing boss (Bruce Davison) collects rare items, the kind with enough mumbo jumbo back story to fill a dozen B-movie prologues.
And, wouldn't you know it, that's precisely what happens here. And oh, is it a groaner. We're force fed mythology in lumpy doses, telling us how the spider came alive in the first place.
Maybe "Itsy Bitsy" will live down to the cheesy cover art after all.
Not quite. It turns out Kara lost a young child in a car accident, and she's still processing her pain. Her new gig proves so taxing she relies on her pre-teen son (an impressive Arman Darbo) to care for his adorable sister (Chloe Perrin).
It's left Kara dependent on her dwindling stack of pills, and that's before a massive spider hunkers down in the attic.
RELATED: 'Basket Case' Serves Up Gritty '80s Horror Without Apology
The film starts humming the moment Denise Crosby noses into Kara's predicament. The "Star Trek: TNG" alum plays a sheriff who can smell trouble without cracking her interrogation pad. She's a good cop brimming with empathy, and her arrival says "Itsy Bitsy" has more on its mind that scares.
Davison's character matures, too, pushing aside genre cliches in the process. His connection to the spider's origin is absurd, but the veteran actor makes his subsequent scenes count.
That's right, we built the giant spider in Itsy Bitsy using practical effects, just like the old monster movies from the 80s, with the help of special effects master @Dan_Rebert. It actually walks, crawls, and jumps! 🕷️ pic.twitter.com/pZPJGttjQh

— Itsy Bitsy the Movie (@ItsyBitsyMovie) August 16, 2019
Director/co-writer Micah Gallo comes from a VFX background, and the titular spider impresses despite budgetary constraints. Gallo cares about this fractured family's plight as much as that spider. Sure, it's fun to root on a despicable character's death in horror movies, but the genre thrives when we care about the people in harm's way.
Gallo doesn't skimp on the scares, though, even if he saves the very best for the taut third act.
Roberts avoids standard Scream Queen tics, but she does something more important here. She's vulnerable, wounded, and the film wisely acknowledges her pain. She'll protect her kids at all costs, but those actions flow from maternal instincts, not a didactic script.
In that way "Itsy Bitsy" very much feels like the product of another, more simple, era.
Note: "Itsy Bitsy" is officially NR (not rated), but by horror standards this is PG:13 fare. And, given the young actors and family bond in play, it's a solid choice for pre-teens hungry for their first genre fix.
HiT or Miss: "Itsy Bitsy" is an under-the-radar treat for those patient enough to survive its awful first act.