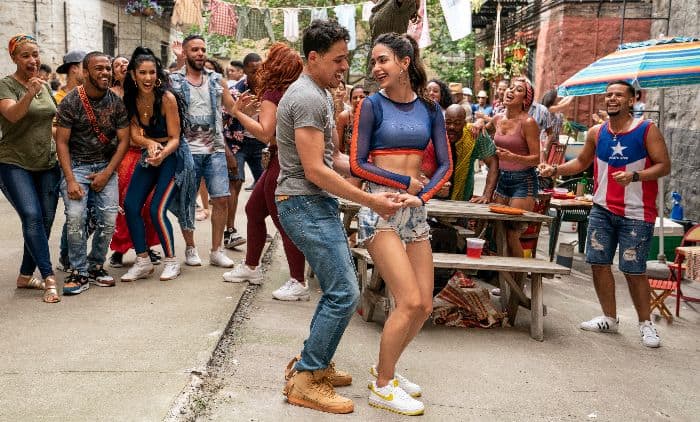 "In the Heights" delivers 95 minutes of joyous music, cultural connections and a dash of the American dream.
Too bad the film's running time is an exasperating two hours and 23 minutes – with an unnecessary mid-credit "bonus" for good measure.
Director Jon M. Chu of "Crazy Rich Asians" fame ladles on the rapturous dancing, a task made easier thanks to his young, talented cast. What a shame that a third act event, unnecessarily telegraphed, slows the pace to a crawl.
This technicolor treat never comes close to recovering.
IN THE HEIGHTS - Official Trailer
Anthony Ramos ("Honest Thief") stars as Usnavi, a solopreneur counting the days until he can return home to the Dominican Republic. It's not as simple as that, though, for the bodega owner.
Money is tight in this close-knit Washington Heights nook, and he wants to bring both his beloved Abuela (Olga Merediz) and cousin Sonny (Gregory Diaz IV) back home with him. Plus, Usnavi pines for Vanessa (Melissa Barrera), a budding fashion designer who flirts with him by sharing a laundry detergent stick.
Adorable.
Meanwhile, the conflicted Nina (Leslie Grace) returns home after a frustrating semester at Stanford University, much to her father's dismay. That's "Sons of Anarchy" alum Jimmy Smits, one of the more recognizable faces in this cast of rising stars.
Yes, we've seen Corey Hawkins before ("Straight Outta Compton," "6 Underground"), but he's never commanded the screen like he does here. So why doesn't Hawkins' romance with Grace's Nina register like it should? A similar problem creeps into the Usnavi/Vanessa courtship.
Sure, musicals can get away with storytelling flaws, too many subplots or both. After all, "In the Heights" earned four Tony Awards in 2008. The screenplay's flaws are magnified on the big screen, alas.
Washington Heights isn't just where "In the Heights" happens. It's the film's most memorable character, something every actor acknowledges in one imaginative form or another. Nina stops to listen to the sounds, the rhythms, of her neighborhood streets. Audiences can't help but lean in with her.
"In the Heights" finds Lin-Manuel Miranda and his Broadway collaborator Quiara Alegría Hudes.(book, now screenplay) sharing a cultural love that floods the theater (or Man Cave for HBO Max subscribers). Miranda's knack for clever wordplay and rap-inflected rhythms suits the story and the tiny dreams powering the narrative. There's not a clunker song in the bunch, but no one number stands far apart from the rest.
It's all infectious on steroids, and for a while it feels like it will never end. Just grab a shaved iced treat served up by Miranda, contributing a cutesy cameo, and we're good.
Enter the Frustrating Event, a plot device that stops the story in its magnificent tracks. Now, we're left with cardboard characters embodied by stars who can't fully bring them to life.
And there's so much movie left!
RELATED: Yes, 'Hamilton' Should Be Canceled. Here's Why
Chu's imagination never runs out. Even the unnecessary numbers shine brightly, and a dance sequence that defies gravity is movie magic of the highest order.
It still leaves us with the obligatory plea for open borders, predictable plot points and a subplot resolution that's forced and woke.
None of that removes the joy of the film's earlier moments, and there's so much authentic pride in play you'll pine to cut the story some slack.
Few mash notes are as exuberant, and tuneful, as "In the Heights." It's one ruthless, and necessary, edit away from Best Picture consideration.
HiT or Miss: "In the Heights" delivers the kind of raucous pleasure few films can match these days, but it literally doesn't know when to quit.