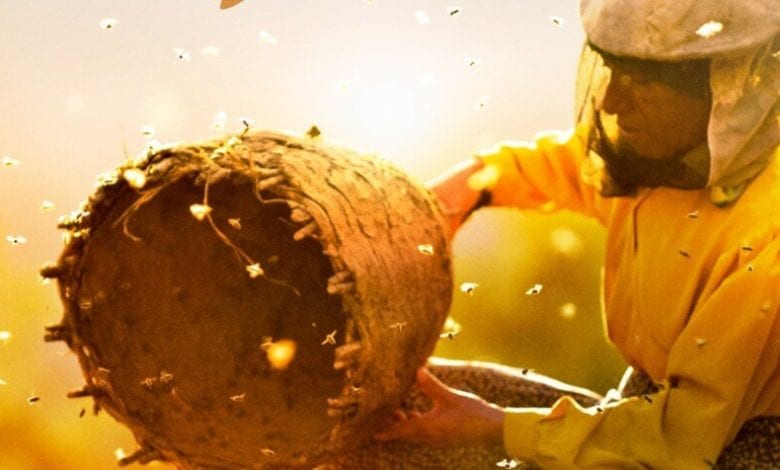 Can I persuade you to watch a movie about beekeeping in Macedonia?
I know, it sounds more like an "SCTV" parody of PBS programming than an actual film, but "Honeyland" is my choice for the year's best picture, as well as one of the best films of this century so far.
It also features one of the most fascinating and compelling persons I have ever seen onscreen. You may not know how to react to her when you first see her but by the movie's end, you will respect and admire her. You may even learn to love her.
Honeyland [Official Trailer] – In Theaters July 26, 2019
Her name is Hatidze Muratova. Despite her Slavic name, she belongs to Macedonia's Turkish speaking minority, one that has dwindled in recent years. In the case of Hatidze and her mother, when the movie opens, they are literally the only people left in a once-prosperous village, and Hatidze is the sole remaining practitioner of the old way of gathering honey.
Her face and hands are gnarled and twisted from years of exposure to bee stings and the elements. Her teeth would alarm the lead singer of the Pogues and her fingernails are no better, looking as if they have permanent layers of sediment underneath them. Her mother is in even worse condition, deathly ill throughout, with an open wound around her right eye requiring constant attention.
One of the most shocking scenes in the movie is when Hatidze says she was born in 1964. This means she was no older than fifty when the movie was made, and her mother must be younger than she seems as well. We shudder to think of the conditions they must have endured throughout their lives, but neither of them elicit pity.
Instead, we are amazed by Hatidze in the opening moments, when in a scene as breathtaking as any in last year's Free Solo she scales the side of a mountain all by herself without any equipment.
RELATED: 'Be Natural' Doc Captures Unsung Film Pioneer
She does not do so for the thrill; she does so in order to survive.
With her bare hands, she then breaks open the side of the cliff to get to the honeycombs hidden within, handling the bee's nest without gloves and only a flimsy and ineffectual net over face. She then gathers the honey that serves as her sole source of income, and climbs down with what can only be called a weary agility, betraying that this has been her routine for many years. Probably her entire lifetime.
But she is no hermit.
She makes a daily high-speed train trip to the capital city of Skopje to sell her wares (the lone funny moment in the movie is when a spike-haired punk rocker in the next seat looks askance at her in her traditional dress).
Her high-quality honey still sells well at a good price, but competition from inexpensive foreign imports have cut into her profits.
Four documentaries to watch as the race to the Oscars begins https://t.co/F3UVCCt3LR

— LAT Entertainment (@latimesent) November 8, 2019
While she makes excursions into the outside world, the outside world then intrudes upon her one day. The intruders are the Sam family, who have arrived to start a cattle farm on the land. Like Hatidze, they are Turkish but even though they speak the same lan‐guage they might as well come from different planets. She initially looks upon them with bemused suspicion, and initially, we do as well.
Then in a remarkable turn of events, Hatidze ingratiates herself to the family, becoming especially close to their seven children. The peace between them is threatened when the family patriarch decides to enter the honey business himself, a decision that will have disastrous consequences for both his family and for Hatidze herself.
"Honeyland" was justifiably nominated for Best Foreign Language Film and Best Documentary at this year's Academy Awards and probably should have least won in the latter category. I had erroneously assumed that it wasn't a "true" documentary, thinking that it must be at least partially fictionalized along the lines of Robert Flaherty's "Man of Aran," but no, there is apparently nothing scripted or staged in the movie.
You can forgive me for thinking otherwise, because it doesn't feel like a typical documentary at all. It is so beautifully photographed, lacking the grainy or jerky handheld look associated with the format, that one can hardly believe it was not staged at all.
No one in the film seems aware of the cameras rolling on them. There are no interviews with the subjects, no narration and no more English language subtitles than necessary. The cumulative result is a movie that lacks the detached, fly on the wall feeling of a traditional documentary; instead we feel deeply involved in the lives of these people as we do for any great character study.
The movie is also likely inspired by Italian neorealism, particularly such classics as "La Terra Trema" and "Bitter Rice," with some additional influence from the French New Wave, especially in the use of jump cuts. I admit knowing next to nothing about the cinema of the Balkans but I am now interested in learning more.
The title may seem idyllic, but the film stays true to its neo-realist roots. It does not shy from depicting the dirt and harshness of a way of living too often over-romanticized, yet all the images are beautiful. It becomes clear as the story unfolds that the title is perfectly appropriate, a black joke on those who literally believe in a mythic land of milk and honey.
In the hands of a director from North America or Western Europe, the story would have likely been turned into political polemic, criticizing the ecological ignorance of city folk while worshiping "natural" wisdom.
Tamara Kotevska and Ljubomir Stefanov on Honeyland, Family & Capturing Macedonia | NDNF19
Yes, this movie is about tensions between tradition and modernity, but it does not portray one as better than the other. They are both two sides of the same world. We may admire Hatidze for sticking to the old ways but we see that she is as dependent on science as anyone else, relying on modern medicine to keep herself and especially her mother alive.
The Sam family adults make the mistake of assuming they can disregard tradition and impose modern agriculture in a location where it has not been tested.
They could have learned many lessons in mutual respect if they only had listened to Hatidze. Something else a Western director would have likely done is portray Hatidze and her mother as victims of "predatory" capitalism in an attempt to make us feel nostalgic for communist dictatorship.
The actual filmmakers, Macedonian themselves, do not fall into this trap. Instead, we wish that there was some way the lives of these people could be improved, not just now but way back in the past.
The most awarded film of this year's Sundance Film Festival has something sweet for everyone. Own #Honeyland now on DVD & Digital. https://t.co/cMyAYrxncd pic.twitter.com/qkbwumMrYq

— HONEYLAND (@HoneylandDoc) October 23, 2019
One of the Sam children asks Hatidze why she has continued to live virtually alone gathering honey. She answers that she wishes things turned out differently but she never had a family of her own. Clearly, life under communist rule did not benefit her. We learn a lot about Hatidze from watching her with the children, and we learn what her own childhood must have been like from the children themselves.
The oldest son is brutally kicked by a cow, but in just two minutes of screen time he is back on his feet and assists in the birthing of a calf. While swimming in a nearby waterhole, the youngest daughter nearly drowns, with only her brothers to save her.
We later see her smiling despite a large and painful bee sting on her forehead. While we feel sad for these children with seemingly aloof parents, being denied what we consider a normal childhood, we are glad Hatidze is there for them. We're also glad they are there for her.
There are many images in "Honeyland" that will continue to linger in your mind long after it's over, yet there is one brief moment near the end that speaks so much about its subject and that I found particularly unforgettable. It is the image of a tortoise that has fallen into a hole in the ground. It struggles, but can't get out of its trap until Hatidze hurries over to pick it up. The tortoise then just ambles on its way.
On the one hand, it illustrates perfectly the compassion of its main character, but it also serves as a metaphor for many people who live alone, trying day after day to climb out of their own pits just so they can continue down their path.
Problem is, they are left with no one but themselves to help lift them out.
---
A.A. Kidd is a sessional university instructor in Canada who proudly volunteers for the Windsor International Film Festival. He appreciates classic movies, hard science fiction and bad puns.