Industry News
H'Wood's Silence on Clintons Final #MeToo Straw
The Kavanaugh debate brings up issues that should never, ever be buried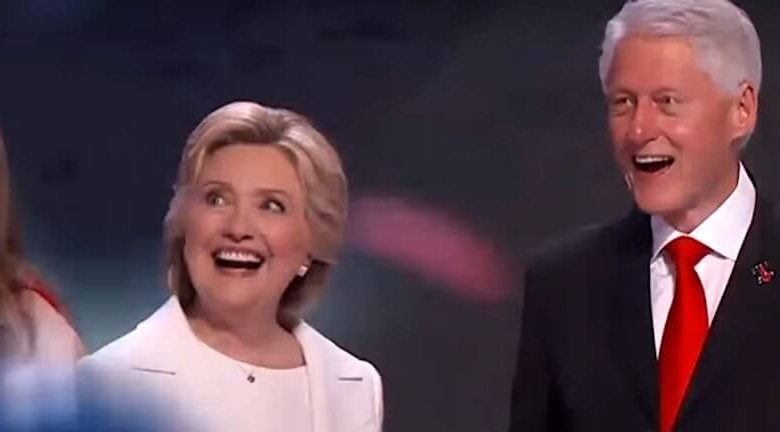 Hollywood and hypocrisy. They're like peas and cah-rohts, to paraphrase Forrest Gump.
The industry swears movies that glorify gun violence doesn't inspire the real thing but spends millions trying to influence audiences with its progressive programming.
Tinsel Town types decry President Donald Trump's harsh rhetoric but fire back with words a hundred times nastier.
Now, the industry is actively supporting the #MeToo movement, inspired by the sexual abuse allegations that chased producer Harvey Weinstein out of Hollywood. Their intentions are noble on the surface. Sexual assault isn't relegated to Hollywood, and efforts to empower women in the entertainment industry and beyond are vitally important.
Consider how quickly the movement caught men outside the industry, including Charlie Rose, Matt Lauer and former Sen. Al Franken.
Only the stars' choice of #MeToo targets does more than suggest their rage is political. It's all but impossible to argue otherwise.
He's Guilty … and He's a Republican
Celebrities lined up en masse to thwart Brett Kavanaugh's ascension to the Supreme Court. They didn't focus on his judicial acumen but charges he sexually assaulted Christine Blasey Ford. You cannot support a man "credibly accused" of assault, they cried in near unison.
They stormed social media, got arrested with fists raised high and used every platform at their disposal to smite Kavanaugh.
Or, as one late night show writer confessed, "ruin" his life.
Celebrities rally against Kavanaugh
They ignored the inconsistencies in Ford's story, the lack of corroborating evidence and Kavanaugh's otherwise sterling reputation for more than 30 years.
They demanded he be held accountable all the same. Their vocal efforts failed, and it comes on the heels of another cultural event overlapping the #MeToo wave.
President Bill Clinton is back, and he wants you to pay to hear him speak.
Move on … and Ignore This President's Past
The former leader, along with his wife, Hillary Clinton, are prepping a new speaking tour this Fall following the mid-term elections. The 13-city event will set some back as much as $745 for a single ticket. That price lets you hear a man credibly accused of rape and a wife with #MeToo issues of her own wife.
The former First Lady enabled her husband at the height of his scandal-plagued time in office. She's also been accused of minimizing the women who claimed her husband sexually harassed her.
In January, former Secretary of State Clinton drew condemnation from liberal advocates after she failed to apologize for choosing not to terminate a campaign staffer accused of sexual harassment. While Clinton wrote on Facebook that, in retrospect, she should not have made the decision to keep employing the staffer, faith adviser Burns Strider, she also explained in detail why she did.
For those who weren't alive or don't recall the 1990s, here's a quick recap of the former President's sexual history.
Clinton paid Paula Jones $850,000 to settle a lawsuit alleging he exposed himself to her.
Kathleen Willey accused Clinton of groping her.
His sexual antics were collectively dubbed "bimbo eruptions."
He carried on an extended sexual affair with a 22-year-old White House intern, Monica Lewinsky.
Juanita Broaddrick credibly accused Clinton of raping her in 1978.
The details of Broaddrick's rape claims remain horrifying:
"I had the who, what, when, where and how and had five people that I told, not even counting the woman who found me 30 minutes after the rape with a swollen busted lip, torn clothes and in a state of shock."
The press never aggressively pursued Broaddrick's allegations. Nor has any major Hollywood liberal taken up Broaddrick's cause.
Then or now.
The former President proved tone deaf when the issue of his past came up earlier this year.
Of course, this isn't the only example of the industry's alarming double standard on sexual abuse. James Franco has been accused of numerous sexually exploitative acts, including most recently by his "Freaks and Geeks" co-star Busy Philips.
His fellow creatives have yet to stage a protest over his presence, and his IMDB.com page reveals he continues to work steadily. He also has a major, ongoing role on HBO's "The Deuce."
HBO execs stood behind Franco, who also serves as a producer on the series, as recently as this summer.
Actor Casey Affleck was sued for sexual harassment by two female colleagues prior to his Best Actor nomination for "Manchester By the Sea."
He won all the same.
Alec Baldwin's past includes an allegation he sexually molested a wardrobe person. He denies the charge but admitted to bullying women in the workplace.
"I certainly have treated women in a very sexist way. I've bullied women. I've overlooked women. I've underestimated women."
By his own admission the ardent liberal, at 60, has never been busier.
Politics Is Personal … and Problematic
Minnesota Democratic Rep. Keith Ellison has been credibly accused of domestic abuse, an issue currently under investigation. Her accuser hasn't drawn an ounce of sympathy, or support, from the very same actors raging against Kavanaugh, even though the accuser is more credible than Ford.
Karen Monahan, a former girlfriend, came forward last month alleging that Ellison sent her threatening text messages and once screamed obscenities at her as he dragged her off a bed by her feet.
Nor has her charge that Democrats say her story is a lie riled any celebrity defenders. Ellison is a high profile Democrat who serves as the party's deputy chairman. He's currently running to become his state's attorney general.
The Academy Awards' Worst Hour?
This is the same industry that gave director Roman Polanski, who admitted to drugging and raping a 13-year-old at a party, a standing ovation when he earned his second Oscar for "The Pianist."
Roman Polanski ‪winning the Oscar® for Directing
Times change. Attitudes evolve. The industry may never welcome Polanski back into its fold given the current climate.
The fact that activist liberal stars can still savage Kavanaugh based on the flimsiest of charges while ignoring Bill Clinton, Franco, Baldwin and Ellison speaks volumes. That's exactly why actress Rose McGowan called out Hollywood via an interview with UK's The Sunday Times.
Not all men accused of sexual acts are guilty. We remain a nation dedicated to the principle that we're innocent until proven guilty. Hollywood's selective embrace of this tenet, for what appears to be purely political reasons, is undermining the #MeToo movement.