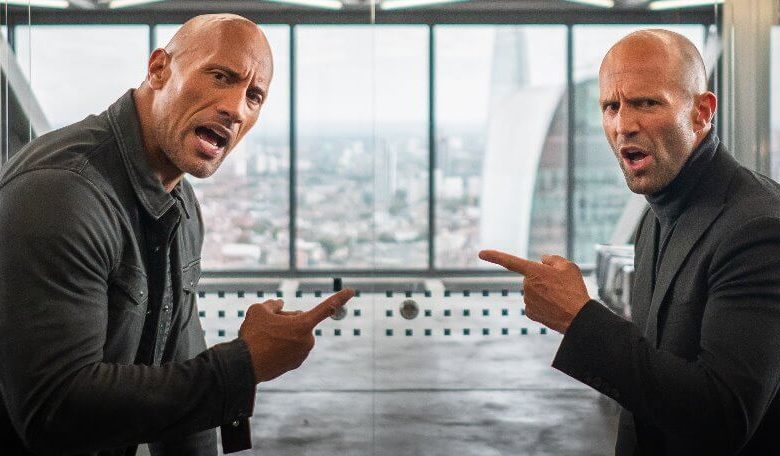 Each new "Fast & Furious" entry should come with a warning label.
For maximum pleasure, please disconnect your frontal lobe. Thank you, and make sure you pick up a cool, refreshing Coca-Cola.
That spirit has kept the saga, which began way back in 2001, humming for eight installments. And it's the secret to getting the most from "Fast & Furious Presents: Hobbs & Shaw."
The franchise's first spin-off is as averse to logic, reason and gravity as past episodes. It also never, ever takes itself seriously. And, when the "F&F" formula looks too obvious, too cloying, there's always a jaw-dropping stunt to win us back.
And yes, there will be NOS.
Fast & Furious Presents: Hobbs & Shaw - Official Trailer #2 [HD]
The mountain of muscle known as Hobbs (Dwayne Johnson) reluctantly teams with villain turned hero Shaw (Jason Statham) to save the world.
Again.
It's a running gag in the film, a sign of how cartoonish the franchise's trappings remain. This time, the threat involves a bio-menace which could kill countless souls. A robotically augmented soldier named Brixton (Idris Elba, striking the right scenery gnawing pose) wants to set it loose.
Why? He's got a bit of Thanos in him. Let's leave it at that.
Hobbs, Shaw and the Brit's sis Hattie (Jessica Kirby, a wonderful action heroine) are all that stands in Brixton's way. Never tell this trio the odds. Think that's corny? Just wait to you see "Hobbs & Shaw."
Just know that our heroes never, ever stop squabbling. They started jawing in the seventh "Fast & Furious" feature, and they've kept it up ever since.
That banter is the spin-off's raison d'etre. It sure isn't the Hobbs-Hattie flirting, which makes Brixton's wiring look downright human by comparison. The stars bromantic bickering has a NOS like impact. It keeps otherwise mundane moments humming.
Too bad the screenplay, by franchise stalwart Chris Morgan, isn't as inspired as it thinks it is. Still, Johnson can sell even pedestrian punch lines. Statham, who looks nothing close to his 52 years, knows when to step back and let the comedy flow.
The franchise's formula offers plenty of story support. Once again the "family" angle is played up, from the squabbling Shaws to Hobbs' dramatic back story. The latter plays a pivotal role, and while it's gooey at times it also allows Johnson to let down his guard. He plays Hobbs like he's always in the middle of a rep, every fiber coiled for maximum pumpitude.
Yes, it's that kind of film.
Director David Leitch ("John Wick," "Deadpool 2") keeps the action sequences electric, even if few rise to the franchise's greatest hits. There's one exception, a set piece that makes the protracted finale almost worth the wait.
It's why we grit our teeth through the saga's soapy sequences in the first place.
A pair of sharp cameos (which shant be revealed here) suggest this spinoff could spark its own series. Johnson himself teases just that in a recent Tweet.
And in other news, @HobbsAndShaw officially opens TONIGHT around the world. As absurdly wild and bat shit fun as you're hearing the movie is – it's more. Enjoy the movie and enjoy the surprise cameos..because that's a look at the future team 👀 😈
Have fun and cheers! 🌎🥃

— Dwayne Johnson (@TheRock) August 1, 2019
What's missing throughout "Hobbs & Shaw" is the ensemble magic that energizes the most recent "F&F" romps. Another sorely missed element? The warmth displayed by the main characters, the unofficial family that mourned on screen and off after co-star Paul Walker's passing.
There's nothing in "Hobbs & Shaw" that comes close to that emotional chord. The spinoff punches the clock 'til it splinters, but it still lacks a fully-formed heart.
HiT or Miss: "Fast & Furious Presents: Hobbs & Shaw" is everything you expect from the franchise. That's enough reason to give this action spectacular a try.