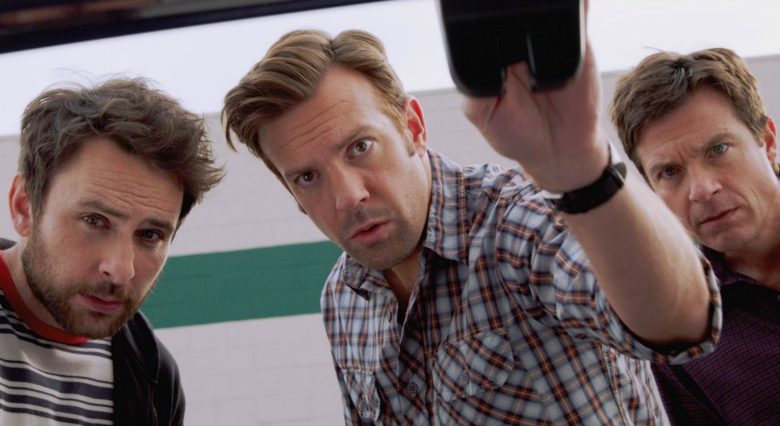 She shattered her girl next door image with the comic equivalent of a sledgehammer playing a super-slutty dentist.
Aniston qualifies for hazard pay in the sequel.
"Horrible Bosses 2" reunites Jason Sudeikis, Charlie Day and Jason Bateman. Together, they cement the comic chemistry which hardened the first time 'round. Here, it's the sequel's key selling point, a reason to excuse the crude script and embarrassing situations foisted upon us.
Horrible Bosses 2 - Official Main Trailer [HD]
Nick, Kurt and Dale (Bateman, Sudeikis and Day) are going into business for themselves. No more bosses, horrible or otherwise, but they can use an investor to bring their Shower Daddy product to the market. Enter Christoph Waltz and Chris Pine as a sleazy father and son team of capitalists who promptly rip them off.
Now, Nick, Kurt and Dale must do what they do … not so well – break the law to get their revenge.
The film opens with a vulgar shower sight gag and never lets up on the "Hangover"-style chicanery. If that means Aniston, returning as the amorous dentist, offers to accept Nick's fecal material with a [expletive] eating grin so be it.
No, that's not a typo.
There's a desperate, what can we do to shock people now vibe that ruins much of the fun. Judd Apatow may have ignited the hard-R comedy movement a few years back, but he's wise enough to do it with care. "Horrible Bosses 2" rarely qualifies in that regard.
Still, there are laughs to be had here, mostly when the main characters are riffing on each other's comic personas. Their bittersweet mojo makes the story bearable as the plot grows sillier and more strained. Even well executed male bonding can grow stale.
Pine, as he did with "Stretch," looks cozy in a broad comic setting. He may have won the genetic lottery, but that isn't all he has to offer.
Kevin Spacey returns to sling some obscenities and prove he can do as he pleases when called in for a cameo. He's earned that right. And Jamie Foxx, back as Mother (Expletive) Jones, shows how funny he can be in even radioactive material.
"Horrible Bosses 2," barring an unlikely sophomore slump, will probably lead to a third installment even less necessary than the current model. That's a shame. Why not reteam Bateman, Sudeikis and Day under Apatow's watchful eye and see what this trio can really do?
DID YOU KNOW: Earlier this year Charlie Day gave the commencement address at his alma mater, Merrimack College, and shared this humor-free lesson with the graduates: You can not let a fear of failure or a fear of comparison or a fear of judgement stop you from doing the things that will make you great. You can not succeed without the risk of failure.