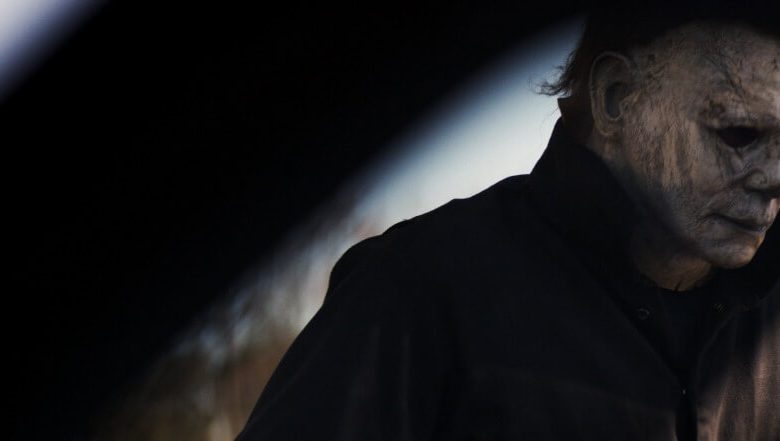 For five glorious minutes, the thinking behind a new "Halloween" saga makes perfect sense.
That elation fades the moment Michael Myers puts his signature mask back on. The newest chapter in the "Halloween" franchise, for all the attendant hype, is just another slasher film.
It's far better than 80 percent of what once passed as horror fare during the genre's heyday. We still expect more from the story started by John Carpenter 40 years ago.
Seeing Michael and ageless Scream Queen Jamie Lee Curtis tango one more time isn't enough.
Halloween - New Trailer [HD]
The sequel wipes away every "Halloween" film save the original. Michael Myers has been institutionalized for 40 years. He hasn't uttered a word during that span. Nor has he shown an iota of progress.
That's clear from an interrogation scene featuring two smug journalists itching for a scoop.
Hang around. You'll get one.
RELATED: 14 Netflix Horror Movies to Scare You Silly
Director David Gordon Green ("Stronger") gives the sequence the gravitas it deserves. Michael's back. So is the fear he stirred in us, the kind iconic horror movies deliver over repeat viewings.
A routine patient transfer takes an inevitable turn. Suddenly, Michael is back doing what he does best.
Kill.
The creators of Halloween explain why Michael Myers' iconic mask remains the face of evil:https://t.co/48XWq59cxr pic.twitter.com/LTMMkNCJkl

— IGN (@IGN) October 16, 2018
Laurie Strode knew this day would come. Curtis reprises her role as the classic Final Girl, now a gun-totin' grandma with profound PTSD. She's alienated her daughter (a wildly miscast Judy Greer) and has only a marginal bond with granddaughter Allyson (Andi Matichak).
It's up to Laurie, a cop (Will Patton) with his own connection to the killer, and the latest version of Dr. Loomis (Haluk Bilginer) to stop Michael from another killing spree.
FAST FACT: The 1978 film "Halloween" earned $47 million during its U.S. theatrical release. The budget? $320,000.
Once Michael picks up a knife, character development gets the heave ho. And that's … fine. It's a horror film, and any sense of texture or character arcs are welcome, but not necessary.
The film still has nagging flaws. We see too much of Michael, for starters. The sense of mystery built into that opening gets shoved aside. Michael might as well have his own publicist now given how often he gets a closeup.
"Did you get my good side?"
'Halloween' Scene Breakdown (1978 vs. 2018) with Jamie Lee Curtis & David Gordon Green
The screenplay, credited to Green, Jeff Fradley and Danny McBride, nails the tension-slaying humor the best horror movies provide. Otherwise, let's give them a big, fat D+ for their handiwork. The new characters barely register. The older ones, particularly Laurie, deserve far more screen time.
And oh, those eye rolls!
Horror has a built-in forgiveness factor. We'll swallow plenty of nonsense to get to the scares. It's just too much to process with this "Halloween." Head-smacking decisions pile atop dopey revelations, until you wish Michael Myers would turn on the projectionist.
Worst of all?
It's set in modern times, but when Michael starts killing again no one hears about it. It's as if Twitter, SnapChat, NextDoor.com and Facebook all went down simultaneously.
Just. Plain. Dumb.
RELATED: Why Classic Horror Shames Today's Hollywood Fare
Need another example? The town's signature serial killer escapes, but for a while there's only one cop on the case. We'll stop there, but the stupidity doesn't.
Is that what the studio thinks of us? We'll just line up for any "Halloween" extension? That's probably accurate. Audiences still deserve better.
You might expect the usual suspects to rail against what appears to be an ad for the Second Amendment. Curtis' Laurie packs more heat than an NRA convention. We're asked to cheer every time she locks and loads. The female-driven finale, though, will likely cut Social Justice Warriors off at the pass.
"Halloween" certainly scratches that slasher movie itch. The body count is high, the murders decidedly nasty. The film also trumps shockers from the genre's glory days thanks to a generous budget, quality actors and neat effects.
It still can't come close to the original's shock value. That's an impossibly high bar, though. We just wanted a worthy bookend to the greatest slasher film of all time.
This sequel, 40 years in the making, hardly qualifies.
HiT or Miss: Michael Myers is back in "Halloween," but the film is content to go through the motions rather than invigorate a dormant franchise.