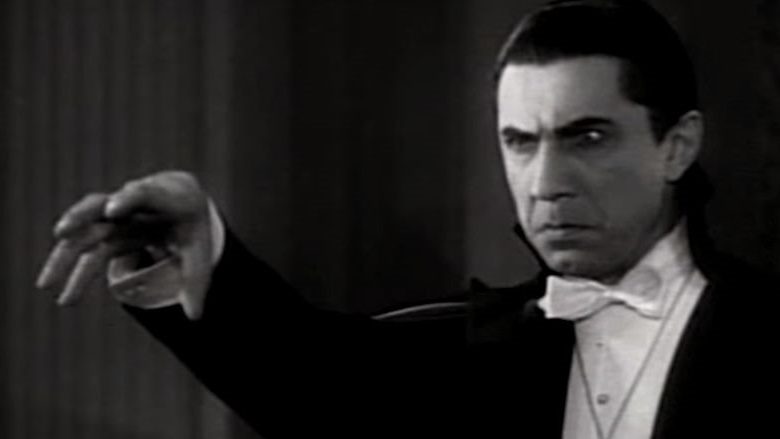 The Great Depression is remembered as a miserable, desperate time, but something wonderful came out of it: American horror movies.
Though some fine horror films were made during the 1920s, it wasn't until 1931, with Universal releasing the twin horrors of Dracula and Frankenstein that the genre truly ignited. From the wreckage of the jazz age came vampires, werewolves, giant apes, mad scientists, Egyptian mummies, cat people and various other creatures of the night.
Dracula (9/10) Movie CLIP - Dracula and Van Helsing (1931) HD
It was a glorious time for monsters and spooks, a heyday lasting from the '30s to the middle '40s. By the time of Bela Lugosi's death in 1956, screen monsters were being usurped by giant bugs and saucer invasions.
The genre would occasionally make a comeback, and films like "The Exorcist" (1973), "The Silence of The Lambs" (1991) and "The Blair Witch Project" (1999) would become national obsessions.
One would think that the past two decades of social unrest and a ruined economy would've been a good breeding ground for horror films, but the genre has grown increasingly marginalized.
Like boxing, or jazz, horror movies were once quite significant in America but now seem stuck on the outskirts of the pop culture. Part of the problem is that most new filmmakers are content to rehash the same old splatter flick we've been seeing since the '80s.
FAST FACT: Actor Bela Lugosi volunteered for military service as a young actor, leaving theater to serves as part of the 43rd Division of the Hungarian Army Ski Patrol.
Another issue is that the major studios seem cold to the idea of horror, especially when superheroes are still making money for them.
However, like an evil being in an ancient crypt, the genre is never really dead. There's also proof at the box office that audiences still respond to a good horror movie.
The 2017 Best Picture Oscar went to a horror film of sorts, "The Shape of Water." Director Guillermo del Toro, however, took the standard genre format and turned it upside down.
In the old days, the monster would've taken Sally Hawkins to his undersea lair, and would've been killed by studs with spear guns. This time, dear little Sally and the creature were a romantic pair; the real monster was Michael Shannon with his phallic cattle prod.

Another surprise hit in the past year was John Krasinski's "A Quiet Place." This one was about an isolated family living in silence while hiding from alien creatures that hunt by sound. Audiences responded not just to the terror, but also to the idea of a man trying to hold his family together in the middle of this horrific situation.
Krasinski and del Toro understand what makes a classic horror film a classic. They know that underneath the fright should be some pathos, even some tragedy.
That's why the early ones are so memorable.
What's more heartrending than Larry Talbot dreading the next full moon because he knows he'll become a wolf and kill someone he loves? Or King Kong, who just wanted a moment alone with Fay Wray, falling from the Empire State Building to his death?
King Kong (1933) - The Bride of Kong Scene (1/10) | Movieclips
Many other factors made the old horror movies great. They benefited from directors, writers, and cinematographers who had escaped Nazi Germany and brought a distinctly European touch to the American studios.
The same expats who helped create the style known as "film noir" were also working on films like "Frankenstein Meets The Wolf Man" and "The Black Cat." The Depression era horror films were exercises in shadow and lighting; at their best, they could be described as a kind of populist surrealism.
The source material, too, was impressive. The ideas of Mary Shelley, Bram Stoker, Robert Louis Stevenson, Edgar Allan Poe, H.G. Wells, plus European folk tales and legends, were thrown into the Hollywood blender and then splashed across movie screens around the country and the world.
Then there were the actors.
Because these movies were made under the old studio system, they were presented by a stock company of familiar faces. Want to identify a real horror film buff? They don't mention Boris Karloff or Lon Chaney, Jr. Instead, they mention George Zucco, or Lionel Atwill, or the original scream queen herself, Evelyn Ankers.
Volumes could be written about the makeup of Jack Pierce, the music of Franz Waxman and Max Steiner, or the camera work of James Wong Howe, Arthur Edeson and Karl Freund. These men were legends of the business, and all made contributions to the early days of horror.
RELATED: Why We Love Horror … Explained
Of course, we can't expect new filmmakers to compete with the likes of Steiner and Howe. But if the new breed could learn one thing from the old masters, it would be to temper their horrors with a little despair, a little anguish.
Why did Frankenstein's monster strike such a chord with audiences? Because he was lonely. He wanted friends and a bride. True, he snapped a few necks, but it was that other side to him, his helplessness, that stayed with us.
Ultimately, frightening an audience is not difficult. But to scare them and move them in the same movie is a major achievement. In a good horror film it can be done, the early classics proved as much. As Nathanael West wrote in "Day of the Locust," "Few things are sadder than the truly monstrous."
The Film Detective, classic movie and television streaming service, announces the resurrection of "31 Days of Horror" this October with over two dozen new films and television shows that are sure to spook audiences of all ages. With frightening masterpieces from as early as the 1920s, this year's lineup centers around five brand new themes: Classic Horror, Monster Mash, Bela Lugosi Week, Murder Mayhem, and Psychological Thrillers, with a new film from each theme to premiere on Halloween.
---
Don Stradley, editorial consultant for The Film Detective, is an award winning journalist who writes for magazines such as CINEMA RETRO and the Film Noir Foundation's Noir City. Fans of film, television, and the arts can also read more from Don on his personal blog, THIS DAZZLING TIME.