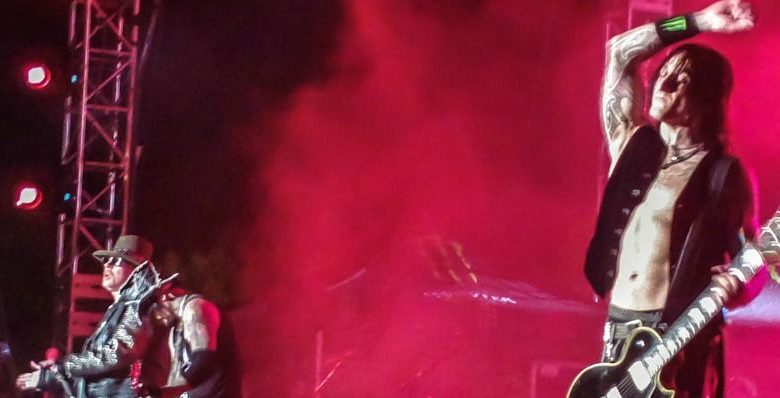 Frontman Axl Rose is infamous for diva behavior. You know, showing up late, refusing to go on stage and sparking riots.
After becoming a recluse following the insanely eventful "Use Your Illusion" tour, Rose got the band back on the road with a host of hired Guns.
Yet after a great deal of rumor and speculation, it was confirmed that Rose would be rejoining former "Appetite" band mates, Slash and Duff McKagan, on the Not In This Lifetime tour.
Guns N' Roses - Paradise City (Official Music Video)
Given their tumultuous history, when you tell people you're going to see Guns N' Roses play, they assume you're in for a giant, live mess.
Thankfully, this was not the case Aug. 3 at AT&T Stadium in Dallas.
There were a few hiccups. Openers The Cult got ushered onstage while the sun was still up. That hardly creates a great atmosphere for a stadium show.
FAST FACT: Late Blind Melon singer Shannon Hoon sang backup on a number of "Use Your Illusion" songs. He also appeared in the band's "Don't Cry" music video.
Given the headliners went on 30 minutes late (it wouldn't be a Guns N' Roses show if it contained punctuality), it would've been nice to let a great group like The Cult take their time to go on when it would've better suited their set.
The veteran rockers took it in stride. They played a tight set that showed singer Ian Astbury and Billy Duffy firing on all cylinders.
A highlight was when Astbury berated a woman for texting during the show, referring to her as a "cat-lady." This came during a set that contained "Deeply Ordered Chaos." The new song decries the recent terror attacks in Europe.
One wonders if Astbury is secretly a member of the alt-right!
RELATED: '80s Redux: Why New Wave Music Mattered
Once Guns N' Roses took the stage, any doubts audience members had about Rose's abilities were put to rest. The sound in the stadium could've been better, but Rose performed with panache, killing every song with his spectacular vocal range.
Before seeing the band live, I had always been a bit down on Rose. After seeing him with half of his old band, his knack for stepping up to the plate is without question.
GUNS N' ROSES ANNOUNCE "NOT IN THIS LIFETIME" TOUR DATES, DUFF ON GETTING OVER ISSUES
Rose didn't do all the singing. McKagan provided backing vocals and even sang a cover of "Attitude" by The Misfits, which the band recorded for their maligned "The Spaghetti Incident" covers album.
Yet it was Slash who was Rose's equal on stage. They lived up to the legends of Rose and Slash as a great singer/guitarist team. Slash's solos elevated songs like "Double Talkin' Jive" and "Rocket Queen" beyond the formidable recordings we all know and love.
The only issue with the show is the inclusion of songs from "Chinese Democracy," Rose's Guns-in-name-only solo record which was the Duke Nukem Forever of albums back in its day.
Songs from the delayed, lukewarm albums ground the show to a halt. One could feel the audience getting antsy while waiting for the next cut off of "Appetite" or "Use Your Illusion."
Still, the Not In This Lifetime tour is a must see, despite minor quibbles. The chemistry Rose, Slash, and McKagan have, along with players like Dizzy Reed and Richard Fortus, is rare. It makes for an electric live show that is not to be missed.
Ignore the Guns N' Roses horror stories you've heard. See this band on this tour if you can. Who knows if they'll share the stage in your town again.
Photo credit: Silver Blu3 via Foter.com / CC BY-SA