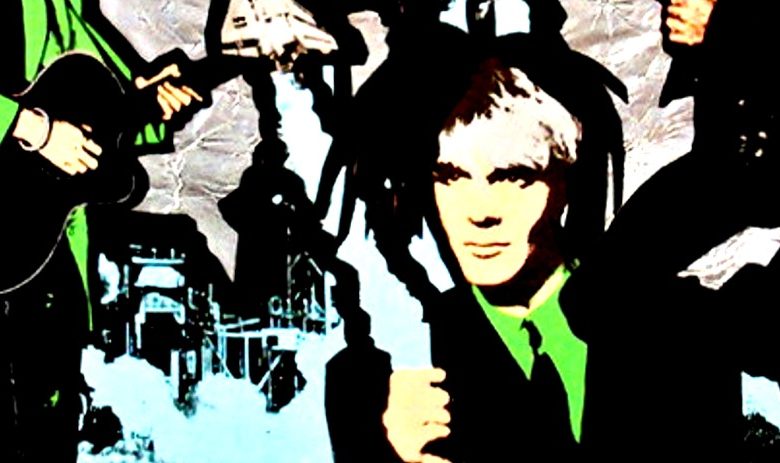 If you live long enough, I guess it's something you have to face: at some point the music of your youth will be considered "cool" again and people will walk, and dance, around your childhood memories as if in a museum.
Angel is a centerfold, indeed.
I once took my dad to a retro "50s Diner" that had opened up near our house. It was kinda like "Jack Rabbit Slim's" in the movie "Pulp Fiction," only this was 1985-ish. As we ate our cheeseburgers and fries he just glanced around, in disbelief. I get that now.
Here I was in a club playing '80s and '90s music for twenty-somethings who probably hadn't taken their first breath 'til a decade after "Rock the Casbah" was released. My brother infamously once said, "If the Grateful Dead aren't a country band, then what are they?"
Our musical roots as a nation wind back to Europe and Africa. Imagine for a moment the slave experience: you've been ripped from your home, it's not like you had time to pack, and you're a stranger in a strange land, and you have no instruments of your own, but there's a violin, a trumpet. It's the early 1700s, the Baroque period, so the works of Johann Sebastian Bach, George Friedrich Handel, Domenico Scarlatti, Antonio Vivaldi and Jean Philippe Rameau fill the air, along with hymns and church music. The piano and the clarinet were just invented. And so you pick up an instrument and play.
It's the birth of Mississippi Blues, Jazz, Funk, Country, Blue Grass, and Rock n' Roll. These distinctly American musical genres make their way back to Europe, Europe embraces it, and then spits it back out into new forms … The Beatles, The Rolling Stones, Eric Clapton and The Clash. It's a cultural exchange that hasn't stopped since it got started in the 1600s.
Bridges Over New Wave Waters
I was thinking about my musical tastes and why I liked New Wave as much as I did back then. For me it was a natural evolution from punk. My first love was punk. Black Flag, The Meat Puppets, The Sex Pistols and most of all … The Clash. The Clash is one of those "bridge" bands that span from Punk to New Wave. "Janie Jones" to "Rock the Casbah."
Other "Bridge" Bands: The Dead Kennedy's, The Talking Heads, The Ramones, and The Jim Carroll Band.
I was surrounded as a child by the music of my parents and brother: Hank Williams, Willie Nelson, Waylon Jennings, Crystal Gayle, The Beatles, The Stones, Pink Floyd, The Doors, The Grateful Dead filled the rooms of those early years.
And this being the '70s, I was smothered by Disco. Disco was evil. Blondie's "Heart of Glass" (1978) was the sound musicians were trying to break away from. It's why Siouxsie and The Banshees seemed dangerous when she came along in the '80s.
I liked New Wave because it wasn't Disco, because it wasn't "old" '70s Rock like The Rolling Stones or The Who and wasn't Country Rock like The Eagles or The Dead. It was from Europe, from London mostly, and that made it seem real and dangerous.
There were two kinds of New Wave, which I guess you could call "Dark" and "Light." I think this is true of all music. There is a softer, more pop side of a genre, and then there's the grittier, cutting edge side. An "A" and "B" side if you will.
I liked it edgier. Think about it in terms of Heavy Metal. There's a huge difference between Poison and Black Sabbath, although they both share the same space. I never got into Heavy Metal (beyond Rush and a few Iron Maiden songs) because it seemed "theatrical" to me, what with the "bat biting" and "Eddie" and the makeup. I never understood the makeup.
KISS, Twisted Sister and Judas Priest seemed to my mind the same as Guns n' Roses and Quiet Riot. This might sound strange, but to me New Wave seemed more grownup, more edgy, than Heavy Metal, at least the darker version of New Wave.
There's a massive difference, say, between Sisters of Mercy and The Pet Shop Boys, even though they both share the same space.
The other reason I didn't like Heavy Metal all that much was because they didn't sing about what I was most interested in… girls. I get "Sweet Child O' Mine" now, but back then Heavy Metal seemed angry and directed at other dudes… "You've got another thing coming." I was a lover not a fighter.
Thompson Twins, "Hold Me Tight" was about love and it's just a step away from more explicit songs like Berlin's "Sex (I'm A…)" and  Animotion's, "Obsession" and Duran Duran's "Girls on Film" and "Hungry Like The Wolf." I was 15 years old, it's where my mind was. But it was deeper than that, because Punk was a response to Disco and The Eagles.
Punk just naturally evolved into the darker New Wave, and then for me at least, back to the US for Hip Hop. That continual musical Möbius strip from America to Europe and then back again. Soho's "Hippychick" which samples "How Soon is Now" by The Smiths is a perfect example of the bridge between New Wave and Hip Hop.
The other thing that New Wave and Hip Hop shared was a love of dancing. Be it slam dancing or a slow grind, it's music that brings you into contact with people in a way that "head banging" and a "long, strange trip" never could.
As Whitney sang, "I wanna dance with somebody, I wanna feel the heat with somebody." Exactly!
So, here would be Matt's Ultimate 80's Playlists, both Light and Dark, to get you up and moving and next to somebody:
Light New Wave
"A Forest" — The Cure
"Don't You Want Me" — The Human League
"The Specials" — A Messaga To You Rudy
"Mirror In The Bathroom" — The English Beat
"Blister in the Sun" — Violent Femmes
"Girls on Film" — Duran Duran
"Lullaby" — The Cure
"Enjoy the Silence" — Depeche Mode
"I Melt With You" — Modern English
"Slave to Love" — Bryan Ferry
"Is She Really Going Out With Him" — Joe Jackson
"How Soon Is Now" — The Smiths
"Master and Servant" — Depeche Mode
"Deadbeat Club" — The B-52's
"Don't You Forget About Me" — Simple Minds
"Everybody Wants to Rule the World" — Tears for Fears
"I Ran (So Far Away)" — Flock of Seagulls
"True" — Spandau Ballet
"Hold Me Now" — Thompson Twins
"She Blinded Me With Science" — Thomas Dolby
"Tempted" — Squeeze
"Only the Lonely" — The Motels
"Unguarded Moment" — The Church
Dark New Wave
"Train in Vain" — The Clash
"Cities in Dust" — Siouxsie and the Banshees
"This Corrosion" — The Sisters of Mercy
"She Sells Sanctuary — The Cult
"Love Will Tear Us Apart" — Joy Division
"One Step Beyond" — Madness
"Beds Are Burning" — Midnight Oil
"Bizarre Love Triangle" — New Order
"In Between Days" — The Cure
"Ghost Town" — The Specials
"Debaser" — Pixies
"Fools Gold" — Stone Roses
"Blue Monday" — New Order
"April Skies" — The Jesus and Mary Chain
"Sex (I'm A…)" — Berlin
"I Want Candy" — Bow Wow Wow
"Kids in America" — Kim Wilde
"Three Sisters" — Jim Carroll Band
"Never Say Never" — Romeo Void
"Deeper and Deeper" — The Fixx
"Nobody Walks in LA" — Missing Persons
"Rio" — Duran Duran
"Tainted Love" — Soft Cell
Not an exhaustive list, but what came to mind as I wrote this, and all great songs.