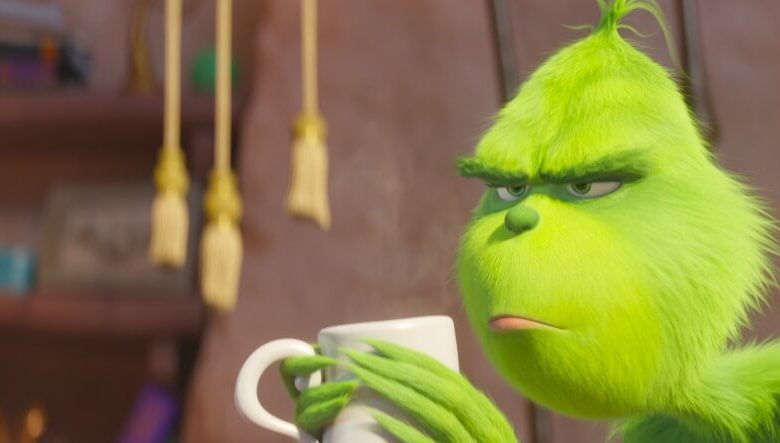 You're a somewhat surly but ultimately misunderstood one, Mr. Grinch.
Doesn't have the same ring to it, does it?
The new, hardly improved "Grinch" sure looks pretty, but that's not what we want from the Christmas curmudgeon. Who knows why we're getting a kinder, gentler Grinch in time for the holidays.
Just know the extreme makeover isn't the only reason "The Grinch" won't become a new holiday classic.
The Grinch Trailer #1 (2018) | Movieclips Trailers
Benedict Cumberbatch voices The Grinch, the hairy green fellow who tries to stop Christmas in its tracks. The story remains mostly unchanged. Though, similar to the 2000 live-action version with Jim Carrey, this "Grinch" has to expand Dr. Seuss' tale to justify the feature length running time.
It means we learn why The Grinch is so grumpy (awww) and spend quality time with young Cindy-Lou Who (Cameron Seely). She's a charmer, all right, but she's stuck in a Whoville that's as busy as you fear.
It's one reason today's animated fare is so exasperating. Animators can bring wonder to any scenario, but they often busy themselves with the smallest flourishes without realizing it's unnecessary.
Less is more. That applies to virtually every aspect of storytelling, live action or otherwise.
A few bright characters emerge despite the visual din. Kenan Thompson enlivens his scenes as a roly poly gent, and the legendary Angela Lansbury brings grace to her small screen time. Rashida Jones plays Cindy's single mom, a modern twist adding little to the affair.
We're not here for them, though.
It's the Grinch who matters most. And boy, is he a letdown. The animation leaves the green ghoul looking clean, even respectable. Cumberbatch can do it all on screen, and he tries so hard to duplicate that here.
RELATED: 5 Yuletide Songs That Need a Christmas Break
His voice rises and falls, purrs like a kitten one moment before roaring like a lion the next. He's a snore all the same. He's overly sweet to his loyal pup, Max, fretting that he may be pushing the canine beyond his physical boundaries.
What have they done to the Grinch? Is there a hostage note in the theater lobby?
The old fella's funny bone hasn't changed much. The slapstick here may be generic, but it's often spot on and fine for young and old alike. The film's final moments manage to pluck a heartstring or two, but by then you'll ask yourself, "where was this emotion for the past 80 minutes?"
"The Grinch" wisely samples elements of both Grinches past and previous yuletide ditties. A snippet of Run DMC's "Christmas in Hollis" gives the story a jolt, but it's gone seconds later. We're also treated to a version of the Whoville chorus from the original TV special.
It's a sweet callback, but it reminds us how the new "Grinch" pales compared to past incarnations. Even Carrey's Grinch had a ferocity missing here.
FAST FACT: Run DMC's signature Christmas song almost didn't happen. The group feared "Christmas In Hollis" would be too similar to Kurtis Blow's "Christmas Rappin'" "In hip-hop culture, you can't duplicate what's already been done, so we weren't sure about doing it," says Darryl McDaniels, AKA DMC.
An animated Grinch doesn't have to snack on children's toes to be effective. He exists to be cruel, though, and when you erase that element you're neutering his essential role.
His heart is already 7/8ths its proper size. Where do you grow from there?
"The Grinch" may appease younger viewers or those unfamiliar with the previous incarnation. Do those souls even exist?
Otherwise, "The Grinch" is just another brand extension with a few wry laughs to distract us from the fact that the better version is back home waiting to be re-watched.
HiT or Miss: "The Grinch" packs some serious belly laughs, but otherwise this neutered version of the classic tale makes you pine for the half-hour cartoon.