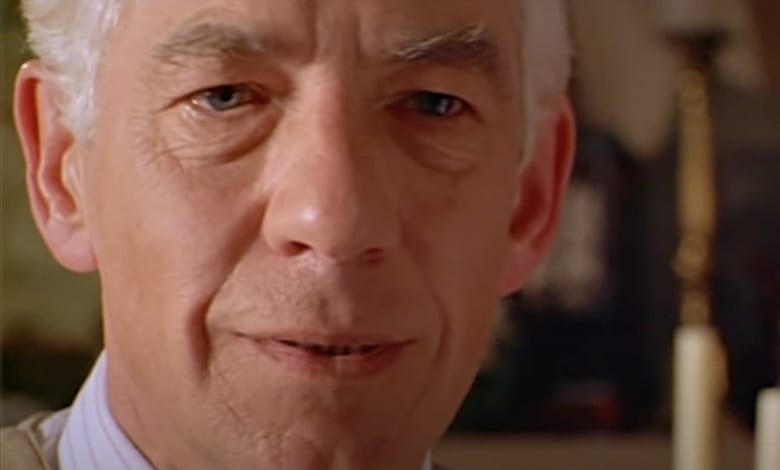 Bill Condon's "Gods and Monsters" (1998) is a love story about an unlikely bond between a former film director and his gardener, a meaningful relationship that surprises them both.
Sir Ian McKellen plays James Whale, the director of "Frankenstein" and "The Bride of Frankenstein," living in his Hollywood mansion with only his servant (Lynn Redgrave) to preserve his private life.
Whale is not only in Hollywood exile for being the director of a flop but also a closeted homosexual, a once closely guarded secret that he can barely contain to those who pay him a visit.
Gods and Monsters Official Trailer #1 - Brendan Fraser Movie (1998) HD
Brendan Fraser plays Boone, who is hired as Whale's gardener and is initially an object of attraction to Whale. Eventually, Boone becomes someone in his inner circle the director both trusts and mistreats.
Set in Santa Monica in 1957 and mostly in Whale's living quarters, this easily could have been a stage play. Based on Christopher Bram's 1995 novel, the character of Boone is the fictional element, an avatar created to explore Whale's life and obsessions.
Early on, we see horror movie imagery as Whale takes a trip to a doctor's office – he's now living in his own monster movie.
Clive Barker was among the executive producers and Condon, who previously made the better than expected "Candyman: Farewell to the Flesh" (1995), finds the perfect rhythm and tone for this.
Condon's film is touching, funny, made with affection and tremendously moving.
"Gods and Monsters" was released within months of McKellen's bravura turn in Bryan Singer's Stephen King adaptation "Apt Pupil." I wound up seeing the two films back-to-back and forgot I was watching the same actor play both the spirited Whale and a despicable Nazi in hiding.
FAST FACT: "Gods and Monsters" earned three Oscar nominations (Best Actor, Best Supporting Actress and Best Adapted Screenplay), winning the statuette for the latter category.
McKellen's thrilling turn in "Richard III" (1995) should have been the calling card that finally got him out of unworthy supporting turns (as in "Last Action Hero" and "The Shadow").
Fraser, who was a year away from action-hero status in "The Mummy" but becoming a constant lead in doofus comedies, is also incredible here. Both actors find bitter truths and touching revelations in their work.
Redgrave (who, like McKellen, was Oscar nominated) wasn't an obvious choice for her role as Hanna, but the former "Georgy Girl" is excellent, vanishing into a rich, moving character turn.
Gods and Monsters (5/10) Movie CLIP - Men Who Bugger Each Other (1998) HD
Condon's film is a cousin to Tim Burton's "Ed Wood" (1994), which is the highest praise I could give it. Both explore a young optimist whose unexpected partnership with a washed-up artist brings out the melancholy and inspiration in them both.
Whale explains to Boone that he didn't direct all of the "Frankenstein" movies, stating "only the first two – the others were directed by hacks." It's a reminder of the Edward D. Wood Jr./ Bela Lugosi exchange in Burton's film, where Lugosi bitterly proclaims his hatred and resentment for Boris Karloff's taking the role of Frankenstein.
Here, Whale states that Karloff is "the dullest fellow imaginable," but that "the monster is noble and misunderstood" (the latter quote is, of course, Whale talking about himself as much as Mary Wollstonecraft Shelly's creation).
RELATED: DIRECTOR BRINGS SHELLEY'S 'FRANKENSTEIN' BACK FROM THE GRAVE
A moment I savor is when Boone notes aloud while watching Whale's film, "the monster is lonely, he wants a friend." We see that the horrors of World War I and an industry that tossed Whale aside has broken him, making him a "monster" in need of a compassionate companion.
The frequent scenes of Whale's recollections are vivid and beautiful, as the character sadly confesses, "I spent much of my life outrunning the past, and now it floods all over me."
Whale and Boone recognize that they both come from sad, poor backgrounds and have suffered in order to find their way in life. There are wonderful scenes that recreate the filming of "The Bride of Frankenstein," but the moments come with a hard bite – did they happen as we're seeing them, or is their cinematic quality a result of the dreamer being a film artist with a painterly eye?
As a depiction of Hollywood as a hub of gay artists, McKellen isn't playing a symbol and the film doesn't have an agenda, just a story to tell about misfits finding empathy in a hostile environment.
The sequence where Whale attends a party thrown by George Cukor and, in his own way, calls him out, is hilarious. Condon's Oscar-winning screenplay never apologizes or justifies Whale's actions, just allows us to see him as a complex, feisty, flawed and hurting human being.
Gods and Monsters (7/10) Movie CLIP - Memories of the War (1998) HD
There's a part of me that sees an experience from my own life in "Gods and Monsters," and that is the friendship I had with Richard Denning. The actor, best known for being a regular on the original "Hawaii 5-O" and the lead of creature features like "The Black Scorpion" and "Creature from the Black Lagoon," was retired from movies but willing to talk to me in his later years about his time making monster movies.
I met him as a boy and I inundated with questions about his film career. He was encouraging and straightforward with me, never humoring me.
When I look at "Gods and Monsters" or Joe Dante's "Matinee" (1993), I'm reminded of the awe and unexpected friendship I felt being in the presence of someone who left a body of film work that still delights me.
That final scene in "Gods and Monsters," where Boone is experiencing "Frankenstein" for the first time with his son on television, cuts deep. This is how we keep important figures alive from our past, through photographs and film.
It's that rare joy to have known someone who was once in a classic monster movie. I'm speaking about Boone as much as myself. Fittingly, Denning's first wife, Evelyn Ankers, shared this creative space with him, as she was Lon Chaney's co-star in the original "The Wolf Man".
"Gods and Monsters" keeps the essence of Whale alive and, like Boone in the final scene (oh, what a perfect ending), shares the hard-won art that this "monster" left behind for us.