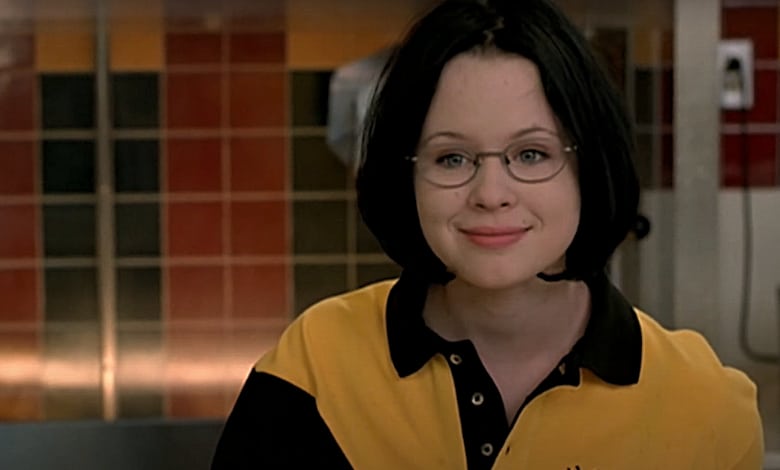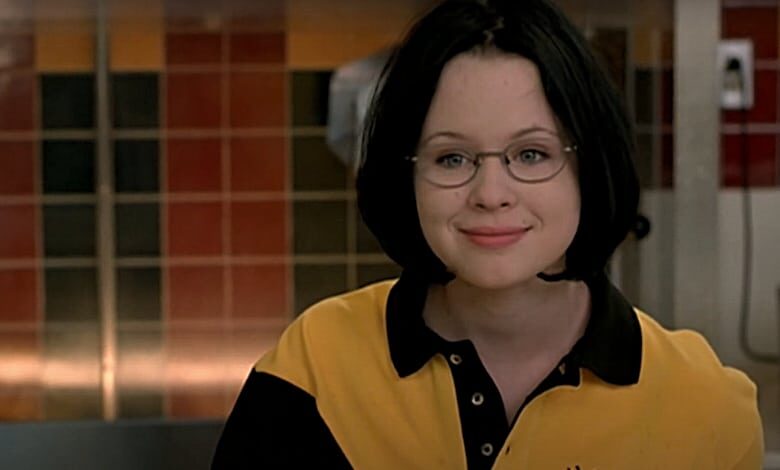 Terry Zwigoff's "Ghost World" is about a turning point during a summer after two teenage girls graduate high school.
Most people don't know this is a comic book movie. In fact, it's one of the best, a dead-on adaptation of Daniel Clowes' graphic novel that captures both the acidic humor and aching longing of its characters.
Ghost World (2001) - Official Trailer 1 - Steve Buscemi Movie HD
Thora Birch is Enid and Scarlett Johansson is Rebecca. When we meet them, they are enduring their high school graduation ceremony and quietly mocking the proceedings to one another. They are awful, indifferent, and cruel on the surface, painfully vulnerable on the interior.
The two have been friends since childhood and can barely conceal their bratty glee in leaving high school behind and embracing the possibilities of the real world in front of them. In fact, their longtime plan to get jobs, find an apartment and move in together is immediately activated.
A chance meeting with a record collector named Seymour (Steve Buscemi) alters Enid's trajectory – what initially begins as a prank escalates into a form of humoring, until Enid genuinely befriends Seymour and recognizes him as an old soul and curmudgeon like herself.
RELATED: 'Dear Evan Hansen' Crushes Broadway Show's Spirit
Enid and Rebecca are disaffected and alienated, Seymour shares Enid's disgust and fascination with the world. Somehow, the movie makes these potential caricatures into heartfelt creations.
Our first impression of them is caustic. Our three main characters seem impossible to like for the first act, until their vulnerability and humanity is in plain sight.
Ghost World (2001) - Meeting Seymour Scene (4/11) | Movieclips
There's a deep aching in this film about the need to find the peg we fit in, while discovering that some people have never managed to fit in but turn out all right.
Why is the film called "Ghost World"? In a way, Enid and Rebecca are ghosts, transient wanderers just passing through, like the man they repeatedly encounter who is waiting for a bus that doesn't come.
At a key moment, Enid is taken aback by jazz music – she swoons and is transported. It's the first time we see her let her guard down, giving in to a new experience and falling in love with great art.
The actors really get these characters- note the lived-in precision of Illeana Douglas' performance as Roberta, whose art class feels like both an inspiration for young people and a sham.
RELATED: 'Other Kids' Captures Today's Teen Spirit
Buscemi's Seymour, reportedly a Clowes stand-in, is kind of insufferable, but he knows who he is. Johansson is funny and real here, but its Birch's film; the former child star and "American Beauty" standout is sensational in this. In a perfect world, Birch and Buscemi's performances would have been Oscar contenders.
Zwigoff juxtaposes different types of art, whether the horrifying remnants of Cook's Chicken or the Bollywood number that opens the film or the eclectic art in Roberta's gallery/classroom. Enid's assortment of found art (her clothing, music and bedroom décor) is a colorful mishmash, as is her brief decision to dye her hair green.
Zwigoff's film gives voice to oddballs, weirdos and outsiders. Here's something we rarely see in movies as a focus: the culture of nostalgic collectibles.
With Seymour, Enid is like a cat taunting a bird, until she lets her guard down and genuinely loses herself to his music and him. It's not a romanticized relationship, but an uneasy friendship that goes in directions both tender and unfortunate.
Another key touch: Seymour knows the history of Cook's and Enid doesn't react properly. This reflects changing times, as well as Enid's need to gain true knowledge and empathy towards the world around her.
Enid's ongoing caricatures of Seymour illustrate her evolving point of view on life and the outsiders she encounters. By the film's end, she is compassionate, a true transformation.
Happy birthday, Terry Zwigoff! Watch Illeana Douglas (@Illeanarama), Scarlett Johansson, & Thora Birch ( @1107miss) talk their experiences making GHOST WORLD, his first fiction film & one of the 21st century's most fiercely beloved comedies: https://t.co/qP3927Wdjm pic.twitter.com/4EwqozXcnB

— Criterion Collection (@Criterion) May 18, 2018
Zwigoff's film captures the source without being stylistically demonstrative about being a comic book movie. Unlike the subsequent "American Splendor," another great comic book movie that has no superheroes or franchise stakes, there aren't even animated segments announcing the story's origins.
Instead, Zwigoff's recreating a specific attitude and mood for each sequence authentically reflects Clowes' vision.
The convenience store scenes are the only ones that feel like a caricature. David Sheridan's wild turn as a convenient store customer with a zest for beef jerky, working out and causing trouble is wild and, as funny as he is, possibly wrong for this movie.
Bruce Glover has a memorable cameo as a wheelchaired coffee house denizen and that's Diane Salinger (Simone in "Pee-Wee's Big Adventure") as a psychiatrist in the finale.
Fun Fact: The individual with the headshot that Enid cruelly doodles over is Tracy Bennett, a former set photographer who today serves as the Maui Film Commissioner.
Zwigoff's approach reminded me of Jim Jarmusch or Todd Solondz; he's clearly aligned with his outsiders, as the director of "Crumb" once again infuses a documentarian, unjudgmental eye on real oddballs and shows them to be imperfect, sometimes caustic, and often hilarious, as well as relatable.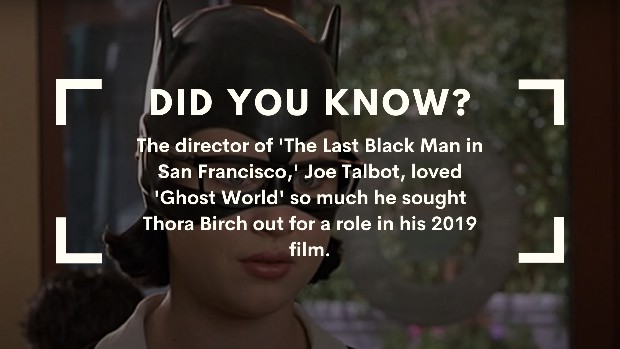 The subsequent success of Zwigoff's mainstream hit "Bad Santa" (2003) wasn't a cop out. In fact, that movie could very well be a Robert Crumb comic book (or, at the very least, a cartoon strip out of the National Lampoon).
It's the 2006 "Art School Confidential," another Zwigoff/Clowes collaboration, that deserves greater attention. That comedy was dismissed by most but is a rewarding, thoughtful extension of the art class scenes from "Ghost World" and is an unofficial companion to that film.
The only slight alteration to Daniel Clowes' source material I didn't like was eliminating the real ending of the scene where Enid and Rebecca ditch their garage sale – it's a throwaway bit in the movie, but the graphic novel has this segment conclude movingly, as Enid is relieved to have not lost forever an item she initially thought she could live without.
David Kitay's score meets the bitterness and melancholy of the film without resorting to sarcasm. For a movie where not much happens, it has a propulsive restlessness and a chip on its shoulder, like its characters.
The bus at the end of the film – is it an escape from a pointless existence or a metaphor for death? The ending is both a victory and a "what-now?" purgatory, ala "The Graduate." Considering how Enid is already so much like Benjamin Braddock, it's fitting that she would receive a similar ending of limbo as catharsis.
"Ghost World" depicts how a long-term friendship comes apart. Rebecca, admirably but foolishly, devotes herself wholeheartedly to a childhood dream, while Enid only half-heartedly commits to it. The events of the film are likely a small moment in Enid's life that she only occasionally looks back on…or maybe not.