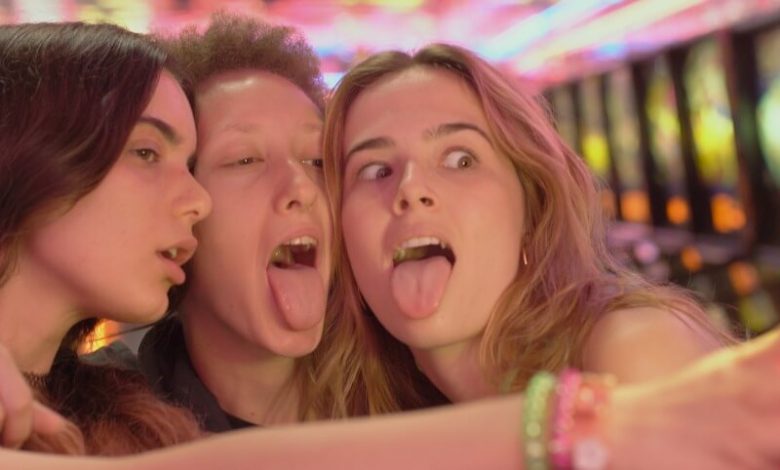 In the opening scene of Max Winkler's "Flower," the premise is firmly and shockingly established.
Erica (Zoey Deutch) and her friends are young teens with a successful moneymaking scheme. While Erica seduces grown men, her pals film the encounters, then appear and blackmail their targets.
As if this wasn't icky enough, Erica and her friends (who are around 17) are targeting local perverts and have gone through scores of them for financial gain. Winkler's film is a dark comedy, which doesn't make this any easier to embrace.
Erica is the daughter of a free spirited mother (well played by Kathryn Hahn) and an unseen father serving a prison term. Adding complications to her life of high school and high crimes are the arrival of Mom's new boyfriend and his deeply troubled son, Luke (a first rate Joey Morgan). Erica is initially put off by Luke's having to live with them but gradually finds a kindred spirit … and a partner in crime.
I admired how uncompromising Winkler's film is, even as it never softened its edge and made me uneasy for almost all of its 90 minutes. The sex scenes are off camera and nothing explicit is shown.
Still, Erica's constant willingness to offer oral sex to her victims, or just about anyone, makes her a challenge to care about. This is the kind of movie where the behavior and character types are recognizable, even as you wouldn't want to spend more than five minutes, tops, with anyone on screen.
FAST FACT: Zoey Deutch made her screen debut at 15 on the Disney Channel show "The Suite Life on Deck."
Among the recognizable names credited as producers are David Gordon Green, Danny McBride and Jody Hill. A name I was surprised to not see is Todd Solondz, whose work feels in key with what Winkler has achieved here.
Flower Movie Clip - Family Dinner (2018) | Movieclips Indie
"Flower" is a comedy but its characters are unpleasant and troubling in their complexities. The boldest touch in the screenplay (written by Winkler, Max Spicer and Alex McAulay) is that it never tells you how to feel about these people.
The same is true of Deutch's performance- at no point in her acting does she editorialize Erica or provide an approach that softens or outwardly endears us to her role. Erica is a mess, does really bad things and acts detached from the decisions she makes. She is frustrating, even infuriating, and is basically every parent's nightmare. Over the course of the film, I grew to like her very much and that has everything to do with Deutch, who is spectacular in the role.
RELATED: 'Nocturnal Animals' Is a Cinematic Gut Punch
The dialog ranges from self consciously shocking to honest and bare. To say the least, the funniest lines are unprintable. Deutch's work centers the film and kept me watching, even as the story moves into scenarios that will make some shift in their seats.
In some ways, the detached manner of the lead protagonist and her relationship with the central male character reminded me of Thora Birch and Steve Buscemi in "Ghost World," a much better film that knew when to pull back (unlike Winkler's film, which apparently had its brakes uninstalled).
I won't describe it, but the final scene is the only one that feels contrived and tidy. Otherwise, the screenplay is refreshingly unpredictable, even as a third act twist threatens to paint the story into a corner.
In Hollywood, it's only nepotism if the related actor has no talent and is getting breaks because of their namesake and little else. Deutch is the daughter of Lea Thompson (and Thompson's "Some Kind of Wonderful" director/husband Howard Deutch).
Make no mistake, she's the real deal.
Deutch has taken a potentially unplayable role and given her a soulful, unsettling honesty. "Flower" is driven by deeply unpleasant material and hard to recommend but Deutch's performance is absolutely worth seeing.
Winkler is the son of Henry Winkler; his resemblance to his father is sharp as Deutch's is to Lea Thompson but, likewise, this is talent that doesn't need a famous relative for justification.
I admired Winkler's film debut, "Ceremony," with its equally surprising story and a great Uma Thurman performance that grounded it.
Ceremony Official Trailer #1 - (2010) HD
That film was also propelled by a protagonist with an off-putting motive and didn't shy away from people casually doing/saying rotten things to one another.
Winkler's two films, as well crafted as they, feel like solid tryouts for more fully formed works to come. Still, I have to give Winkler credit. "Flower" is as brave as Deutch's performance, which counts for an awful lot.
Two and a Half Stars