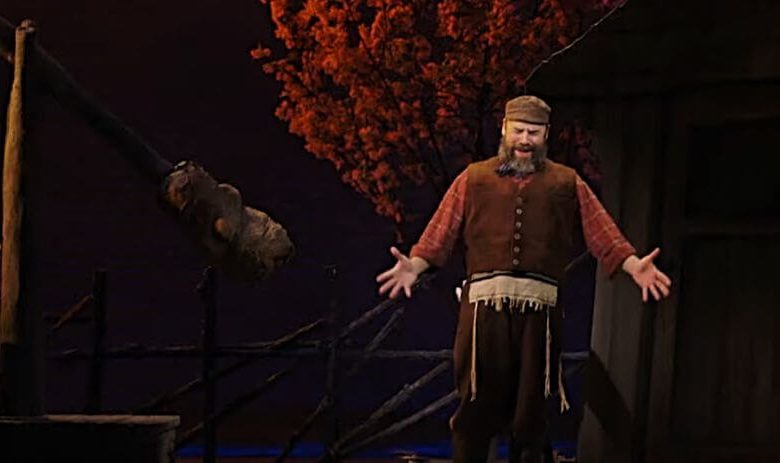 The creation of "Fiddler on the Roof," and its legacy as an enduring and important work, is explored in full in "Fiddler: A Miracle of Miracles."
If anything, in order to appreciate Max Lewkowicz's documentary, you need to be a big fan of not just the show but Broadway history in general.
Fiddler: A Miracle of Miracles | Official Trailer | In select theaters August 23
The talking heads presented to help tell the tale and give loving testimonials are impressive (look, it's Joel Grey! There's Harvey Fierstein! Isn't that Stephen Sondheim! There's Lin-Manuel Miranda … again!).
Emphasis is placed on the show's rocky beginnings as a Broadway oddity in 1964. A series of unsuccessful previews and unfavorable early reviews had no effect on the lines gathering around the block. The documentary explores the contributions of choreographer Jerome Robbins, director Harold Prince and star Zero Mostel (original cast member Austin Pendleton provides telling anecdotes, particularly in regard to Robbins' behavior).
The making of the Norman Jewison-directed film adaptation is also given ample discussion and lots of behind-the-scenes clips, as well as how the universal aspects of the material (then and now) resonates with history.
Fiddler on the Roof Official Trailer #5 - Topol Movie (1971) HD
"Fiddler: Miracle of Miracles" covers every song in the show, explores the difference in approach by Broadway star Mostel and the film's star Topol (who provides moving recollections and is the best interview subject here) and provides social/historical context.
There's also glimpses of performances of the show produced in Brooklyn and Thailand, the Yiddish version from a few years ago and a touching performance in Kiev, Ukraine. While there's no central figure to carry this, there are are brief, lovely animated segments to bridge the topics.
It seems like no stone goes unturned (like the show it focuses on, there's even a real fiddler on a roof shown fiddling away as a bookend!). We not only get the 1969 version of "If I Were a Rich Man" by The Temptations but others that have popped up over the years.
We even see a portion of Lin-Manuel Miranda's wedding video, for some reason (although the "Hamilton" mega-star is on hand for an informal interview with one of the show's creators early on, he's not the documentary's host and should have been).
Clearly, there's a lot of ground to cover for a show that has lasted over 50 years and continues to be a theater mainstay.
RELATED: 'Last Laugh' Doc Tackles Biggest Comedy Taboo
The following will sound like backhanded praise, but some of this is just too much – like a car salesman trying too hard to sell me on a car I already own and adore, "Fiddler: Miracle of Miracles" is, perhaps, a bit one-sided; other than the initial bad reviews when the show was previewed, there is nothing negative presented here to present some perspective, constructive criticism or contrast to the steady stream of adoration.
Since we're dealing with a musical that is, without question, socially significant and probably without argument one of the greatest ever made, this can feel like a cheerful hagiography. I realize that term is used often to describe musical bios or movies about famous music artists, but it feels like it applies here as well (since "Fiddler on the Roof" is primarily about the values and behavior of Tevye, who, it can be argued, is presented in an idealized fashion).
Fiddler on the Roof National Tour
As much as I genuinely love "Fiddler on the Roof" (it's the musical I've seen performed more often, in community and professional theaters, than any other), this documentary wore me down at the mid-point, as it over-sells its overall goal (we get it, "Fiddler on the Roof" is FANTASTIC).
After all, this documentary goes through every single song in the musical and wrangles household names to praise various aspects of the show. It occurred to me early on that a more interesting documentary would have focused on a show with far less pedigree and universal adoration.
The mind boggles at the thought of cinematic exploration of Paul Simon's "The Capeman" (an unloved flop but still an extraordinary work), the Liza Minnelli/Chita Rivera vehicle "The Rink," the troubled and fascinating "Nine," the ambitious but absurd "Starlight Express" or the undisputed cult classic "CHESS."
Who wouldn't be fascinated by a documentary that rounded up those who survived the legendarily problematic "Spider-Man: Turn Off the Dark" or the wild, brief run of "Carrie: The Musical"? Here, I kept hoping the filmmakers would talk to at least one person who didn't like the show (no such luck).
Fiddler: A Miracle of Miracles contains the stories behind the daidle deedle daidle digguh digguh deedle daidle dum.
https://t.co/hJUFIznpdS pic.twitter.com/FYadLWmjLH

— SF Weekly (@SFWeekly) August 30, 2019
As much as I appreciate "Fiddler: Miracle of Miracles," both as an appraisal of a monumental Broadway musical and a cultural landmark in theater history, this feels too easy. The post-script informs the viewer of this: "Since 1964, 'Fiddler on the Roof' has been performed every day around the world."
That's impressive, though it also suggests that, perhaps, this show is a teensy bit overrated? If this show is in constant production, right now, somewhere in the world, its ubiquitous nature should make it seem less like "Tradition!" and more obligation.
Yet, as stated earlier, whenever this musical is scheduled for a performance (either locally or when I'm on the road), I always make a point to catch it. My own inability to resist "Fiddler on the Roof" basically proves the documentarian's point.
However, as much as anyone can appreciate this hearty and well crafted documentary, it's for super-fans only. If you can name all of Tevye's children and know (as I do) that Elijah Wood's faux performance as Tevye in "North" was beloved by his school paper, then have I got a movie for you.
Three Stars