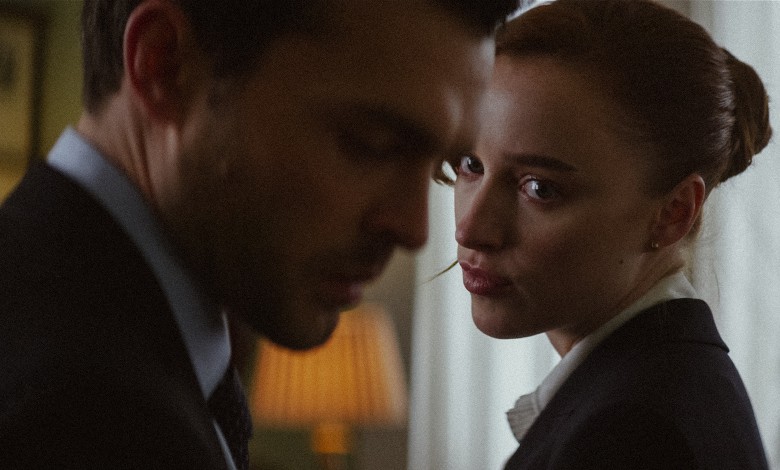 Chloe Domont's "Fair Play" made a sensational debut at the January 2023 Sundance Film Festival, then made a belated premiere on Netflix this month.
Like any film festival favorite that premieres on a high-profile streaming site, there's the danger of it being overshadowed by flashier fare.
Whether you're fully on board with writer/director Domont's take-no-prisoners thriller or (like myself) find the third act lacking plausibility, this is an admirable, risk-taking work that is worth seeing alone for the courageous performances of its stars, Phoebe Dynevor and Alden Ehrenreich.
FAIR PLAY | Official Trailer #2 | Netflix
Luke (Ehrenreich) and Emily (Dynevor) work at a Manhattan hedge fund and manage to keep their passionate relationship a secret from their co-workers. While Luke works as Emily's analyst and can't seem to get the promotion he feels is within reach, Emily ascends to the upper ranks at the beckoning call of Campbell, her powerful, repulsive boss (a vividly despicable Eddie Marsan).
While Emily and Luke are business-only colleagues during the day, their romance and plans to further their relationship power their time alone together, hidden away in their apartment. The real trouble for them begins when the power dynamic between them shifts.
Imagine the setting of "Margin Call" combined with the uncomfortable frankness of "Marriage Story" and you have this movie. "Fair Play" is easy to admire and the two lead performances are stunning – Dynevor, a "Bridgerton" favorite, conveys the tortured path her character takes and Ehrenreich ("Solo: a Star Wars Story") matches her scene for scene.
While the film may cause some to declare it feminist, Domont is actually exploring how a terrible work environment inwardly destroys both of its protagonists in different ways. Yes, by the film's end, Luke has sunk to a new low but so has Emily, who mirrors her vile boss in the film's painful final moment.
Picking sides isn't the point here – this isn't the "Barbie" movie.
Fair Play Cast Breaks Down the Film | Netflix
The opening scene, both outrageous and tender, had me hooked. The film manages to sustain enough suspense over whether Emily and Luke's relationship will become an HR cautionary tale or remain hidden from their cruel co-workers.
The early intrigue falls prey to contrivance and showy actor set pieces don't ring true. How is it that the company car picks up Emily in the morning and never notices Luke walking out of the same building just seconds after her?
Who on Earth would actually go to the climactic wedding party that acts as a last stand for the protagonists?
FAST FACT: Netflix gobbled up the rights to "Fair Play" for a reported $20 million after the film wowed a Sundance Film Festival crowd.
Also, my biggest complaint: that in-the-office freakout that causes a main character to be fired. I didn't buy it for a second and only admired the actors for going through with it. If anything, a scene that occurs earlier, where a character literally gets down on his knees and lays everything on the line for his boss, is far more plausible and painful.
When Domont is connecting her characters to unearthed emotional honesty, it's as harrowing as it intends to be. However, when she stacks the melodrama and public embarrassments to the breaking point, "Fair Play" doesn't play fair.
I understand why the lead couple wouldn't be discovered in the laboratory of the opening scene but that drawn out shocker in the third act? There's no way someone wouldn't have interrupted them.
Asked some HR professionals to watch Fair Play and they have notes! pic.twitter.com/V60gyqHakt

— Netflix (@netflix) October 15, 2023
Domont doesn't need to spell out all her points, but some issues get lost, like a massive check that is neglected in favor of nighttime debauchery and how, from what we see here, anyone who succeeds at this company will eventually become a monster.
Oliver Stone's "Wall Street" (1987) is better is making this setting a moralistic cautionary tale, and Meera Menon's "Equity" is better at depicting how differently and unfairly women are treated in an environment of toxic males in suits.
Dynevor and Aldenreich made me care about Emily and Luke, even when they disappoint one other and us, but "Fair Play" eventually lost me by nudging me in the ribs with its over-the-top dramatics.
As a conversation piece, Domont and her stars have really come up with something, but this is also the kind of unpleasant, mean and cold boardroom drama that you watch once, tops.
Two and a Half Stars