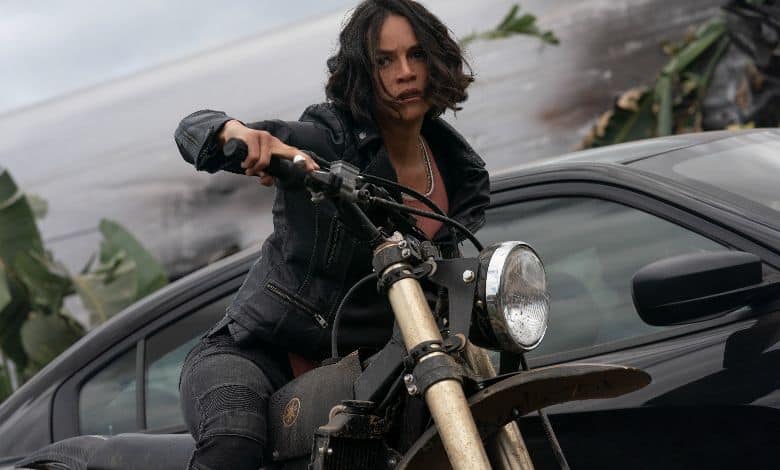 The "Fast & Furious" films follow a formula as simple as it is effective.
Car crashes
Insane stunts
More insane stunts
Lots of talk about "family" and why it matters
A diverse cast that spends zero time exploring said diversity
Scantily clad women cheering on street race cars
That's it. And darned if it didn't power the franchise for eight engaging films (and a cheeky spin-off, "Hobbs & Shaw").
Not nine, though.
"F9" is a significant letdown, especially given all the release delays tied to the pandemic. The latest sequel has its moments, but hardly enough to suggest the saga's formula isn't fraying at the edges.
F9 - Official Trailer [HD]
We meet Dom and Letty (Vin Diesel, Michelle Rodriguez) on a bucolic farm, their racing days put to pasture.
Har har.
Their old mates drop in to let them know Mr. Nobody (Kurt Russell, barely a cameo) has been abducted along with technology which could upend the world's power structure. It's a silly Bond-like plot device, but it's good enough to get the old gang back together.
Their mission reunites Dom with Jakob (China apologist John Cena), the racer's long-lost brother. Yes, "F9" is all about silly subplots, suddenly vital characters and so much exposition you'll do something you rarely do during a "Furious" film.
Check your watch.
F9 Cast Tries to Recap the Fast and Furious Saga in 5 Minutes
Franchise villain Cipher (Charlize Theron) is back, along with Queenie (Helen Mirren), Sean (Lucas Black), tech guru Ramsey (Nathalie Emmanuel) and a surprise return that leads to hugs aplenty, and that's about it.
The "Avengers" movies proved a crush of characters can actually sweeten the experience, but here the cameos are random and awkward. That's particularly true when Cardi B pops up out of nowhere, one of many moments that easily could have been trimmed.
Is there a law that "Furious" movies must be agonizingly long?
The regular crew, including Tej (Chris "Ludacris" Bridges) and Roman (Tyrese Gibson), are as welcome as ever, but they're saddled with horrible dialogue and deeply silly subplots.
Here's a clue – outer space. We'll say no more.
The Dom/Jakob friction isn't as interesting as the filmmakers think. Plus, Cena has shown a refreshing pliability in recent films, a far cry from his one-dimensional wrestling shtick. His Jakob actually has less than one dimension, if that's possible. He certain leans on one facial expression from start to finish.
"F9" doesn't go woke, thank goodness. There's still banter about the importance of family and faith, and none of our antiheroes uncorks a lecture on social justice. The one exception? The franchise's penchant for beautiful young women in barely-there clothing has been excised from the formula.
What's left? Stunt sequences that pale compared to past outings. Returning director Justin Lin (this is his fifth film in the series) knows how to swap birds eye view moments with metal-on-metal mayhem, but his hand-to-hand fights are too close to be fully absorbed.
RELATED: 'Fate of the Furious' Pushes Family to the Breaking Point
The "Furious" films never take themselves too seriously, thank goodness. "F9" takes that spirit to a dizzying new level. Roman wonders why his crew not only survives all these epic battles but rarely walks away with a scratch. It's a meta narrative that spreads to other cast members..
"As long as we obey the laws of physics we'll be fine," Tej says at one point with a straight face. Earlier in the film he asks a fellow "Furious" mate, "How in the world are you not dead?"
That line comes before another car flipping accident where are heroes are neither shaken nor stirred. Too bad the film's unintentional laughs outnumber the legit ones.
No franchise can go on forever. Even the Bond saga suggests it has an expiration date, particular if the series goes woke. It's a miracle that a franchise starring criminals who save the day by driving cars really, really fast has hung on so long.
"F9" suggest the end of the road is near.
HiT or Miss: "F9" is a franchise running on creative fumes, the past glories fading in the rearview mirror.