Industry News
Exclusive: 'No Safe Spaces' Star Prager Shreds Identity Politics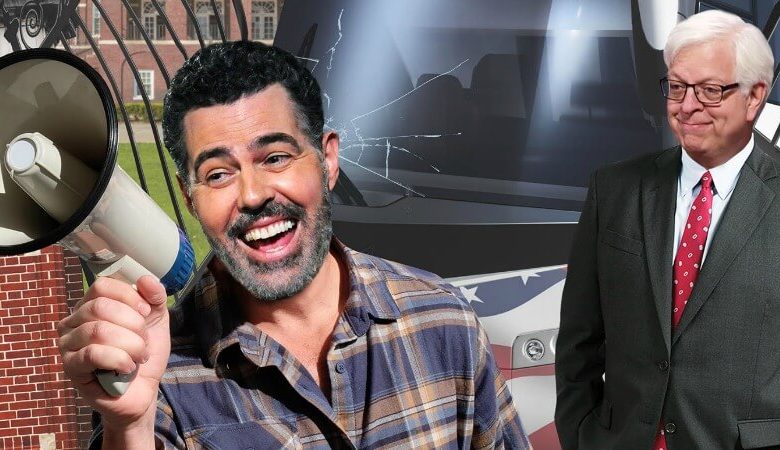 Dennis Prager has had enough of our outrage addiction.
That might sound like the syndicated talker is feeding into the very system he despises. Only Prager rarely raises his voice and leads with facts, not invective.
That makes him a rare voice of reason, albeit one some wish would just go away. Remember how leftists tried to squash his guest conducting gig last year?
It's why he's working on a new documentary detailing how outrage is fueling much of the censorship taking place across college campuses.
Join Adam Carolla and Dennis Prager: No Safe Spaces
"No Safe Spaces" will show how various far-left groups are running roughshod over free speech. How? By declaring everyone save straight white Christian males are oppressed in our society. Anything feeding that narrative leads to outrage and, too often, a call to limit opposing views.
Just ask conservative speakers like Charles Murray, Ben Shapiro and Heather MacDonald. They've all faced protest and violent threats on college campuses for sharing their deeply held beliefs.
The following is an exclusive clip featuring Prager and podcast king Adam Carolla. The two are the driving forces behind "No Safe Spaces," which recently added Tim Allen to its cast.
The film, set for a fall release, drew the ire of some liberal outlets last year for daring to defend free speech. Expect more of the same upon the film's release.
The following clip, shot Feb. 8 at the Buckhead Theatre in Atlanta, is part of the "No Safe Spaces" tour.
Dennis Prager: Everybody is Oppressed
"No Safe Spaces" also takes aim at Hollywood, where telling the "wrong" joke can lead to serious blowback.
"It's impossible to be funny if we're not allowed to poke fun at each other and that's what's happening with a new generation of people who seem to be offended for a living," Carolla recently told The New York Post.