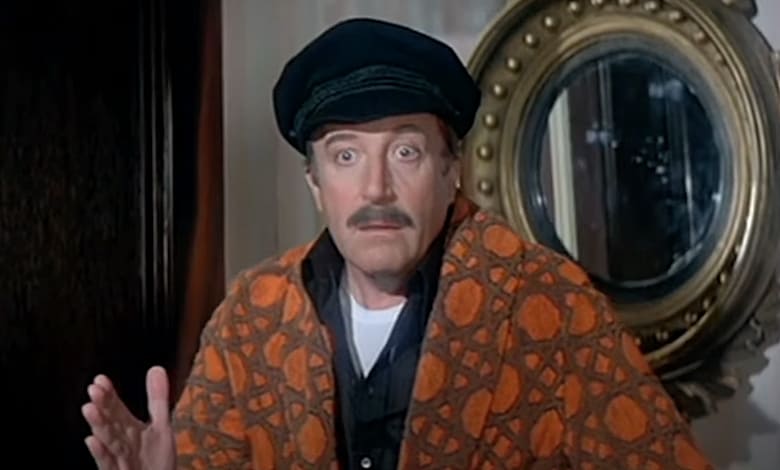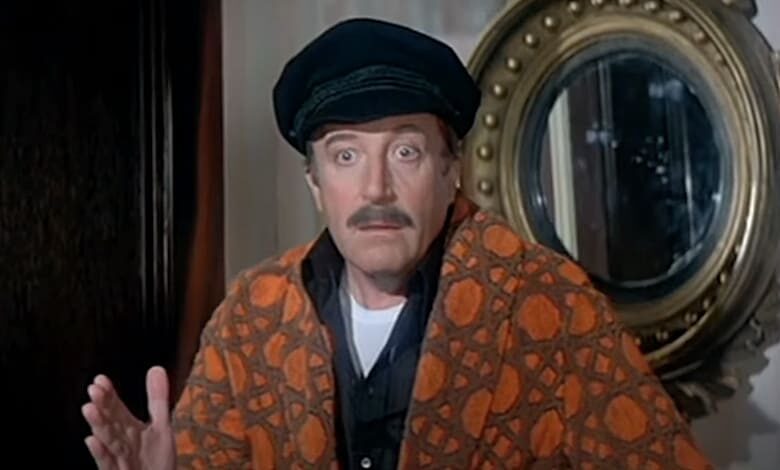 One of the oldest film franchises has once again been given new life and, as always, the announcement brings both hesitation and measured excitement for longtime fans.
Eddie Murphy is now the lead of an upcoming redux of "The Pink Panther." News that Murphy is up for the role of Inspector Clouseau will not come across as a slight to legendary actor and series star, the late Peter Sellers.
After all, reports of a newcomer taking over for Sellers is nothing new; in fact, it's a reminder of how many times this has already occurred.
Eddie Murphy Circling New 'Pink Panther' Movie At MGM – The Dish https://t.co/QnzIVs6fVq pic.twitter.com/NuyBl6s9GW

— Deadline Hollywood (@DEADLINE) May 17, 2023
From 1963 to 1975, Peter Sellers starred as Clouseau, the moronic but relentless French Chief Inspector whose assignments ostensibly spring off from a theft of the Pink Panther diamond (the series' long-running McGuffin).
The series was noteworthy for being a showcase for Sellers' comic brilliance, franchise director Blake Edwards' skill with large-scale slapstick comedy, a bevy of attractive co-stars, striking and hilarious animated opening title sequences and especially Henry Mancini's silky, charming theme music.
There was a single, off-brand entry: "Inspector Clouseau," starring Alan Arkin in the title role (his French accent sounds more like his own voice than an affectation of Sellers). It was directed by Bud Yorkin, lacks the Mancini music and I only mention it for the sake of completion, as the film's existence is the most interesting thing about it.
Inspector Clouseau 1968 Trailer | Alan Arkin | Frank Finlay
Otherwise, Clouseau was to Sellers what James Bond once was to Sean Connery.
In addition to Clouseau's amusingly impenetrable accent, clever disguises and ability to leave a pile of rubble wherever he goes, the other series regulars included Herbert Lom's longsuffering Inspector Dreyfuss and Burt Kwouk's martial master Cato (Kwouk brought dignity to a potentially demeaning part).
There would also be opportunities for the original "Pink Panther" co-stars David Niven, Capucine and Robert Wagner to make welcome cameos. The first film arrived in 1963 and the title character (the panther, not the diamond) became the star of long-running cartoons a year later.
As the franchise grew older, Sellers depended greatly on stunt doubles to perform the dangerous slapstick gags the script demanded and the inspiration began to wane. When Sellers died in 1980, it seemed the film franchise would cease without him.
RELATED: WHY 'BEVERLY HILLS COP' IS THE PERFECT '80s MOVIE
However, with the box office consistently strong for the United Artists tentpole and Edwards willing to keep going, the franchise continued.
The first Clouseau comedy to be released after Sellers' death (and the first since "Revenge of the Pink Panther" in 1978) was "Trail of the Pink Panther" (1982), in which a TV reporter (played by Joanna Lumley, years before "Absolutely Fabulous") investigates Clouseau's disappearance and interviews characters from prior entries.
Trail of the Pink Panther Official Trailer #1 - Robert Loggia Movie (1982) HD
In between these dry vignettes are outtakes from prior "Pink Panther" entries. At the time of the film's release, many accused the film of being a cash grab and an easy way to make money from the memory (and discarded work) of Sellers. Countering this position by suggesting the film is a loving tribute to Sellers only goes so far.
Following a brief prologue of the Pink Panther diamond being stolen once again, a title card announces "To Peter, The One and Only Clouseau." The outtakes on hand aren't all golden, with many going on too long and indicating plainly why they needed to be cut in the first place.
Use of a double in the final scene, with a Sellers impersonator opening his coat to reveal the cartoon Pink Panther underneath, suggests the longevity of The Pink Panther franchise is as much about the animated panther as it is Clouseau.
After most of the end credits, the film announces, "Curse of the Pink Panther, Coming Soon." This is where the real trouble begins.
FAST FACT: Peter Sellers initially planned to be a professional drummer before his innate mimicry skills convinced him to follow a more comedic path to fame.
Opening a year after "Trail of the Pink Panther" was met with a shrug, we got the entirely Sellers-less "Curse of the Pink Panther" (1983). The good news is that Herbert Lom's increasingly insane Dreyfuss continues to steal these movies and, when the films became especially tired, the animated opening credits were always a highlight.
On the other hand, the franchise's insistence that Clouseau is still alive and missing is as dubious as keeping Paul Walker's character oddly intact in the "Fast and Furious" universe. The odd premise of "Curse of the Pink Panther" is that Dreyfuss summons the world's greatest detective to find Clouseau and settles on Sgt. Clifton Sleigh, a New York cop who, from the first scene, is clearly an imbecile.
However, whereas Sellers found physical and verbal innovations to bring his character to life, Wass' amateurish, unfunny turn never connects. As in the prior entry, it's now Lom's movie. Wass, to be fair, had an impossible task of following Sellers and had a much better time as a television actor (this movie and "Sheena" the following year ended his film career).
Edwards is still staging massive set pieces, and a few stand out for their hutzpah (Sleigh's failed initial meeting with Dreyfuss and a drop through a glass sunroof are especially impressive). A late-in-the-film cameo by a major star to fill in for Sellers is the most successful and inspired idea here. What the film achieves most is spotlighting Sellers' absence and inability to get ahead of it.
Edwards was also looking elsewhere at this point, with the creative and box office successes of "10" (1979) and "Victor/Victoria" (1982) indicating more grown-up fare ahead. While Edwards continued to make more slapstick-heavy comedies, only the John Ritter-led "Skin Deep" (1989) was worthy of being compared to his earlier works (in fact, why wasn't Ritter hired to for the lead in "Curse of the Pink Panther"?).
A decade after "Curse of the Pink Panther," Edwards gave the series one last shot and it wound up being his final film: "Son of the Pink Panther" (1993). The last of the original incarnation has a terrific start- the opening titles combine live action and animation, with the Pink Panther sharing the screen with Henry Mancini and Bobby McFerrin (whose new take on the music works).
Son of the Pink Panther (1/10) Movie CLIP - Bumpkin Cop (1993) HD
It's an excellent opener. The villains are introduced and, as led by Robert Davi, Mike Starr (sporting a Mario Bros. mustache) and Jennifer Edwards, come across with the kind of grit and force you'd expect from a "Die Hard" sequel.
Give Edwards credit for trying something different. The contrast of introducing the title character, a moron like his father, should click since the spawn of Clouseau taking on a vicious group of criminals has rich possibilities.
Yet, while Roberto Benigni (pre-Oscar but already a popular comic worldwide) works hard as Clouseau's son and gives himself to the physical demands of the role, his performance is irritating.
Attempts to connect this with the prior entries (Kwouk makes a welcome appearance, as does Claudia Cardinale, though not as the same character she played in the first "Pink Panther") mostly work, and Edwards dependably goes big with the set pieces.
Yet it runs out of energy at the midpoint, coasts for far too long and invests more energy in the action sequences than the comedy. A last-minute attempt to suggest a sequel is unconvincing, as audiences ignored the film stateside (it was a bigger hit overseas, where Benigni had a greater following).
For 13 years, the Pink Panther went into hibernation.
The 2006 remake, starring Steve Martin as Clouseau, lacked Edwards or any real need to be made. However, the dependably brilliant Martin had a hand at writing the screenplay and, due to this and some choice moments, there is scattered hilarity throughout.
Martin does the Sellers' French accent, which may not have been the best choice, as it only makes for the inevitable comparison. While the plot and feel of the film is generic, some scenes connect (Clouseau's failed dialect course is a riot) and co-stars Kevin Kline (an inspired choice for Dreyfus) and Beyonce (pre-megastardom and charming here) help a great deal.
The Pink Panther Official Trailer #1 - Steve Martin Movie (2006) HD
The '06 "Pink Panther" overcame bad word of mouth and became a surprise hit. The 2009 "The Pink Panther 2" was, not unwisely, aimed more at kids and, despite a few good physical bits, is far more unnecessary than its predecessor and failed to connect with audiences.
Now, after rumblings that Mike Myers might take on Clouseau, no less than Axel Foley himself is attached. Naysayers should keep in mind that Jerry Lewis purists once balked at Murphy remaking "The Nutty Professor" and that the star, when in the right project, is a comedy force of nature.
How Many Characters Does Eddie Murphy Play in 'The Nutty Professor'? https://t.co/XPHoL5B5wL

— Collider (@Collider) June 28, 2023
Is Clouseau a good fit for Murphy or will he be the latest actor to demonstrate that only Sellers truly owned the role?
Whether Murphy's take on Clouseau connects or misfires, we can be assured that Clouseau, like 007, Indiana Jones, John Shaft and Freddy Krueger (to name a few) will always live on, though with the caveat of being forever associated with the original actor in the role.
Is that unfair for Murphy and, for that matter, did that work against George Lazenby and Alden Ehrenreich in "On Her Majesty's Secret Service" and "Solo: A Star Wars Movie" respectively? Yes, but there's something to be said about an actor finding their way into a role, even one that is impossibly iconic and owning their interpretation.
As time and a lot of false starts have proven, not just anyone can don a mustache, overcoat and thick French accent and simply do what Sellers did. Time will tell if Sellers is the only actor brilliant enough to play someone as remarkably stupid as Inspector Clouseau.