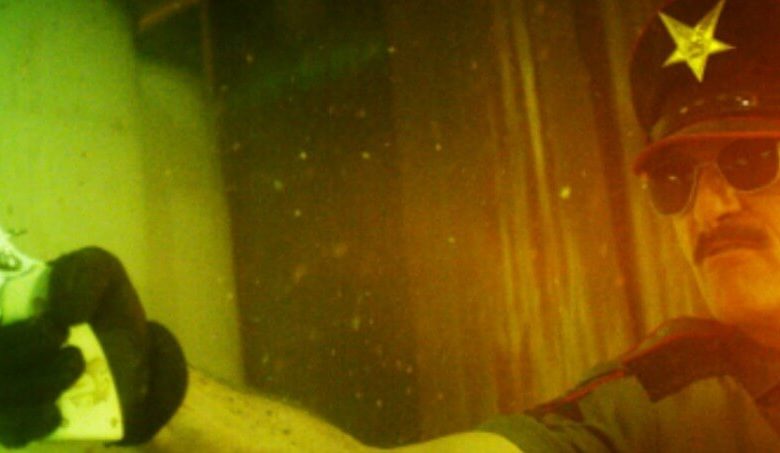 It's not always a Hollywood blockbuster worthy of going under the celluloid medical examiner's knife.
Occasionally an obscure title comes through that just begs for a forensic examination.
Case in point: "Officer Downe [Blu-ray]
," a graphic novel adaptation about a cop repeatedly brought back to life to fight crime. It stars a member of FX's "Sons Of Anarchy." It was directed by Shawn Crahan, the drummer from the band Slipknot. In theaters it made a total box office return of $850.00.
Certain movies occasionally fail at the box office. As one of these dead on arrival titles arrives on disc it will go under the knife in the hope of determining the causes of death in the marketplace.
This stillborn release needs to go under the scalpel to find the causes of death in theaters. Let's roll this into lab and see how it failed.
Officer Downe Official Trailer 1 (2016) - Kim Coates Movie
00:00:28   SCEPTIC INTRODUCTION
Kim Coates (Tig from S.O.A.) walks towards the camera in a police outfit. The star badge on his hat is pointed downward. On stage Crahan wears a clown mask with this pentagram on it. It is rare to actually witness self-homage.
00:00:45  ELEVATED FORESHADOW LEVELS
In a voice over Coates hoarsely whispers — "My city's gone to hell. . . It's why — I do what I do. And I'll do it again, and again, and again." The portentous drama loses some of the impact if you had read the back of the DVD cover.
00:01:31  DEPLETED CHARACTER CONCENTRATION
The last thing he says here is, "Now let me show you how it's done." Except he doesn't. We cut to him in bed making love to a blonde.
00:03:16  VISUAL ADRENAL INFUSION
Next we're in a narcotics drug lab in Los Angeles. Crahan edits this thing so a hummingbird on meth could not keep up.
00:03:42  RUPTURED OPTICS
This insufferable scenery-chewer is Crahan's Slipknot bandmate, Corey Taylor. I hope he's not in this entire film.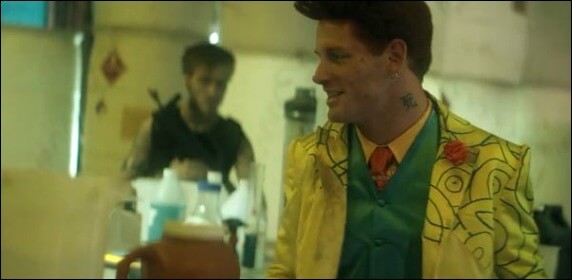 00:04:10  TIMPANIC TRAUMA
Officer Downe bursts through the walls, indicating something else may be going on with this cop! During the shootout we get treated to the oppressive musical stylings of scream-o rock. I say "musical" in the manner of a running chainsaw tossed down a metal staircase in a fireworks testing facility.
00:05:29 PACE STIMULANT
Downe gets the draw on the drug lord, but the guy holds up a bomb. Downe basically shrugs, and a massive fireball follows. Quite the short film — but we don't have to deal with the obnoxious lemon suit any more!
00:06:14 IRREGULAR PLOT BEAT
A Haz-Mat crew is picking through the rubble and under debris they find the incinerated corpse of Downe. "Load him up and get him back to the precinct." Wait, WHAT?!?! That's irregular!
00:08:21 DEPLETED CHARACTER CONCENTRATION
At police headquarters we are introduced to Officer Gable, who appears to be 12 years old. He is called in to meet with Chief Berenger. She mentions his help is needed to fight a crime group called "The Fortune 500." This … seems big.
00:10:50  EXPLORATORY STORY INCISION
We meet The Fortune 500, the group behind the drug factory that exploded. It is a boardroom with a tiger, lion, and buzzard in three-piece suits. To stick with the animal theme, I fear we are going down a rabbit hole.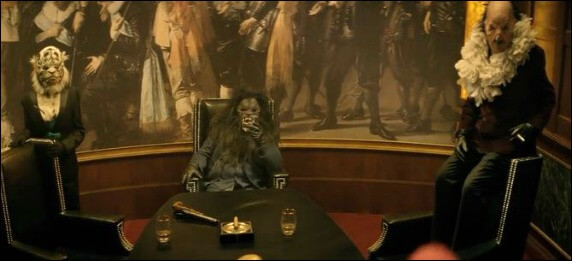 00:15:25  ADVERSE CEREBRAL ACTIVITY
Chief Berenger takes Gable down into the bowels of the building. They have a secret laboratory where advanced technology reanimates the deceased Officer Downe. "There you go, Gable," says Berenger, "Damned miracle of modern science." So rather than use this for the good of mankind they decide to give immortality to a lecherous cop.
00:21:45  CRANIAL ATROPHY
Berenger tells Gable the plan is for him to backup Downe (who is invincible) but not let him know about Gable (after the two were introduced).
00:22:34  RUPTURED OPTICS
I guess ghastly fashions are the order of the day. The Fortune 500 hires a martial arts sensei and his ninja warriors. Allow me to question their stealth skills at this time.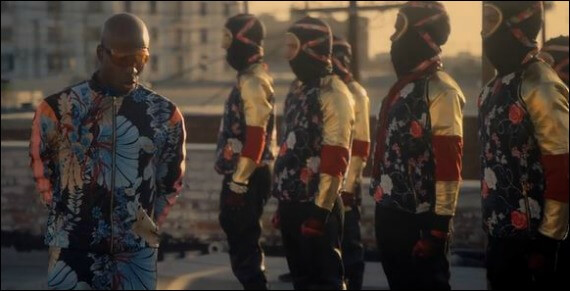 00:26:52  SCRIPT GRAFT
We now see an Australian guy we never met, in a church we've never been to, negotiating with nuns we don't know, about a product they won't say what it is. Okay, not EVERYone is dressed like they are in a high school production of "Yellow Submarine". The nuns' leader is Mother Supreme, wearing fashions by Habits Of Hollywood.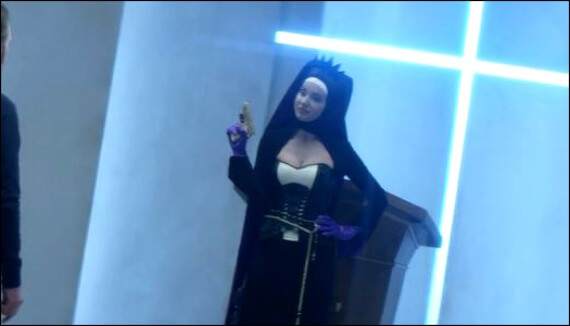 00:27:12  INVASIVE PATHOS
Seems these nuns are gun traffickers. They also don't like when people haggle over the purchase price. The Aussie we never met before is shot as a result. Additionally: this convent has a morgue.
00:34:27  ARRESTED PHYSICS
We see a number of cops, including Gable, waiting outside as, for no given reason, Downe enters the church.
RELATED: Top 5 'Sons of Anarchy' Villains
He proceeds to mow down no fewer than 40 nuns with extremely high-caliber ordinance, and manages to reload his handgun only once.
00:35:25 WEAKENED IMPULSE
Gable steps in to prevent Downe from killing Mother Supreme, cuffing her for arrest instead. Downe seems perplexed, but then he drops dead before any further conflict.
00:39:05  TECHNOLOGICAL THROMBOSIS
After getting yelled at by the Chief for screwing up the job (something not explained) Gable is moping in the locker room when he spies a technician exiting a locker. He follows a secret hallway to a lab where he discovers dozens of people in a vegetative state have telekinesis powers. These are used to regenerate Downe each time.
If this makes sense to you please email me; I have a number of other questions.
00:41:41  SCRIPT GRAFT
A helpful lab worker delivers needed backstory. Downe died in a motorcycle accident 25 years ago (a flashback shows him electrocuted in power lines – physics be damned). They turn and see Downe now in the lab, and he walks around to see everything in stunned amazement. After a quarter of a century he is just now learning of this lab — which Gable found after a couple of days.
00:46:31  CRANIAL ATROPHY
Gable follows Downe to a home and he spies in a window as we listen to him loudly making love once again. The carnality takes so long Gable ends up falling asleep outside. Then we hear Downe's truck pull away. The relevance of this scene is not measurable – because there was none.
00:59:04 TYMPANIC TRAUMA
In a meandering scene Downe is driving and having flashbacks while the other cops are in a bar talking trash about him. He hits the brakes and then smashes the radio playing scream-o rock. For the first time this movie has made me truly happy.
00:54:37 IRREGULAR PLOT BEAT
The ninja gang returns, committing carnage at a hospital. I take it on faith there was no reason for this, since none was offered. Officer Downe arrives on the scene. Well, technically "in" the scene — he drives his armored police truck through the walls upon arrival.
00:56:54 COMEDIC ARREST
As he confronts the sensei Downe tries firing at him, but the sensei disappears in a vapor. This is shown as normal. Next Downe is surrounded by two dozen flashy ninjas but they are merely content to gesture and pose, allowing the cop to begin mowing them down. In the end they and the sensei do conquer, but not before Downe takes someone out with another's decapitated head.
01:05:46  WEAKENED IMPULSE
Downe was taken away and only his severed hand remained. Gable, after no real interaction with Downe, feels obligated to find him as if they were partners. The Chief wants to just write off Downe, but Gable thinks using the telekinesis crowd can help locate where he was taken. Nothing else in this film makes sense, so why not go with this plan?
01:09:57  CLICHE MALIGNANCY   
Downe's body is strung up in a prison so the inmates can beat him. In the lab Gable's plan is to have the people send out their regenerative power to remotely revive Downe. Gable paces around and gives one of those motivational and rousing pep talks — to dozens of catatonic and unresponsive people.
01:10:16 IRREGULAR PLOT BEAT
Mother Supreme is also in this prison, now wearing a habit made of black and white stripes. She steps in to declare Downe will expire. At headquarters they shut the grid down but the subjects begin to transmit on their own to help Downe. This is all explained by the head technician: "The power is being sucked out of them, I have no idea how!" Well, then I have no reason to ask what the hell is going on.
01:13:51  VISUAL ADRENAL INFUSION
As the nun is stepping on his neck Downe becomes regenerated. He holds her thigh and hits her, severing her leg as she flies away. He now proceeds to bludgeon the prisoners – with the nun's leg, of course.
01:15:03 RUPTURED OPTICS
For some reason all the people in the prison area have blue faces, the red blood indicating it is not lighting. I have become very comfortable no longer questioning the mysteries of this fiasco.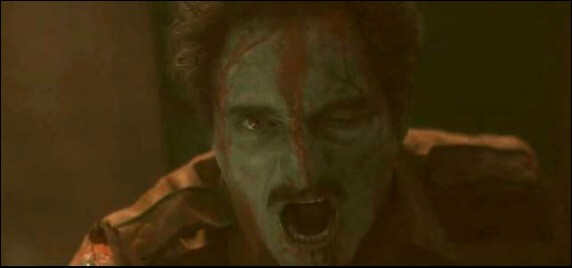 01:16:03  CAUTERIZED PLOT CAVITY
Hey, remember the Fortune 500? The gang in animal masks is back, and they are on the phone with the sensei. Seems they're upset he hasn't killed Downe. The sensei mentions, "The Warden may have been in your pocket, but I am not!" The Lion then informs him his contract is terminated and he will not be paid. Sooooo, that means he was in their pocket. Hard detail to botch within a single phone conversation, but there you go.
01:25:09  COLLAPSED CLIMAX
Upon his last regeneration Downe goes to the transfer lab to greet the telekinesis crowd. There are a number of empty wheelchairs from those who expired while bringing him back, and music plays gently as tears are shed.
This juvenile exercise of a film now tries for heartfelt sentiment? Nope, sorry, not going to happen. You showed me scenes of people bludgeoned with a severed leg, and dozens of nuns reduced to pink mist. You do NOT get to now play on emotions.
RELATED: DVD Autopsy – 'Nine Lives'
Let me screw up your entire enterprise thusly. I cannot get weepy about the lab members who passed away because of your very own premise. Why can't you simply wheel them down the hall and regenerate them, just like Downe?
01:25:59  GENETIC SEQUEL MUTATION
After maudlin talk of Downe's duties as an officer we cut to an epilogue scene. Two meat heads in a car are crowing about a recent crime job, and mentioning how the end of the Fortune 500 means anything goes as far as crime. Then Downe drives up on his motorcycle, pulls the door off the car, and orders them to pull over.
Cue the insufferable theme song.
POST MORTEM
Crahan has directed a number of Slipknot music videos. He shows a competence behind the camera at times, but he doesn't grasp that the video tricks and flashy effects needed to hold the arrested attention of his fans in a four-minute video do not translate to functional filmmaking.
This was a film where all sorts of things are taking place while nothing at all was accomplished. We began with a zealously heroic cop prone to violence, and Downe ended up the same. The script was adapted by Joe Casey from his own comic book. So the sophomoric content was intentional and embellished by an indulgent director.
We may never know if the 13 year olds this was geared towards appreciate the artistry.
---
Brad Slager is a freelance writer who has contributed to The Federalist, Breitbart News and Pop Matters. Follow him on Twitter at @MartiniShark