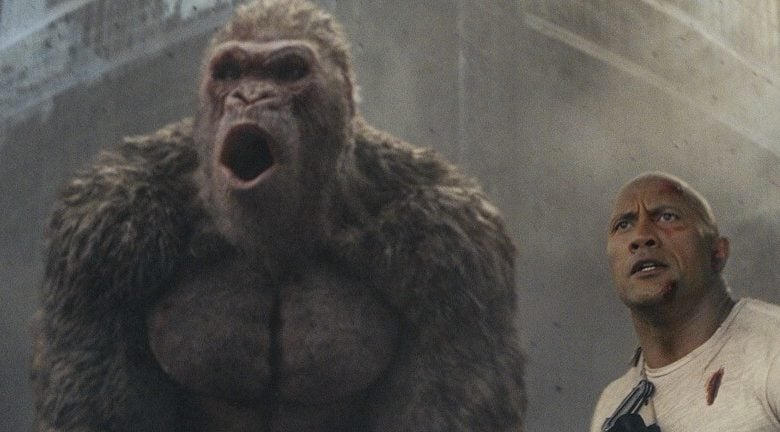 The arcade game "Rampage" proved a guilty pleasure for the quarter-poppers of its era.
The '80s game let you be one of three mutated creatures who destroyed buildings, blew up defensive aircraft, and consumed the citizenry. The game was a serious dose of 8-bit catharsis, with a joystick.
Hollywood's history of video game adaptations is a rather dismal affair. To date, there has been technically over 40 motion pictures based on video game titles. Of that collection the amount of films that has grossed over $100 million amounts to exactly — two.
"Rampage" has come ever so close to joining that elite group, falling painfully shy, by about $650,000. (Warners, in a last-ditch effort, pumped the theater count by 50 screens in its last week, to no avail.)
RAMPAGE - OFFICIAL TRAILER 1 [HD]
The movie became a legitimate hit overseas, drawing well over $300K. Dwayne Johnson and towering beasts stomping a city still failed to latch on stateside as expected. Let's set up a triage unit amid the carnage and find out what felled this beast.
0:00:36 SCEPTIC INTRODUCTION
A title card comes up mentioning CRISPR, a genetic editing technology to treat diseases. The intelligence community deemed genetic editing a weapon of mass destruction. These are both accurate statements. They also have nothing to do with the original game, where scientists took a serum and transformed into genetic beasts. We have not had scene-one, and already there's a problem!
0:01:45 VISUAL ADRENAL INFUSION
We're in space (Also not in the game!) approaching a massive station as the camera zooms into a window. Debris, including a body are floating inside, and we see a panicky astronaut. She's played by Marlee Shelton, who was Wendy Peffercorn in "The Sandlot." The effect of this is like that teacher you used to crush on showing up at your reunion, and stammering, "Well, I was young…"
0:02:06 BLUNT FORCE DIALOGUE
Attempting to flee to the escape capsule she is directed back to the lab to collect "the samples"–
ASTRONAUT WENDY: "The test subject is loose!"
MISSION CONTROL: "Doctor – The test subject is a rat."
ASTRONAUT WENDY: "Not anymore!"
0:02:22 CLICHE MALIGNANCY
Astronaut Wendy learns the capsule door is locked, and it will not be opened until she gets the research. An evil corporate CEO (is there any other kind?) tells her, "We'll unlock the escape capsule, when you secure the samples. Either you come home with my research, or you don't come home at all." I suppose then they conduct illegal experiments in space, like when cruise ships have casinos in international waters.
0:03:40 VISUAL ADRENAL INFUSION
I offer up for you — The Test Subject.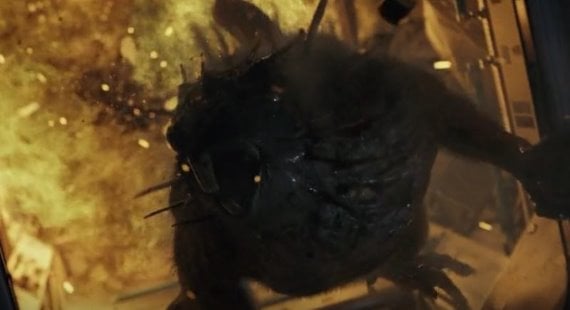 0:05:03 INVASIVE PATHOS
Astronaut Wendy Peffercorn just barely closes the hatch before the mutated rat gets her. She separates, just barely, before the station distigrates. She jettisons, just barely, before the space station explodes. But then her capsule window begins to crack and then entire pod is destroyed in the atmosphere. Three of the sample storage containers manage to survive.
0:06:02 DEPLETED CHARACTER CONCENTRATION
We cut to Earth, where four people walk through a jungle. One guy tries impressing a blonde with his tales from prior missions when the leader, Davis Okoye, calls him out for his bull crap story-telling. Considering the tour is led by Dwayne "The Rock" Johnson, I'd say the nebbish guy was in fact wasting his time.
0:06:39 LOCALE ANESTHESIA
Davis The Rock says, "You shouldn't talk about poaching in front of ladies." The blonde says she can handle it, but Davis The Rock points to a clearing where a pair of gorillas roam. He adds, "I was talking about these ladies." Then a graphic reveals SAN DIEGO WILDLIFE SANCTUARY. So where in the hell were they arriving from through that overgrowth?
0:10:45 COMEDIC ARREST
In the gorilla enclosure they watch the introduction of a new male into the tribe. The alpha, a large albino named George, confronts the newbie. The story-telling guy panics and runs, and the new male ape charges. George, however, firmly stops the big ape. We then learn Davis The Rock and George have a deep bond made up of sign language banter. For reasons only science may know, one of the signs Davis The Rock taught George was flipping the middle finger.
0:12:49 COMMERCIAL TOXICITY.
After rebuffing the advances of the perky blonde, Davis The Rock drives off in his truck. It's actually a Ford Bronco concept vehicle from years past. The story goes that Johnson requested he drive a Ford truck, but the new 2020 models are not available yet. So naturally instead of one of their oversized Raptor pickups Ford's product-placement is a 15-year-old experimental model that no one can purchase.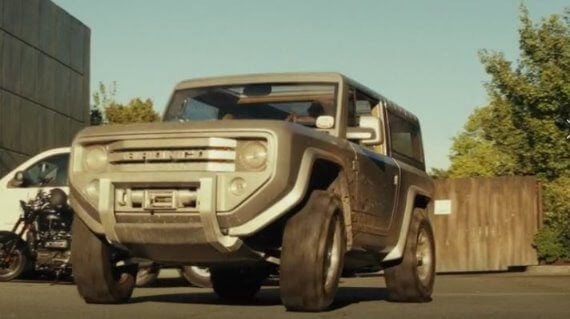 0:14:04 PHYSICS DISORDER
That evening we see the three space station canisters land on Earth. One comes down among a pack of wolves in Wyoming. Another lands in my backyard of the Everglades swamp (and is promptly eaten by an alligator).
The third?
It ends up near the ape enclosure in San Diego. George investigates and as he taps the canister it emits a green gas into his face. So these space-age containers have been designed to withstand a supernal explosion, the heat of reentry and a violent impact with earth…but when they are tapped by a paw they burst open?
0:17:33 SCEPTIC INTRODUCTION
Cut To: In a corporate office at EnerGyne Industries — located in the Sears Tower, Chicago — Claire Wyden walks in (Malin Akerman) as her brother Brett is destroying a satellite model with a bat. This is not the strongest way to first greet a character, but considering they just lost a satellite costing them tens of billions of dollars, I have to honestly say I'd probably be dealing with it in a similarly balanced fashion.
0:18:27 ADVERSE CEREBRAL ACTIVITY
In talking her brother down off the ledge Claire explains the cannisters survived reentry and they can recover the experiment. This is when we learn how depraved they are. First, they named their experiment "Project Rampage," which can ONLY have negative results. Then, behind Brett, we see they have an actual Rampage arcade machine in their office. This means the video game exists in their universe, and they knew of it, so this multi-billion dollar company was actually inspired to create genetically monstrous creatures…to what end, exactly?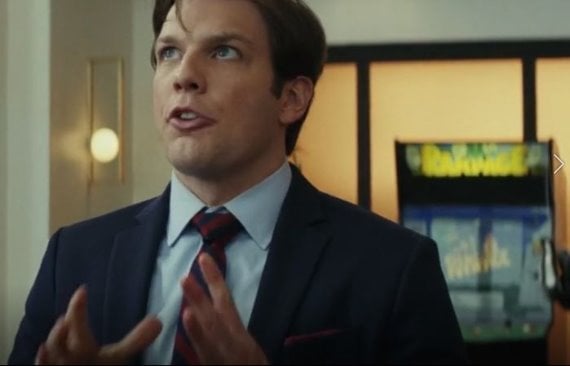 0:19:29 IRREGULAR PLOTBEAT
To get their experiment back Claire explains to her brother they purchased a private military firm. We cut to a massive staging area at an airport. Multiple helicopters and hundreds of soldiers are darting around an airstrip filled with weaponry and cargo containers. All of this to recover a metal canister that is about the size of an Amazon Alexa speaker box.
0:20:57 DEPLETED CHARACTER CONCENTRATION
In Los Angeles we're introduced to a new character. She has overslept, and her work calls to wake her, something we learn is a semi-regular occurence. Then as she is dashing out the door she blows off work entirely when she sees the news of EnerGyne, and the debris falling at the gorilla compound. I'm guessing this stay-don't-go-getter must be our new heroine!
0:24:44 SCRIPT GRAFT
At the San Diego preserve this slacker named Kate arrives, declaring she is a geneticist from EnerGyne — because of course she is. Davis The Rock is about to do the right thing and have her bounced out, but she guesses correctly what happened to George. They go to a large holding cell but George gets enraged and breaks out of the facility. I'm starting to think this Project Rampage could deliver negative effects!
0:33:57 VISUAL ADRENAL INFUSION
The mercenaries report they recovered the now-damaged space canister in a field of dead wolves. Claire divines their pathogen infected one wolf, so she orders them to hunt it down. Thinking they shot it, their chopper drops off a crew to finish him off. They are gradually each eliminated, and then so is the chopper, by a giant wolf. It's obvious the film's visuals will be spackling over the inept plot.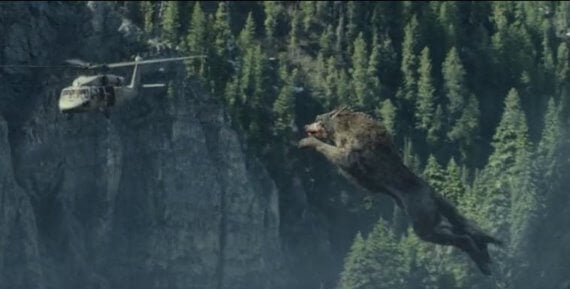 0:36:58 DEPLETED CHARACTER CONCENTRATION
During his breakout (a mini-rampage, let's say) George was tranquilized by authorities. That night, Davis The Rock and Kate are brought to board a cargo plane along with the caged George. They meet federal official Harvey Russell, played by Jeffrey Dean Morgan. Morgan delivers Russell in the same fashion as his Nagan portrayal in "The Walking Dead," a grating delivery that's both broad and cliche'-ridden. Call it, "histrionic understatement" or maybe "self-aggrandizing deprecation".
0:39:46 ELEVATED FORESHADOW LEVELS
Russell lets it be known that Kate was actually fired from EnerGyne for stealing hard drives from the company two years earlier. She's now proven to be as unreliable as possible, which means she'll become indispensable to the climax.
0:42:36 ARTIFICIAL NARRATIVE STIMULANT
After seeing footage of Kate and the gorilla loaded on the plane (don't ask how they obtained this from a military installation) Claire tells Brett her plan. On top of the Sears Tower are homing beacons. They will attract the creatures so an antidote can be administered. Note they will not go out to a remote locale – No! Let's draw the trio of 60 foot marauders into the the third most populated metropolis in the country.
0:48:20 INVASIVE PATHOS
The signal affects George, and on board the flight he goes — well, his actions can only be described as ape-s*** crazy. He hurls soldiers around and the pilots are killed as an engine explodes. Davis The Rock and Kate get parachutes, and an unconscious Russell is given a third, so the important people get off before crashing.
0:48:36 COMEDIC ARREST
A wry nod to Johnson's animated hit "Moana" here. While plummeting with Russell in his clutches the G-Man comes to, and panics. Dwayne pulls the man's ripcord, after shouting to him – "You're Welcome!"
0:52:22 CAUTERIZED PLOT CAVITY
The FBI storms the EnerGyne laboratory with warrants. Claire attempts to lay all of the blame on Kate. Sure…A project costing billions and performed on space stations is all on Kate — who has not been in their employ for two years, but she is like Dr. Wu from "Jurassic Park/World."
0:58:28 ADVERSE CEREBRAL ACTIVITY
The trio is airlifted to a military base in Illinois. They inform the military EnerGyne is sending a signal to draw the creatures, so the next idea is to then evacuate Chicago — because sending in the military to the company headquarters and shutting off the signal is just too damned easy.
1:01:28 CAUTERIZED PLOT CAVITY
After being placed under arrest, Davis The Rock thwarts the guards and they trot off to steal a medical helicopter. They just happen to be stopped by Russell, but he tells them he is on their side. He also informs them that he just happens to have as set of keys, which just happen to be for the same helicopter they just happened to discover moments ago.
1:07:33 VISUAL ADRENAL INFUSION
Pure visceral enjoyment as director Brad Peyton fires up the nitrous oxide on his computer banks for the arrival of the alligator (originally a Godzilla variant named Lizzie in the video game.)
1:08:22 COMMERCIAL TOXICITY
Now the three creatures go on their titular rampage, just tear-assing through Chi-town with the same mindless aplomb from the game. At one point George rips the facade off of a Dave & Busters Restaurant – but the sign remained intact for the lingering camera shot.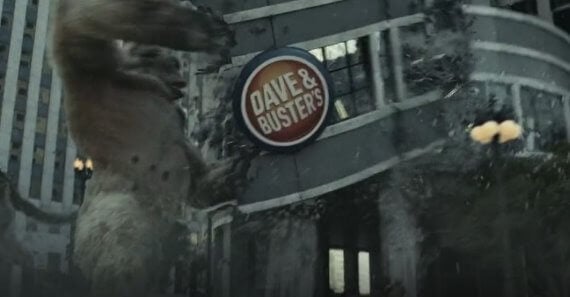 1:11:35 CRANIAL ATROPHY
The military efforts don't work, so the general calls for a strike of the MOAB (Mother Of All Bombs). In their chopper, Davis The Rock states they have to get to EnerGyn to obtain the antidote before half of Chicago is destroyed. Three blocks away they land on the street, and Kate declares they have to get to the 85th floor. This, instead of landing on the roof.
1:12:33 CAUTERIZED PLOT CAVITY
Kate can't access the system because the FBI shut the servers down, but she finds a tablet thermostat in one chiller that she can use, because these are conveniently tied into the network. Also convenient, the employee fired and arrested two years ago was not locked out of the system.
1:13:52 CONTINUITY FAILURE
They look for the antidote vials and Davis The Rock locates a cryogenic containment. They get the antidotes because–The FBI managed to leave the keys sticking out of the locks. Kate is able to nab the vials from the sub-zero with her bare hands.
1:18:15 INVASIVE PATHOS
As they were rummaging Claire changed into a very red dress — because this is a crisis — so now she matches the girl in the video game (bad decision!). In the lab she forces our heroes onto the roof, just as the monsters arrive. George grabs Claire, but Kate slips an antidote vial into her handbag just before George eats her — matching the girl in the video game.
1:22:32 PHYSICS DISORDER
As the building collapses Davis The Rock has the brilliant idea to get into a disabled helicopter and essentially surf the edifice to the ground. This follows the new Hollywood tradition, begun in "Suicide Squad," that helicopter crashes are completely manageable calamities from which you can walk away.
1:35:57 COLLAPSED CLIMAX
The antidote worked. George is now a good guy who battles the other leviathans in lengthy destruction-porn sequences. In the end they are vanquished, but George collapses as a result of injuries sustained. The very somber orchestral scores tells us we need to be sad now.
We all experience a grave Harambe moment — yet the thousands of human lives we witnessed getting snuffed throughout get no such sympathy.
1:37:56 COMEDIC ARREST
The ever-obnoxious George, it turns out, was faking it to prank Davis The Rock. He wakes up and adds to the "levity" by flipping the middle finger. Of course, for this gag to work, you must ignore that Davis The Rock — a noted primatologist — was incapable of detecting George still having a pulse, with veins that are now the size of a firehose.
CELLULOID TOE TAG
An odd mixture of graphic destruction and coarse language, those elements combined with portions played for the children, and then fan service nods to the Gen-X crowd with elements from the video game. This means I have no clear idea who this film was truly aimed at.
I'm not sure the production was sure either.
One thing I am certain of? After "San Andreas," this lark, and then "Skyscraper" — it is just a bad idea to go inside any tall building if The Rock is in town.