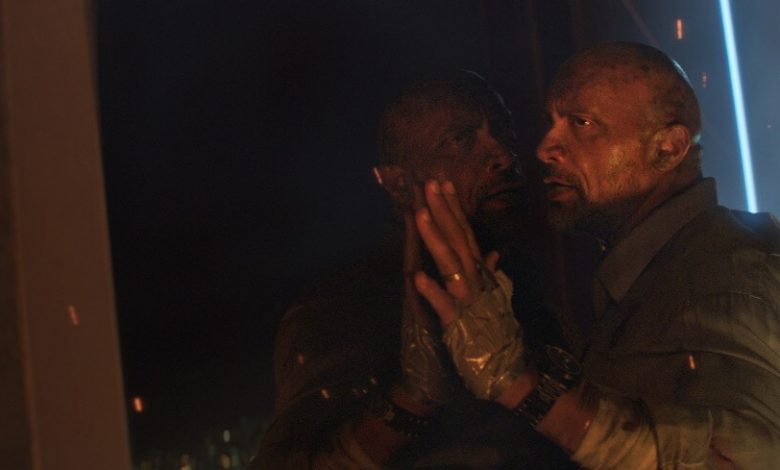 Dwayne Johnson is addicted to movies that don't make a lick of sense.
He segued from the "Fast and Furious" saga to the silliness of "Rampage." Now, he's thrown his A-list gravitas behind a movie that makes that car swiping saga look a PBS "Frontline" special.
"Skyscraper" starts out strong, giving Johnson's heroic lead a vulnerability that threatens to shake up the action movie formula.
Not for long.
Soon, Johnson is throwing himself around the screen as if his character didn't have an artificial leg and the laws of physics were mere suggestions.
Skyscraper - Official Trailer [HD]
Johnson stars as Will Sawyer, a former FBI Hostage Rescue Team leader and U.S. war veteran. Will loses a leg in a blast featured in the film's opening moments. Flash forward a spell, and he's resumed his life, gained a gorgeous wife (Neve Campbell) and brought up two adorable kids (McKenna Roberts and Noah Cottrell).
Will's new line of work finds him inspecting security systems to make sure they deliver as promised. It brings him to Hong Kong where he's tasked with debugging the largest skyscraper on the planet.
The "Pearl" makes the Empire State Building look like an modest high rises.
Great gig, right? Only dangerous forces are lurking in the building. Soon both Will and his family are trapped in the building with a wall of flames separating them from each other … and safety.
FAST FACT: "Skyscraper" writer/director Rawson Marshall Thurber says re-watching Sylvester Stallone's "Cliffhanger," which opens on a particularly dark note, helped inspire him to write his new film.
"Skyscraper's" first half fuses your standard Johnson material with something different. It starts with the actor's lower half. The injury that ended Will's military career left him missing a leg just above the knee. He moves along quite nicely courtesy of his artificial limb, but his gate is noticeably different than most Johnson characters.
It's enough to shake up our expecations, along with the character's firm bond with his family.
Movies like "Die Hard," which "Skyscraper" oh, so loosely resembles, often let the men run the show. Here, both Cambpell's character and the villainous Xia (Hannah Quinlivan) get plenty to do.
And kick. And punch.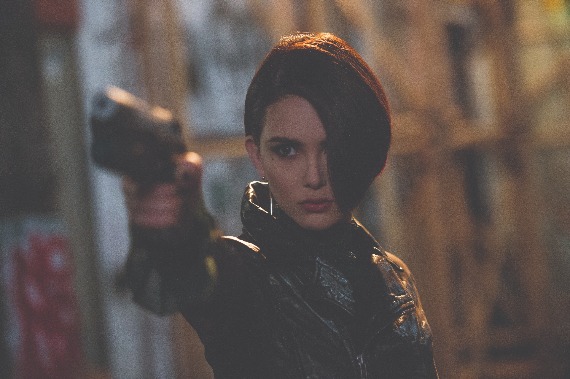 The titular skyscraper is a character unto itself, a physical marvel with whispers of technology right around the corner. Sure, it's all or mostly CGI, but its presence is considerable.
That isn't true for the movie's villains, a gaggle of "types" that never snare our interests. Quinlivan comes the closest, but it's so obvious she's a box-checking killer whose soul trait is to be as bad as your average '80s villain.
She's not.
.@TheRock's 'Improbable' Crane Jump in #Skyscraper: 'We Did the Math' Says Director https://t.co/bYyBwUefDf pic.twitter.com/tsEUdUC28M

— TheWrap (@TheWrap) July 11, 2018
Putting children at risk is dicey in the best of storytelling hands. The recent, underrated "No Escape" expertly did so. Here, the kids are in near constant peril. and the boilerplate baddies threatening them are exhausting.
So is the third act.
We can swallow plenty of incredulous action sequences. "Skyscraper" keeps piling them on until we almost wish our heroes would resemble a human being for one shining moment.
Johnson remains solid, not just in the action beats but the emotional moments. His transformation from eyebrow raising hunk to real actor is old news. The twist here of featuring a disable hero is both refreshing and perfunctory. No mechanical leg will slow a Dwayne Johnson character.
RELATED: Will Dwayne Johnson's Trump Attacks Impact His Box Office Muscle?
"Skyscraper" offers some visual finesse, although the raging fires, much like the action, eventually grow stale. One gimmick — a hall of mirrors assembly which you know will come back at some point — is fumbled by some tediuous surprise moments..
But that's how this screenplay rolls. We get snippets of detail, the kind you know will factor into some third act moment at precisely the right time. The film soon takes on a mechanical nature, as cold and efficient as the burning building.
Johnson rarely makes box office missteps these days. "Baywatch" proved a rare exception, but he quickly rebounded with "Jumani: Welcome to the Jungle." He'll draw a crowd, again, with "Skyscraper." Here's betting even his biggest admirers will start pining for something more than the actor on autopilot..
HiT or Miss: "Skyscraper" is another loud, dumb blockbuster featuring an actor we know can do better.
HOTEL TRANSYLVANIA 3: SUMMER VACATION
Some franchises get too much credit, while others plug along without the love they deserve.
The "Hotel Transyvania" romps fall squarely in the second camp. The animated films aren't Pixar brilliant, nor do they offer stinging social commentary between the chuckles. They're just rigorously entertaining, giving star Adam Sandler one of his most engaging roles.
Really.
His Dracula vocal work is so charming, so sincere, it makes you wonder why he phones it in so often.
Sandler is at it again in "Hotel Transylvania 3: Summer Vacation." The whole gang is back, from David Spade's Invisible Man to living legend Mel Brooks as Drac's pappy. What's missing? The comic snap from the first two installments. Too bad there's an expiration date on ghoulish gags.
HOTEL TRANSYLVANIA 3: SUMMER VACATION - Official Trailer (HD)
The story begins with the eternal battle between a Van Helsing clan member and our monsters. Flash forward to the present and Drac's daughter Mavis (Selena Gomez, the franchise's secret weapon) coaxes her pappy and clan to take a summer vacation… in the Bermuda Triangle!
While the Addams Family franchise plays its dark side for all it's worth, the monster gags here remain squeaky clean.
Drac isn't keen on a vacation until he sets his eyes on the ship's director, Ericka (Kathryn Hahn). He hasn't felt that "zing" since his wife died many moons ago. Only Ericka may not have his best interests at heart. The mystery here is quickly revealed, and an early encounter between the two is equally clear in its foreshadowing.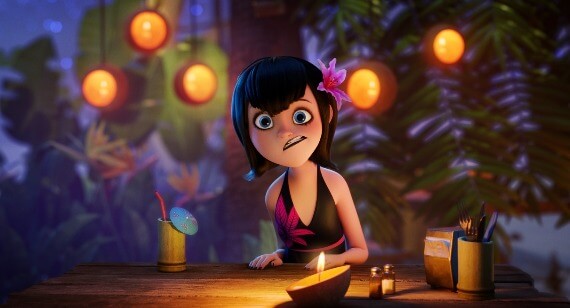 And that's more or less it. The story is simple while the elaborate gags aren't as sharp as previous outings. Even duller? The message about judging one another without preconceived notions. It's sweet and repetitive, held over from past installments.
It's still a welcome message for younger viewers, but it's wielded so clumsily here even tykes in the theater may cry, "Enough! We get it!"
Director Genndy Tartakovsky, a cartoon network veteran and franchise mainstay, slickly packages the material for maximum joy. That material just isn't as crisp as it once was. Even Steve Buscemi's beleaugured Wolf Man, buried in a dozen too many kids, isn't as fresh as before. How could he be? That's the sequel shuffle, and parents know the drill.
Other returning characters just don't carry their weight. We're looking at you, Frankenstein's monster (Kevin James).
Too many animated franchises push past their expiration dates. You can't blame the studios. Enduring brands mint money, even if parents pine for something remotely fresh.
HiT or Miss: "Hotel Transylvania 3: Summer Vacation" is inoffensive and occasionally sweet. It's also a sure sign to cap an animated series suddenly running on fumes.