There is a formula lately when it comes to translating a television show to the movie screens.
(Here's a secret: Hollywood loves a formula.)This involves altering the original tone to be more of a farce, contemporizing some elements, bring in a few named stars, and then have a cameo appearance(s) by actor(s) from the original series.
It was within this EXACT framework that Warner Bros. elected to turn over the entire "CHIPs" feature Dax Shepard. He's the star, writer, director and executive producer, and his fingerprints are everywhere.
Chips - Official Trailer - Warner Bros. UK
Recall those cloying commercials for home appliances he made with his wife, Kristen Bell? He brings that same frothy tone and lack of content to this police procedural/comedy.
Let's wheel this road-rash victim into the cinematic morgue for a forensic examination. A safety helmet may be a smart recommendation.
00:00:30  SCEPTIC INTRODUCTION
A title card comes up to announce:
The California Highway Patrol does not endorse this film …At all
Risky move — admitting how you are disavowed before anything transpires.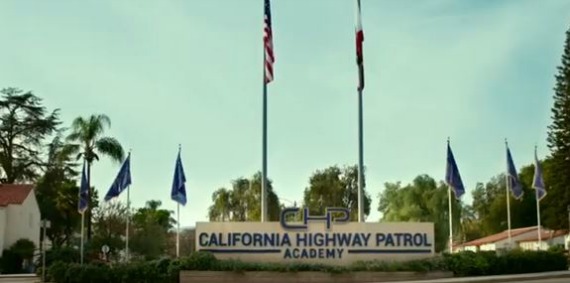 00:00:45  LOCALE ANESTHESIA
We all know that the Letter "C" in CHiPS represents "California." An alarm goes off and as Michael Pena awakes a caption tells us it is 5:00 am — in Miami.
00:01:05  CHRONICAL SEIZURE
We flash to Dax Shepard waking up in Hollywood, at 8:30 a.m.. The same song is playing over the credits. Allowing for the time difference we have jumped 6.5 hours within the same credit sequence.
00:01:55  COMMERCIAL TOXICITY
We watch the morning routine of these men to show the personalities on opposite coasts.  Pena is a metrosexual ladies man. Shepard is a former X-Games motorcyclist who drags out of bed to swallow painkillers down with Red Bull.
00:03:13  DEPLETED CHARACTER CONCENTRATION
Pena is sitting in his car as gunfire suddenly erupts. Three bank robbers jump in and speed off. Pena's getaway driver skills were only slightly impacted by his getting distracted by two women in yoga pants.
00:04:04  TYMPANIC TRAUMA
In the middle of sirens, shooting and crashes Pena slams on the brakes. As the cops approach he yells at the robbers for shooting out a window and makes them put their guns on the floor, before resuming. He must be the only getaway driver who uses his own car.
00:06:31  INVASIVE PATHOS
At the docks they torch the car and get in a taxi cab, but then Pena reveals he's undercover FBI. During arrests the main hood gets the drop on an agent, but Pena shoots through his partner's shoulder to bring him down. As they arrest him Pena presents his phone to show the guy's wife was sending him nude pics.
00:10:34 DEPLETED CHARACTER CONCENTRATION
During a training sequence we discover Jon (Shepard) has a bad knee, cannot shoot a gun, boasts the lowest aptitude test scores, has had 23 surgeries (including a right arm made of titanium) and is on a steady painkiller medication regimen — all while being the oldest recruit ever.
CHIPS Movie CLIP - Carry Me Over There (2017) - Michael Peña Movie
However he is allowed to graduate because the female sergeant was flirty with the writer/director/producer/star's character.
00:12:02  ARRESTED PHYSICS
On the highway traffic is diverted off into a roadblock where an armored truck is stopped. Four motorcyclists race up to rob it, by blasting the rear doors. The detonation is enough to blow up a tow truck two vehicles behind. Somehow the money inside remains intact.
00:13:31  INVASIVE PATHOS
During the heist, as a chopper flies in, one biker grabs a cop and mentions he knows they skimmed money from the last job. With a gun to his head he states either the pilot jumps, or he'll be shot. As the cop makes a swan dive from the chopper I'm left wondering how they were speaking from 100 feet in the air.
CHIPS Movie CLIP - Deflecting (2017) - Dax Shepard Movie
00:15:17  BLUNT-FORCE DIALOGUE
Back at Miami FBI Pena is tabbed to go undercover as a CHP cop…because Los Angeles FBI was too busy, we presume? His supervisor gives him the alias of Poncharelo, and asks if he can ride a bike.
"Oh I dominate anything with a motor." When told not to get cocky, he gets cocky. "I'm not cocky — give me a snow blower, and step the f*** back! A weed ripper? I'd OWN that sh**!"
00:19:19  COMEDIC ARREST
In a lingering lengthy introduction scene Jon and "Ponch" meet and, after an awkward hug, spend the bulk of the time debating homophobia. It culminates with another officer in underwear recognizing Jon from his X-Games days, and they share a genuine hug.
00:20:16  ELEVATED FORESHADOW LEVELS
Vincent D'Onofrio meets an unnamed man in a warehouse to discuss the purchase price — $14 million — of a small painting he wants to take over the border. Such a random, unconnected scene probably means absolutely nothing to the plot.
00:24:22  CLICHE MALIGNANCY
Following a briefing the two officers are at odds already. Jon is eager to dispense citations for any minor infraction while Ponch starts investigating the robberies. But first we learn D'Onofrio is CHP, when they have to convene at a donut diner with 12 other officers.
00:26:34  WEAKENED IMPULSE
Pena/Ponch are interviewing the cop's widow in her home, while Jon has severe problems with smells, including a cat in the litter box. I…think this was supposed to be comical.
00:32:50  IRREGULAR PLOT BEAT
While on the highway a Ferrari driven by Ed Begley, Jr. blasts by Jon and Ponch. After a chase where Toto's "Rosanna" plays for 10 minutes the two argue before Ponch hits Jon's bad knee so he can let the driver go. It's unclear the significance of this scene.
00:34:06 RUPTURED OPTICS
The idea is for the gang to steal enough cash to buy the painting and sell it in another country as a way of getting money out of the country. Remember the corpulent D'Onofrio in "Jurassic World"? He seems to have packed on another 30 lbs, in order to take on the role of a corrupt cop who is a bike gang leader who zips through traffic on sport bikes.
00:35:39  COMEDIC ARREST
Jon's sad-sack sob story with his estranged wife gets a revisit, as he shows off his uniform while she's in the pool with another man. It becomes another chance to make a gag that CHIPS wear resembles that of a UPS driver. I suppose this will get funnier the more it is repeated.
00:36:40  ADVERSE CEREBRAL ACTIVITY
During a food stop Ponch exits a bathroom, leading to a very lengthy argument while on the road about his gastrointestinal distress. This then segues to the discovery that he is actually a chronic masturbator.
00:39:49  IATROGENIC DIRECTION
As another armored car robbery commences Ponch has driven off the road. Jon catches up and they continue the argument, as Ponch brings up Jon's marital condition. This is supposed to be a buddy-cop film, and these "partners" are squabbling like high school chess club rivals.
00:43:45  VISUAL ADRENAL INFUSION
During the chase of the robbers the police bikes can't keep up, and they get away. While on a bridge looking for them Jon tackles Ponch just before a truck runs over his bike. As it blows up into a fireball Jon then punches him as payback for hitting his knee.
CHIPS Movie CLIP - What Are You Wearing? (2017) - Kristen Bell Movie
00:48:52 INVASIVE PATHOS
Rain the next morning means Jon's medical maladies keep him from getting out of bed. Unable to get others to help he calls Ponch to come over and carry his naked form to the bath. The homophobia is rekindled. En route to the tub they stumble and Ponch's face gets planted in Jon's nude plumbing. Honestly, this was almost inevitable.
00:50:31  CHRONICLE SEIZURE
The guys laugh at this event and then Ponch comes clean to let him know he is undercover FBI. We are creeping up on the one hour mark and it is just now these partners have started to act civil towards each other.
00:53:54  VISUAL ADRENAL INFUSION
As they begin to dig into the case the duo revisits the widow, and a fight breaks out when another cop is there and wants them to stop. The ensuing fight destroys roughly 87.62 percent of the home.
00:57:35 ARRESTED PHYSICS
After figuring out the mysterious "LT" they had been looking for actually means "Lieutenant", through very random process of elimination they decide D'Onofrio is the head of the armored car gang. They go to confront him at the gym, where the rotund greybeard is supposedly able to lift world class-level weights. Seriously…am I missing something here?
01:01:33 SCRIPT GRAFT
After meandering for an hour the plot now lurches in fits. Using FBI funds the pair get faster bikes and riding suits to keep up with the crooks. As Ponch is getting yelled at by his superior over the expense they learn his former Miami partner is heading the case. He found a drug den where some marked bills from a heist turned up. I suddenly feel like I need to start caring about some of these details.
01:05:35  DEPLETED CHARACTER CONCENTRATION
Ponch locates the drug house, and when the biker arrives they move in. The place is so dirty Jon's aversion to smells actually debilitates him to fits of vomiting. His list of disqualifying skills has somehow gotten longer.
01:06:24  CAUTERIZED PLOT CAVITY
They run the biker out and start a motorcycle chase. Hearing them over the radio another corrupt member of CHP calls D'Onofrio. Next he is pulling out of his garage in a tactical Humvee. Point of question: Do S.W.A.T. teams allow their officers to drive the armored trucks home?
01:10:17  RUPTURED OPTICS
The lengthy chase involves the bikes, D'Onofrio's SWAT vehicle, and other CHP riders. On a bridge a tow truck is cabling a flipped vehicle back on its wheels, and the biker being chased — who we always suspected was D'Onofrio's son — is decapitated by the wire. His helmeted cranium is embedded in a car windshield, for added effect.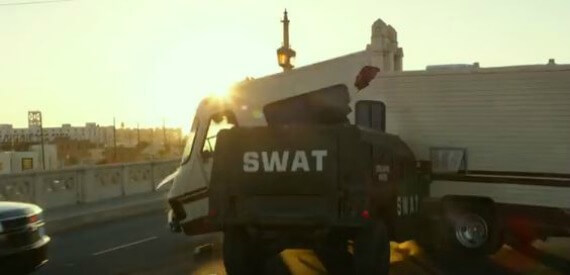 01:11:31  EXPLORATORY STORY INCISION
Hearing his son died means a distraught D'Onofrio begins running over all manner of vehicles, including plowing into Jon. So this counts as yet another motorcycle injury for him. In the hospital he is hooked up to all manner of machinery. It almost seems like they expect us to feel anxious, like there's any chance in a comedy the star/writer/director/producer's character might pass away.
01:14:56  COMEDIC ARREST
At home that night Ponch starts sex-ting with another officer.This goes awry when during FaceTime he sees a naked body that is discovered to be his female superior officer. This was due to him electing to use the cop's first name, Lindsey, and his boss' last name Lindel — and also his phone operating system not listing them alphabetically.
01:15:34  EXPLORATORY STORY INCISION
At a remote location D'Onofrio is loading a van and we learn Linsey is also in the gang. As the movie progresses nearly all of CHP is corrupt. This means it should not have taken this long to discover the leader, to be honest.
01:16:36  INVASIVE PATHOS
In the hospital Ponch avoids his boss Lindel by jumping in a room, occupied by his former partner, who had been shot again. They argue about the dead biker, whom the partner says, "Nobody can ID!" I guess Cali HP has access to neither fingerprint nor dental record databases.
01:19:06  CLICHE MALIGNANCY
Since Ponch threw his phone in the fireplace after seeing his naked superior, his actual Captain from the bureau flies out to L.A. to speak with him. This fulfills the requirements of a buddy-cop film of having a yelling captain and the lead cop being removed from the case. The only thing left will be to have the cop then continue to investigate the case off the books.
01:20:17  CLICHE MALIGNANCY
As Jon's estranged wife doesn't pick him up when discharged curbside Ponch arrives — so they can continue to investigate the case off the books.
01:22:19  ARTIFICIAL NARRATIVE STIMULANT
At Ponch's place they are eating chili when Jon looks over the pictures of the decapitated body. While musing again the corpse has no records Jon sees a pic of the head in the helmet and recognizes him as a former X-Games rider. They put it together that he is (was) D'Onofrio's son, and then both get excited. Except  — they already know D'Onofrio is behind it all. So…huh?
01:24:12  SCRIPT GRAFT
Needing to keep working Ponch and Jon go to Chief Lindel so Ponch can use her sexual vulnerability to become sworn in as a CHP officer. Well that was very timely and convenient!
01:26:27  CAUTERIZED PLOT CAVITY
They get a phone text showing Jon's wife was kidnapped by D'Onofrio, and the rest of the clean CHP officers figured who, and where, the corrupt cops are. We see their outpost where the gang is loading crates to fly out of the country. Uh, these guys were worried about getting caught with cash at the border –but an arms shipment will pass through with no problem?
01:29:46  INVASIVE PATHOS
They reach Jon's wife but while taking cover in a warehouse Ponch has 3 fingers shot off. There feels like a manipulation of sorts behind this odd development.
01:31:17   COLLAPSED CLIMAX
The gang and the police force all converge on location. The fighting concludes when Ponch cannot fire at D'Onofrio due to missing fingers!. He coaches Jon on firing the gun and his crappy marksmanship detonates their explosives.
01:34:18  CONTINUITY FAILURE
D'Onofrio gets the last draw on them, but as he shoots Jon the bullet hits his titanium arm, and ricochets, killing D'Onofrio. EXCEPT he was shot in the left arm, not his rebuilt right arm.
01:36:04  CLICHE MALIGNANCY
Time for the mandatory cameo, as former CHIPs TV star Erik Estrada appears, as a 67 year old paramedic.
01:37:48  GENETIC SEQUEL MUTATION
As credits roll we hear a phone call with Ponch's boss in Miami. Offering him his job back. He of course declines, allowing for a non-arriving sequel, but this still demands a question — if that miracle happens, doesn't this mean he has to be stuck with using his Miami-created alias?
POST MORTEM
The hard part of this is figuring out who this was made for. There was so little to this effort that resembled the original TV show that clearly they were appealing to a younger audience. But very few in that audience would have awareness of the original show. So you have a product that is foreign to the young set and alienating to the core fans.
That means you end up measuring the movie on its own merits: A nonsensical plot, and playing fast-and-loose with facts while delivering limited laughter. It would be best to just impound the bikes and put everyone connected on probation.