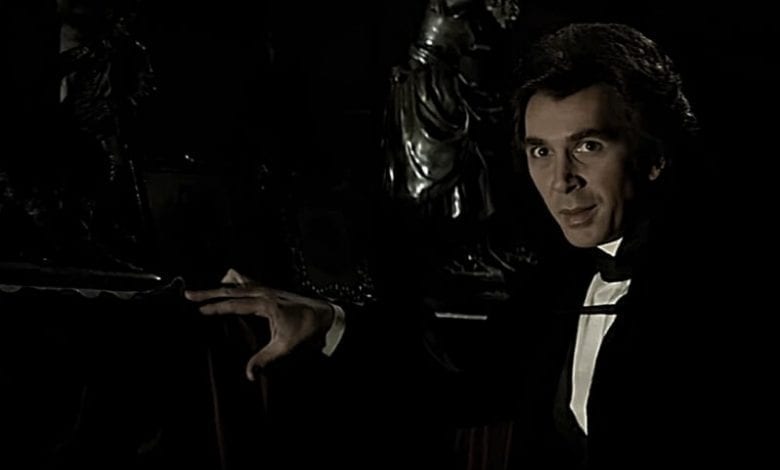 The Universal Studios logo has just barely faded when we hear wolves howling, telling us the makers of the 1979 "Dracula" knew what they were doing.
As directed by John Badham (fresh from "Saturday Night Fever") and starring Frank Langella alongside no less than Sir Laurence Olivier as Dr. Abraham Van Helsing, this generally appreciated but eternally underrated take on Bram Stoker's novel is now 40 years old.
Thanks to a newly released Collector's Edition Blu-ray from Scream Factory and newfound recognition from fans of the very-old man in the cape, Badham's "Dracula" is finding a new day in the shadows.
Dracula (1979) - Official Trailer
Langella's Dracula arrives in London by way of coffin, after the ship that delivered him is discovered with bodies littering the poop deck. Lucy Seward (Kate Nelligan), daughter of the estimable Dr. Seward (Donald Pleasance), is intrigued by the elegant, new-in-town Count.
However, her best friend, Mina Van Helsing (Jan Francis) has become ill and drained of blood, coincidentally upon Dracula's arrival. Later, Dr. Van Helsing (Olivier) arrives and is clearly the only one who understands Dracula's power and can possibly stop him.
The Langella-starring Broadway play version, written by Hamilton Deane and John L. Balderston, ran from 1977-1980 and featured Raul Julia in the title role after Langella stepped down. It was a Tony-award winning smash and showcased Langella's iconic performance which, as he famously stated, never involved the use of rubber fangs or prosthetics of any kind.
Dracula (1979) - Clip: Flesh Of My Flesh - Original Theatrical Color Timing (HD)
While I've never seen an action figure or costume intended to evoke Langella's take on the role, his approach to the part and considerable panache made quite an impression, both on stage and in the subsequent film adaptation.
As many "Dracula" fanatics will note, the chronology of Stoker's story is reversed, with Dracula's entry coming nearly at the mid-point but Harker in the count's castle occurring even later into the running time. There's also the confusing and seemingly needless switching of the female protagonist's names, Mina and Lucy.
RELATED 19 Perfect 'Raising Arizona' Movie Quotes
For anyone familiar with the story, it's jarring to hear the names not matching the characters. Yet, a pivotal addition is changing Mina from Dracula's greatest obsession to both an early victim and Dr. Van Helsing's daughter. This way, the doctor's introduction into the narrative and decision to avenge Dracula is less a plot device and more a personal matter.
Langella was my first Dracula, as I saw his take on the character before I encountered the interpretations of Bela Lugosi, Christopher Lee and Gary Oldman.
Bram Stoker's Dracula (1992) - I Never Drink Wine (2/8) | Movieclips
Lugosi had this all-knowing smile that suggested a crafty murderer, always one step ahead of everyone else. This quality is a major reason his version is to Count Dracula what Sean Connery is to James Bond (specifically, an actor ideally matched by a character they fully comprehend).
Lee's Dracula is akin to Langella in the sense that they both exude a staggering intelligence and intimidating presence. I give Langella a slight edge, however, as his take on the role is notably erotic and sensual, an aristocrat who, depending on how he feels at the moment, will seduce you, destroy you or both.
Oldman's wild take on Dracula, with his Lugosi-inspired vocals, shape-shifting appearances and gorgeous Eiko Ishioka costumes, perfectly fits the operatic style of "Bram Stoker's Dracula" and, for better or worse, is anything but subtle. If it sounds like I'm making a case for Langella as cinema's greatest avatar for Count Dracula, then you're right, I am.
Dracula (1979) - Clip: Carfax Abbey - Original Theatrical Color Timing (HD)
The power in Langella's performance is in his eyes. His movement is confident and the depth in his voice is hypnotic, but watch how his eyes tell us what the character is thinking and what he chooses not to say. I never had the pleasure of seeing Langella play the role on stage, but the film captures his spellbinding interpretation.
Simply put, Langella is terrific and has a way with lines offering sinister double meanings: "I despise women with no life in them…no blood."
Badham films a sex scene between Dracula and one of his victims as though they were being lifted into the Mother Ship (or a phantasmagoric vison out of a Ken Russell movie). It's no wonder, as Langella's vampire clearly loves sex as much as blood.
RELATED: 27 Scrumptious Food-Related Movie Lines
While not a filmmaking tour de force of Francis Ford Coppola's "Bram Stoker's Dracula" or as definitive as Lugosi's vehicle, Badham's film is as captivating and classy as it is scary. The sequence where Dracula climbs down the wall to his victims' window, gazing at her through the glass, is still terrifying.
So is the scene where one of the Count's victims is reborn, hands outstretched, conveying desperation through red eyes that are smeared with mud and blood.
Badham's film is full of eerie touches that juice up what could have been a stiff, self-consciously "prestigious" production. There's an unsettling bit where Dracula (filmed in either fog or out of focus) is riding horseback and we think we're hearing the hooves of the horse…it's actually a heartbeat, and a really creepy touch.
Perhaps the greatest attraction is seeing Langella go up against Olivier.
Dracula (1979) - The Defeat of Dracula Scene (10/10) | Movieclips
Here, Dracula and Van Helsing have their big face/off alone and in the shadows. Watching their back and forth rapport (a smashed mirror leads to Dracula's noting how much he dislikes vanity) is an opportunity to watch the joy of acting between two theater giants.
It's also fun to watch a post-"Halloween" Pleasance, visibly enjoying his late-career boost as key genre player. There's also Trevor Eve as Jonathan Harker, whose '70s cop appearance only adds underscores how pitiful a match he is for Dracula.
Then there's Nelligan, an acting force of nature, whose presence and intensity is nearly as powerful as Langella's.
John Williams' exciting score creates a perfect accompaniment to the proceedings. If you listen carefully, one can hear moments that sound like try-outs for his iconic score from "The Empire Strikes Back," which arrived the following year.
RELATED: Classic Horror Deserves to Be Seen on the Big Screen
There is also a theatrical quality to the art direction, as the sets appear to loom over the actors in a way that add an additional feel of dread and foreboding (this is especially evident in the Dr. Seward scenes). Note Lucy's entrance into Dracula's castle – there's so much candlelight, it glows like an otherworldly palace.
Yet, moments later, as Lucy and Dracula sit at his table together, the candles are positioned in a way that surround him, giving off a seductive glow that masks the monster within.
The Collector's Edition from Scream Factory is an unearthed treasure trove (or newly uncovered mausoleum, take your pick) of newly created featurettes and extras. By far, the most important of the special features is the opportunity to see the film in either its original form or Badham's post-theatrical release version, with a muted, desaturated color palette, making the film almost appear in black and white. As presented on two discs, both versions are available together for the first time.
Dracula (1979) - Bonus Clip: Director John Badham Discusses A Scene From The Broadway Play (HD)
For a film that was never given full appreciation in the first place (and suffered the embarrassment of being upstaged the same year by, of all things, "Love At First bite."), this is a fitting retrospective of a great film.
It figures, whether 40 or 400 years later, Dracula always makes a comeback.